Moscow, Russia – The best aerialists in the world will close out the 2016-17 World Cup season this weekend with a night event in Moscow. Competition will take place Saturday on a scaffolding site just outside of the city center.
Despite tough conditions at last weekend's World Cup in Minsk, Belarus, the U.S. Ski Team's men's aerialists packed four jumpers into the finals. Mac Bohonnon (Madison, Conn.) led the charge, along with teammates Alex Bowen (Springville, N.Y.), Eric Loughran (Pelham, N.H.) and Nik Seemann (Winter Park, Colo.). The U.S. team saw great success at the event in Moscow last year, including a win from Bohonnon and podium finishes from Madison Olsen (Park City, Utah) and Jon Lillis (Rochester, N.Y.). Both the U.S. men and women will be looking to end the tour with strong finishes prior to the 2017 World Championships next week.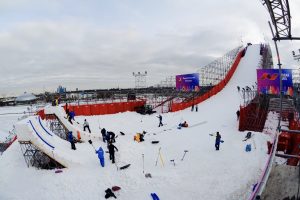 The season finale also brings the awarding of the aerials World Cup titles and crystal globes. China's Qi Guangpu currently leads the men's standings and, with a 132-point lead over Belarus' Anton Kushnir in second, he looks poised to take the title. Bohonnon is the top-ranked U.S. athlete in third, followed by Bowen in ninth. On the women's side, results in Moscow will determine the fate of Australia's Danielle Scott and China's Xu Mengtao, who are sitting first and second and separated by just two points. U.S. athletes Ashley Caldwell (Ashburn, Va.) and Kiley McKinnon (Madison, Conn.) are currently ranked seventh and eighth, respectively.
Qualifications for Saturday's competition begin at 2:05 p.m. followed by finals at 7 p.m. local time.