Vail, CO – American snowboarders dominated the Burton US Open halfpipe event in Vail on Saturday, scoring five of six podium spots. Shaun White and Chloe Kim each took their second-consecutive US Open titles, while Elena Hight was second for the women and Maddie Mastro and Chase Josey were third for the women and men, respectively. Scotty James of Australia, who took second for the men, was the only non-American to finish on the podium.
For White, of Carlsbad, Calif., it was a huge win, as he used a run that he has never landed in competition before—a run that included a Cab double cork 1440. Only two other men have landed that trick in competition; with the backside double cork 1260 he threw later in the run, it was an unbeatable combination.
"I wanted to come out of the gates swinging," he said of the run. "I knew everyone was going to be going for their hardest runs. I had to step it up."
Josey, of Hailey, Idaho, repeated the run that earned him the win at the Laax Open this year—a run that includes a switch double crippler and switch double Michalchuk; tricks that no other men are throwing.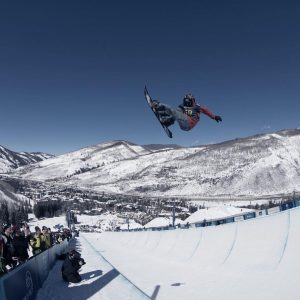 California's Kim scored her third major win of the year, after taking top honors at the Copper U.S. Grand Prix and Laax Open earlier this year. She used her signature frontside 1080 to top the field, and though she was in first place and the last to drop, she upped her score on her third and final run.
"I just always feel like I can push myself a little more," she said after the competition. "At the end of the day I was just super hyped with how I was riding and it was so nice to put one down."
Hight, who is fresh off a gold medal at the X Games in Aspen, came back from a hard crash in her second run to ride cleanly for her final run. The South Lake Tahoe, Calif. resident had a huge backside air, back-to-back 900s and a backside alley-oop rodeo.
It was Mastro's first US Open podium, and the Southern Californian had a great showing. Her run included a beautiful frontside 540 off the top and a big Haakonflip at the bottom.
OFFICIAL RESULTS
Burton U.S. Open
Vail, CO – Mar. 4, 2017
Men's Halfpipe
| | | | |
| --- | --- | --- | --- |
| RANK | NAME | NATION | SCORE |
| 1 | SHAUN WHITE | USA | 92.74 |
| 2 | SCOTTY JAMES | USA | 82.87 |
| 3 | CHASE JOSEY | USA | 79.87 |
| 4 | IOURI PODLADTCHIKOV | CHN | 78.24 |
| 5 | RAIBU KATAYAMA | JPN | 77.75 |
| 6 | DANNY DAVIS | USA | 59.50 |
| 7 | AYUMU HIRANO | JPN | 51.00 |
| 8 | PAT BURGENER | CHN | 46.87 |
| 9 | DAVID HABLUETZEL | CHN | 44.87 |
| 10 | JAKE PATES | USA | 38.62 |
Women's Halfpipe
| | | | |
| --- | --- | --- | --- |
| RANK | NAME | NATION | SCORE |
| 1 | CHLOE KIM | USA | 87.12 |
| 2 | ELENA HIGHT | USA | 80.12 |
| 3 | MADDIE MASTRO | USA | 78.25 |
| 4 | SENA TOMITA | JPN | 77.00 |
| 5 | HARUNA MATSUMOTO | JPN | 75.00 |
| 6 | KELLY CLARK | USA | 0.00 |
| | | | |