PyeongChang, South Korea – Lindsey Vonn finished second behind Italy's Sofia Goggia, finally winning her first World Cup race of the season at Saturday's Audi FIS Ski World Cup downhill, a test event for the 2018 Olympic Winter Games. World Cup downhill leader Ilka Stuhec of Slovenia finished third.
Racing under brilliant blue skies and temperatures climbing into the 50s, Vonn chose bib No. 1, hoping to get down the track before the sun baked it.
"I thought it was a good decision," said Vonn, who started bib 1 for only the second time in her career in downhill. "But it looks like the track (was) getting quite a bit faster, especially on the top, so maybe it wasn't the fastest choice. But either way I skied it as fast as I could, and I have no regrets."
Vonn laid down a solid run as Stuhec, who started bib 3, couldn't match her time. However, Goggia, who narrowly missed the downhill podium two weeks ago at the FIS Alpine World Ski Championships in St. Moritz, Switzerland, absolutely nailed the bottom of the course, erasing a 0.22-second deficit to Vonn at the fifth split to take the victory by 0.07.
"It was not [hard to win] because I just skied for myself today. I just tried to enjoy the slope, to push as hard as I could where I could, and to use a little bit more tactics when required because in the training runs, I missed a gate. So I really tried to focus on myself and this paid off," said Goggia, whose first trip to the top step of the podium in her World Cup career comes after finishing on the podium nine times this season, yet failing to claim the top spot. "It feels good, but I still have to realize it. I think that when I'm going on the podium, there at the prize giving ceremony, I'm going to realize it. But still not now."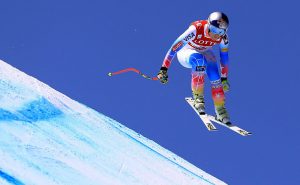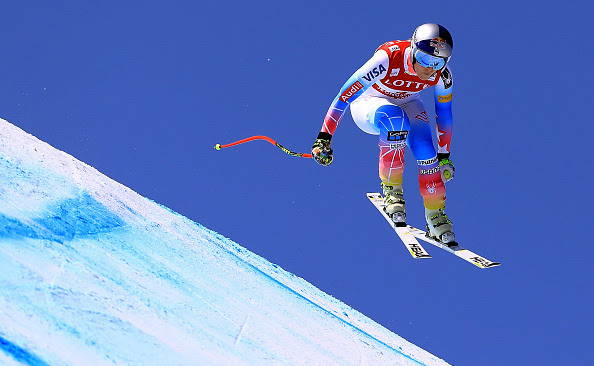 "I thought my run was pretty solid," Vonn said. "I definitely made a couple mistakes, especially on top and the very bottom – I lost a couple tenths in both places. I know there is a lot of time to be had, but I think it's better that I save my best skiing for the Olympics. Of course I would have loved to win today, but I was second as well in Vancouver in the test events before the Olympics. So if that shows any indication of what's to come next year, hopefully that's what it means."
Vonn led four American women into the top 11. Laurenne Ross (Bend, OR) was fourth. Stacey Cook (Mammoth Lakes, CA) sixth and Jackie Wiles (Aurora, OR) was 11th.
"I really, really love the track," said Cook. "I think it suits our team better than any major championships track we've run in a long time. The first time I saw it, I was like this is something that meets my skills a lot better than some of the World Cup courses that we've been on, that I've been struggling on."
"The track here is pretty sweet," Ross added. "It feels a little bit more like downhill than some of the downhills that we've done this year. It's nice to have bigger turns and get up to speed."
Stuhec had the opportunity to seal the World Cup downhill crystal globe with a top-two finish in South Korea. However, she leads Goggia, who moved into second overall, by 97 points with one downhill remaining at the World Cup Finals in Aspen, Colo. Mikaela Shiffrin, who didn't race Saturday but did train earlier in the week on the Jeongseon course, still leads the overall World Cup standings with 1,323 points. Stuhec is second with 1,085 points with Sunday's super G and next week's giant slalom and slalom at Squaw Valley, California as the final World Cup events of the season before the Finals in Aspen March 13-19.
"A few turns were not that clean, I guess, because I knew I had to keep the higher line than I had in training. So I guess I lost some speed there, which was I lost some time again. But it's a lesson learned, and I'll keep that in mind when we get back here," said Stuhec. "I'm still really happy for Sofia. She really has a great season as well, and she's skiing really good. But we have one more race. A lot is still open, but it's skiing."
OFFICIAL RESULTS
Audi FIS Alpine Ski World Cup
PyeongChang, South Korea – Mar. 4, 2017
Women's Downhill
| Rank | Name | Nation | Total Time | Diff. | FIS Points | WC Points |
| --- | --- | --- | --- | --- | --- | --- |
|  1 | GOGGIA Sofia | ITA |  1:38.80 | |  0.00 |  100.00 |
|  2 | VONN Lindsey | USA |  1:38.87 |  +0.07 |  0.89 |  80.00 |
|  3 | STUHEC Ilka | SLO |  1:39.03 |  +0.23 |  2.91 |  60.00 |
|  4 | ROSS Laurenne | USA |  1:39.38 |  +0.58 |  7.34 |  50.00 |
|  5 | TIPPLER Tamara | AUT |  1:39.40 |  +0.60 |  7.59 |  45.00 |
|  6 | COOK Stacey | USA |  1:39.42 |  +0.62 |  7.84 |  40.00 |
|  7 | FLURY Jasmine | SUI |  1:39.57 |  +0.77 |  9.74 |  36.00 |
|  8 | SCHNARF Johanna | ITA |  1:39.81 |  +1.01 |  12.78 |  32.00 |
|  9 | SUTER Corinne | SUI |  1:39.91 |  +1.11 |  14.04 |  29.00 |
|  10 | STUFFER Verena | ITA |  1:39.92 |  +1.12 |  14.17 |  26.00 |