Erciyes-Kayseri, Turkey – Ester Ledecka of the Czech Republic and Austria's Andreas Prommegger came out on top in the 2016-17 Snowboard World Cup season's final PGS, which was successfully staged on Sunday in Erciyes-Kayseri, Turkey.
Organizers were force to postpone the race until Sunday, after thick fog enveloped the course midway through the competition on Saturday.
The competition finally resumed on Sunday with the quarter finals under a blue bird sky with the reigning PSL world champion underlining her claim on another gold medal at the upcoming world championships which will take place in Sierra Nevada, Spain, March 7 to 19. In a close women's final, Ledecka edged out Japan's Tomoka Takeuchi by a mere 0.03 secondsto claim her career's ninth victory.
"It was a great race, although yesterday was pretty tough. But that's nature," said Ledecka. "But his way, it was interesting with the race taking place on two different days. It was a new experience. I happy that I have another good result. It was a good training for Sierra Nevada. I'm looking forward to competing at the world championships."
Germany's Ramona Hofmeister rounded out the podium in third after defeating Austrian champion Daniela Ulbing in the small final. Alena Zavarzina of Russia secured her career's first Crystal Globe by clinching the overall parallel snowboard title.
"The delay yesterday and re-scheduling of the race was very stressful for me as I was going for the Crystal Globe and didn't have much of an advantage [on Patrizia Kummer]," acknowledged Zavarzina. "This waiting situation was nerve-wracking. It was like the worst day of my life. I tried to make the best of the situation but almost puked this morning after breakfast. But I kept going. It was dramatic, I was hoping to finish on the podium in the last race. I was waiting for this moment, and of course I'm happy and very proud. It was my goal ever since I started my career. It definitely took away the stress prior to the World Champs."
In the men's event, Sang-ho Lee and Bo-gun Choi secured South Korea's first medals ever in an alpine snowboard World Cup event, finishing a respective second and third behind Prommegger, who celebrated a back-to-back win after his victory in the Olympic test event in South Korea three weeks ago.
"It's been two pretty tough days. They tried to finish the race yesterday but it wasn't possible due to the sleet," Prommegger commented. "But yeah, I'm really happy. I won here last year, and I was able to pull of this feat again. It was pretty close but I'm very relieved. Of course, the focus is on the World Champs now but the overall World Cup ranking is also one thing I'm going for."
With his 15th career win, Prommegger took over the lead in the parallel overall World Cup standings from Radoslav Yankov of Bulgaria, who finished 17th on Sunday but claimed the PGS World Cup title.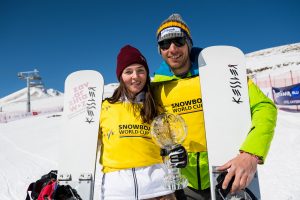 The alpine snowboard World Cup tour will wrap up with the final parallel slalom and a parallel slalom team event slated to take place in Winterberg, Germany, from March 17 to 19. Before then, however, the 12th FIS Snowboard World Championships are next up for the raceboarders with the PGS medal decisions scheduled for March 14 and PSL on March 15 in Sierra Nevada.
OFFICIAL RESULTS
FIS Snowboard World Cup
Erciyes-Kayseri, Turkey – Mar. 5, 2017
Women's PGS
Rank
Name
Nation
Result
FIS Points
WC Points
 1
LEDECKA Ester
CZE
 1000.00
 1000.00
 2
TAKEUCHI Tomoka
JPN
 800.00
 800.00
 3
HOFMEISTER Ramona Theresia
GER
 600.00
 600.00
 4
ULBING Daniela
AUT
 DSQ
 500.00
 500.00
 5
RIEGLER Claudia
AUT
 DSQ
 450.00
 450.00
 6
ZAVARZINA Alena
RUS
 400.00
 400.00
 7
KUMMER Patrizia
SUI
 360.00
 360.00
 8
GONG Naiying
CHN
 320.00
 320.00
 9
MUELLER Stefanie
SUI
 DNF
 290.00
 290.00
 10
ZOGG Julie
SUI
 DSQ
 260.00
 260.00
Men's PGS
Rank
Name
Nation
Result
FIS Points
WC Points
 1
PROMMEGGER Andreas
AUT
 1000.00
 1000.00
 2
LEE Sang-ho
KOR
 800.00
 800.00
 3
CHOI Bo-gun
KOR
 600.00
 600.00
 4
KIM Sang-kyum
KOR
 500.00
 500.00
 5
BORMOLINI Maurizio
ITA
 450.00
 450.00
 6
TRAPP Michael
USA
 400.00
 400.00
 7
SOBOLEV Andrey
RUS
 360.00
 360.00
 8
FELICETTI Mirko
ITA
 320.00
 320.00
 9
CAVIEZEL Dario
SUI
 290.00
 290.00
 10
KARL Benjamin
AUT
 260.00
 260.00