PyeongChang, South Korea – For the second straight day, Lindsey Vonn finished second at the Audi FIS Ski World Cup super G test event for the 2018 Olympic Winter Games.
It was déjà vu all over again as Italy's Sofia Goggia won for the second day in a row, followed by Vonn in second and Slovenia's Ilka Stuhec in third – the same podium as Saturday's downhill. Fresh off the heels of her first World Cup victory on Saturday, Goggia's narrow 0.04-second victory over Vonn was her 11th podium appearance of the season.
"It feels great because also I think yesterday in the downhill, [Vonn] is the major speed queen. [Stuhec] is the world champ and the queen of the future, so the three most fast," Goggia said of her fellow podium mates. "It feels amazing because super G this year was pretty difficult to me. I never found the right balance between pushing and to use the tactics. And today, I really tried to ski. There were some tricky points. I came by and it was really OK. I really tried to push."
"Today I thought I actually skied really well, maybe too round on the top," Vonn said. "But especially the middle section, I'm really happy with how I skied. I think I gave away a little time on that last little pitch, I wasn't quite clean enough and I didn't carry my speed as well as I could have. But … really easy fixes. The main point of this weekend was (to gain some confidence) on this hill. I really like it. It suits my skiing really well. I know what I can do to be faster."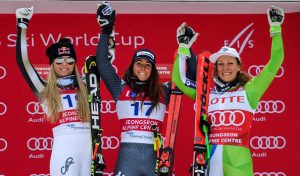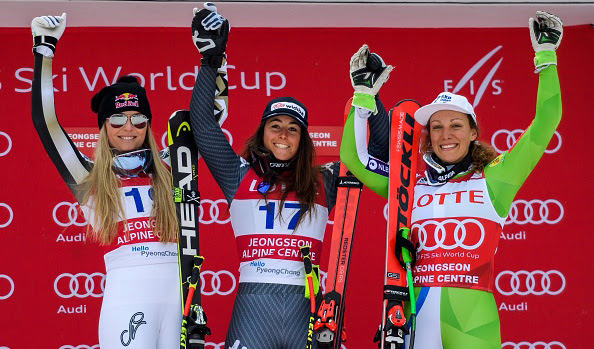 Bend, Ore.'s Laurenne Ross, who was fourth in Saturday's downhill, finished sixth on Sunday – her best super G result of the 2017 season.
"I'm feeling pretty good; I'm glad it's starting to come together" Ross said. "I'm starting to feel a little more confident in super G. It was a fun run on a fun hill and I'm happy with the day. I do feel like I'm an end of season skier, which is kind of annoying, but at least it's the end of the season so I feel pretty good going into Aspen (World Cup Finals)."
A number of U.S. athletes made the long trip to South Korea along with the women's speed team to get some time on the 2018 Olympic courses. Mikaela Shiffrin, the current World Cup overall leader, trained at the tech venue in YongPyong earlier in the week and inspected the downhill track at Jeongseon before heading back to the United States to prep for next weekend's World Cup at Squaw Valley, California. Lake Placid, N.Y.'s Andrew Weibrecht and Travis Ganong, of Squaw Valley, Calif., grabbed some time on the speed track byforerunning the women's downhill and super G events, and will also train with the women for a couple of days before heading back to prep for World Cup Finals in Aspen.
Up next the women head to Squaw Valley March 11-12 for giant slalom and slalom races, the finals tech events before the World Cup finals March 13-19 in Aspen, Colorado. Shiffrin holds a 178-point lead over Stuhec in the overall World Cup standings. The battle for the Crystal Globe in super G will come down to the final super G race in Aspen on March 16 as Stuhec holds a 15-point lead over Tina Weirather of Liechtenstein.
"I had a funny feeling from the start house and later on it got a bit better. Yeah, it was a fun course actually because you had to do a lot. It didn't do anything itself, so it was nice. I like it," Stuhec said of Sunday's race, adding, "The only nerves getting to Aspen I have is 16 hours time difference that we have from here to there. So that's the only thing. Otherwise, I'll go like always, race for race, and do my best."
OFFICIAL RESULTS
Audi FIS Alpine Ski World Cup
PyeongChang, South Korea – Mar. 5, 2017
Women's Super G
| Rank | Name | Nation | Total Time | Diff. | FIS Points | WC Points |
| --- | --- | --- | --- | --- | --- | --- |
|  1 | GOGGIA Sofia | ITA |  1:20.35 | |  0.00 |  100.00 |
|  2 | VONN Lindsey | USA |  1:20.39 |  +0.04 |  0.54 |  80.00 |
|  3 | STUHEC Ilka | SLO |  1:20.86 |  +0.51 |  6.86 |  60.00 |
|  4 | BRIGNONE Federica | ITA |  1:21.15 |  +0.80 |  10.75 |  50.00 |
|  5 | FLURY Jasmine | SUI |  1:21.32 |  +0.97 |  13.04 |  45.00 |
|  6 | ROSS Laurenne | USA |  1:21.60 |  +1.25 |  16.80 |  40.00 |
|  7 | REBENSBURG Viktoria | GER |  1:21.61 |  +1.26 |  16.94 |  36.00 |
|  8 | SCHMIDHOFER Nicole | AUT |  1:21.63 |  +1.28 |  17.20 |  32.00 |
|  9 | WEIRATHER Tina | LIE |  1:21.67 |  +1.32 |  17.74 |  29.00 |
|  10 | CURTONI Elena | ITA |  1:21.71 |  +1.36 |  18.28 |  26.00 |