Kranjska Gora, Slovenia – A day after wrapping up his sixth straight overall World Cup title, Austria's Marcel Hirscher added another crystal globe to his trophy case – the World Cup slalom title.
Austria's Michael Matt won Sunday's Audi FIS Ski World Cup slalom race under light rain and sloppy course conditions for his maiden World Cup victory.
"It's amazing, it's unbelievable when you stand out there in the finish area. When you're second after the first run and then the green light is in the second run when you're in the finish, it's amazing," said Matt. "I watched (the other racers) at the World Championships in St. Moritz and that wasn't good, so I didn't watch today. I didn't watch anyone, I just focused on me and my skiing and I'm really happy. I'v had a good experience in European Cup here on this hill and last year as well. I just like the hill and love to ski here."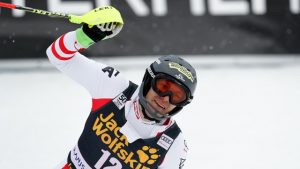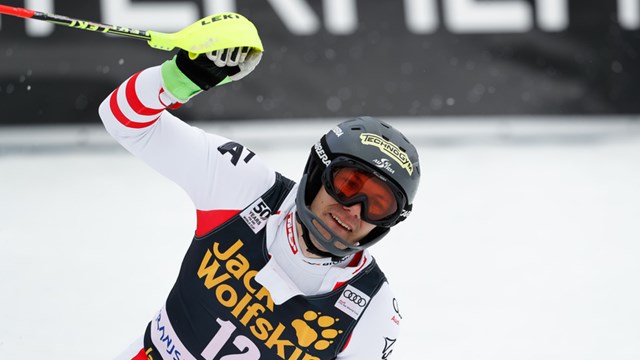 Italy's Stefano Gros was second, followed by Germany's Felix Neureuther in third. But it was Hirscher's fourth-place finish that sealed the overall slalom title, his fourth career slalom crystal globe.
For the Americans it was a tough day in Slovenia. David Chodounsky, of Crested Butte, Colo., was the only American to qualify for the second run, eventually finishing 19th. Starting 23rd, Chodounsky had a solid first run – finishing 11th – but ran into a bit of difficulty near the bottom of his second run on the wet, rutted course.
OFFICIAL RESULTS
Audi FIS Alpine Ski World Cup
Kranjska Gora, Slovenia – Mar. 5, 2017
Men's Slalom
| Rank | Name | Nation | Run 1 | Run 2 | Total Time | Diff. | FIS Points | WC Points |
| --- | --- | --- | --- | --- | --- | --- | --- | --- |
|  1 | MATT Michael | AUT |  55.41 |  52.85 |  1:48.26 | |  0.00 |  100.00 |
|  2 | GROSS Stefano | ITA |  54.26 |  54.30 |  1:48.56 |  +0.30 |  2.00 |  80.00 |
|  3 | NEUREUTHER Felix | GER |  55.88 |  52.84 |  1:48.72 |  +0.46 |  3.06 |  60.00 |
|  4 | HIRSCHER Marcel | AUT |  55.73 |  53.33 |  1:49.06 |  +0.80 |  5.32 |  50.00 |
|  5 | MYHRER Andre | SWE |  56.30 |  53.20 |  1:49.50 |  +1.24 |  8.25 |  45.00 |
|  6 | THALER Patrick | ITA |  58.53 |  51.02 |  1:49.55 |  +1.29 |  8.58 |  40.00 |
|  7 | MOELGG Manfred | ITA |  55.89 |  53.86 |  1:49.75 |  +1.49 |  9.91 |  36.00 |
|  8 | LIZEROUX Julien | FRA |  56.28 |  53.55 |  1:49.83 |  +1.57 |  10.44 |  32.00 |
|  9 | MUFFAT-JEANDET Victor | FRA |  57.93 |  51.97 |  1:49.90 |  +1.64 |  10.91 |  29.00 |
|  10 | KHOROSHILOV Alexander | RUS |  56.42 |  53.54 |  1:49.96 |  +1.70 |  11.31 |  26.00 |