Georgetown, CO – And then there were three.
Following the winter openings of Timberline Ski Area in Oregon and Arapahoe Basin in Colorado last week, Arapahoe Basin's neighbor Loveland Ski Area will get in on the action this Friday, the second Colorado resort to open for skiing and riding this season.
"We have been waiting all summer for this and are excited to announce that Opening Day is finally here," said COO Rob Goodell. "The snow we received in early October has been a tremendous help and our snowmakers have put in a lot of hard work to ensure the first turns of the season are good ones. We invite everyone to come celebrate the start of another season with us on Friday."
Loveland's Lift 1 will run from 9 a.m. until 4 p.m. on Friday and will offer skiers and riders access to one top-to-bottom run covered edge to edge with an 18-inch base. The trails Catwalk, Mambo and Home Run make up this opening day run which is over a mile in length and drops nearly 1,000 vertical feet.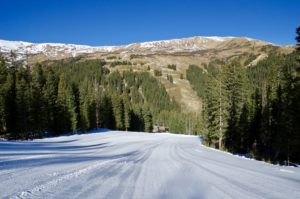 "We have great coverage on the upper portion of the mountain," continued Goodell. "We will continue to make snow on Home Run and around the base of Lift 1 this week and then move on to opening additional terrain as quickly as we can."
Loveland Ski Area opened on November 10 last season.
Loveland Ski Area will be open seven days a week until Closing Day in early May. Lift operating hours are 9 a.m. until 4 p.m. on weekdays and 8:30 until 4 p.m. on weekends and designated holidays. Early season lift tickets are priced at $61 for adults and $29 for children 6-14.