Lakeside, MT –  A commercial real estate company in Kalispell has listed Montana's Blacktail Mountain ski area for sale for $3.5 million.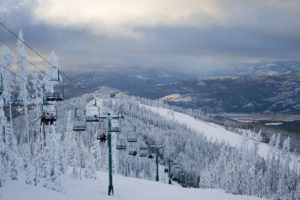 Although Landstar Commercial indicates that Blacktail has been on the market for nearly six months, the listing was included in the Kalispell edition of Craigslist only one week ago.  While they indicate that the mountain has development potential for both winter and summer activities, Landstar also says that the mountain has been profitable in its present state.
Blacktail Mountain operates on 1,000 acres of land leased from the U.S. Forest Service spanning 1,440 vertical feet. The upside-down ski area currently has four lifts including one triple chair, two double chairs, and one handle tow. The triple chair, called Olympic, runs up the center of the ski area, flanked by the two double chairs, Thunderhead and Crystal, that are aligned to the west and east of Olympic, respectively. The handle tow services a beginner area.