Lake Tahoe, CA – Longtime Elan Skis athlete and ski industry legend, Glen Plake, is officially bringing the Down Home Tour back to small ski areas across the U.S. this 2018-19 winter season.
Unlike other tours, the Glen Plake Down Home Tour is intentionally unplanned. There is no set schedule or official way to sign up. It's all about being in the right place at the right time.
Hosted by Plake and his wife Kimberly out of their 38-foot custom Freightliner rig, the tour route is set on a whim depending on weather and ski conditions. Their itinerary is loosely planned to travel through the Midwest and Mid-Atlantic to New England from mid-December 2018 through January 2019, parking their custom rig in ski area parking lots, skiing with locals and celebrating good times on snow.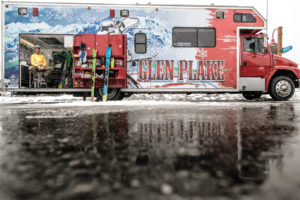 The Plakes started the Down Home Tour in 1991 where they visited 50 ski areas in 33 states and logged 13,000 miles in 68 days. Now 27 years later, they don't have any goals to achieve the same number of stops or distance, but the spirit of the tour will remain the same. Unlike the completely unannounced stops in the 1990's, Plake has adopted modern day social media and will be randomly updating his social media @glenplake during the Down Home Tour this winter. In addition, Elan will be closely following and posting updates from Plake on their @elanskis social media channels to inspire locals to get out and ski with Glen.
"Glen is one of the best ambassadors skiing has ever had," says Elan's Vice President of Global Marketing, Jeff Mechura. "He has learned how to connect with every single person he meets. That's what makes the Down Home Tour important—it gets to the heart of skiing, having fun with friends and family on the mountain. Plake is the number one spokesperson of having a good time."