Wildwood, MO – Publicly traded Peak Resorts, Inc., owner and operator of a number of Eastern and Midwestern ski resorts including Vermont's Mount Snow and Hunter Mountain in New York, has entered into a definitive agreement to acquire privately-held Snow Time, Inc. for $76 million in total consideration.
Snow Time owns and operates three ski resorts in Pennsylvania: Liberty Mountain Resort, Whitetail Resort and Roundtop Mountain Resort. The three resorts are within driving distance of the Baltimore-Washington D.C. market, which comprises nearly 10 million people, and welcomed more than 600,000 visitors during the 2017-18 ski season. Snow Time's resorts offer a combined 65 trails, more than 325 skiable acres, and an average of approximately 700 vertical feet of terrain. Snow Time also operates two 18-hole golf courses, a 115-room hotel and 22,000 square foot conference center at Liberty Mountain Resort, and more than 20 food and beverage locations across its three resorts.
"The transformative acquisition of Snow Time offers a rare opportunity for Peak Resorts to dramatically grow our company by expanding the number of destinations for our Peak Pass holders in the Northeast while growing our presence in the very attractive and densely populated markets of Baltimore and Washington, D.C.," said Timothy D. Boyd, President and Chief Executive Officer of Peak Resorts. "Over the course of more than 50 years, Irvin Naylor and his team have established three exceptionally well cared for mountain resorts across the southern tier of Pennsylvania and we are delighted to welcome these wonderful facilities and the Snow Time team to the Peak Resorts family. Furthermore, we expect the addition of these turn-key resorts to our portfolio ahead of the 2018/2019 ski season will result in immediate financial benefits for Peak Resorts."
Irvin S. Naylor, Founder and Chairman of Snow Time, added, "I am extremely pleased to pass along the stewardship of Snow Time and our three mountain resorts to Peak Resorts. Having watched the progress they continue to make at the formerly family-owned Hunter Mountain, I view Peak Resorts as the perfect operators to take Liberty, Roundtop and Whitetail to the next level. For more than 50 years, my team and I have grown these three resorts into the magnificent properties they are today and we are delighted that Peak Resorts will continue to grow their appeal for the next generation and beyond."
Liberty Mountain Resort offers 22 trails and three terrain parks spread across 100 skiable acres and 620 vertical feet of terrain serviced by nine lifts and full snowmaking coverage, and offers night skiing and tubing, along with a full suite of amenities, including a 115-room hotel and 18-hole golf course. Nestled near the scenic Catoctin Mountains of southeastern Pennsylvania on 400 acres, Liberty Mountain is located approximately 55 miles from Harrisburg,70 miles from Baltimore and 90 miles from Washington D.C.
Roundtop Mountain Resort offers 20 trails and two terrain parks spread across 100 skiable acres and 600 vertical feet of terrain serviced by eight lifts and full snowmaking coverage, and offers night skiing and riding, and tubing. Roundtop is located approximately 20 miles from Harrisburg, 75 miles from Baltimore, and 120 miles from Washington D.C.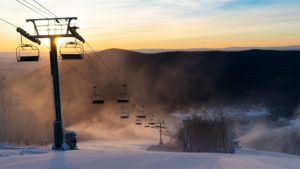 Whitetail Resort offers 23 trails, two terrain parks and a half pipe spread across 125 skiable acres and 935 vertical feet of terrain serviced by nine lifts with full snowmaking coverage, as well as night skiing and riding, tubing and summer amenities, including an 18-hole golf course. Whitetail is located approximately 90 miles from Washington D.C. and 95 miles from Baltimore.
Season pass holders at Liberty, Roundtop and Whitetail who had already made the decision to purchase or renew their season passes for the 2018-19 ski season have been give an option to upgrade to the Peak Pass valid at all 10 Northeastern ski areas owned by Peak Resorts.
Snow Time generated approximately $50 million in revenue and approximately $11 million in adjusted EBITDA for the twelve-month period ended March 31, 2018. The $76 million in total consideration for the acquisition includes $70 million payable in cash and $6 million payable in shares of Peak Resorts common stock, which the company will issue to Snow Time's stockholders.  To fund the purchase, Peak Resorts obtained a $50 million, two-year senior secured term loan from CAP 1 LLC, which will accrue interest at an annual rate of 6.95% and carry no prepayment penalty; and $20 million in proceeds from the sale of 20,000 shares of Series A cumulative convertible preferred stock and issuance of accompanying warrants to CAP 1 LLC pursuant to an existing securities purchase agreement.   The company plans to pursue a refinancing of its capital structure, which it expects will include the replacement of the $50 million senior secured term loan, within the next two years, although Peak Resorts may elect to extend the term loan for a period of one year at its option.