Aspen, CO – Aaron Blunck, of Telluride, Colo., earned his first X Games medal on Friday night and it was golden.
In six prior X Games performances, Blunck's best finish was seventh at Aspen in 2013 and Oslo in 2016. His run in 2017 was highlighted by back-to-back switch doubles—a tough combo that had never before been landed at X Games. Blunck was joined on the podium by silver medalist Miguel Porteous of New Zealand and bronze medalist Noah Bowman of Canada.
''This was one of the crazier events I've ever seen, a lot of crashes and inconsistent riding. I'm really happy I was able to put down a run," said said bronze medalist Noah Bowman. "It was a really good pipe, but so icy and fast. It was really hard to hold on and make it back into the pipe. I wanted to do more in the first run, just based on how it was going, I decided not to do one of my doubles.''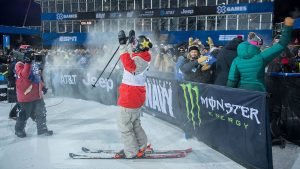 Blunck topped a highly-competitive field, while Maddie Bowman (South Lake Tahoe, Calif.) earned her eighth overall X Games medal with a bronze-medal finish. Devin Logan (West Dover, Vt.) and Birk Irving (Winter Park, Colo.) both finished just outside the medals in fourth.
On the women's side, Maddie Bowman of South Lake Tahoe, Calif., who was looking for her fifth-consecutive SuperPipe gold medal at X Games Aspen, still put down a solid performance for bronze. Her run included back-to-back 900s—rightside to leftside. France's Marie Martinod won gold, while Japanese skier Ayana Onuzuka earned silver.
Up next for the freeski athletes at X Games is men's slopestyle on Saturday morning, as well as men's and women's big air on Saturday night.
OFFICIAL RESULTS
X Games Aspen
Aspen, CO – Jan. 27, 2017
Men's Ski Superpipe
| Rank | Name | Run 1 | Run 2 | Best |
| --- | --- | --- | --- | --- |
| 1 | Aaron Blunck | 30.00 | 84.66 | 84.66 |
| 2 | Miguel Porteous | 30.33 | 81.00 | 81.00 |
| 3 | Noah Bowman | 71.00 | 11.00 | 71.00 |
| 4 | Birk Irving | 24.33 | 68.33 | 68.33 |
| 5 | Benoit Valentin | 58.00 | 65.33 | 65.33 |
| 6 | Torin Yater-Wallace | 36.66 | 22.33 | 36.66 |
| 7 | Broby Leeds | 34.33 | 6.33 | 34.33 |
| 8 | Kevin Rolland | 18.66 | 32.33 | 32.33 |
| 9 | Simon d'Artois | 31.33 | 14.00 | 31.33 |
| 10 | Gus Kenworthy | 29.00 | 18.00 | 29.00 |
| 11 | David Wise | 28.66 | 19.66 | 28.66 |
Women's Ski Superpipe
| Rank | Name | Run 1 | Run 2 | Best |
| --- | --- | --- | --- | --- |
| 1 | Marie Martinod | 89.33 | 64.66 | 89.33 |
| 2 | Ayana Onozuka | 83.00 | 87.00 | 87.00 |
| 3 | Maddie Bowman | 86.00 | 84.33 | 86.00 |
| 4 | Devin Logan | 80.33 | 56.00 | 80.33 |
| 5 | Brita Sigourney | 55.00 | 69.00 | 69.00 |
| 6 | Annalisa Drew | 14.66 | 65.66 | 65.66 |
| 7 | Cassie Sharpe | 49.66 | 14.66 | 49.66 |
| 8 | Janina Kuzma | 4.33 | 29.33 | 29.33 |