McCall, ID – I popped out of the woods and found myself on yet another deserted
cruising run in the middle of nowhere. It was time to test out the snow again,
time to see if I would find that perfect carve I'd been seeking all day. This
time, my skis cut effortlessly through the corn snow as I arced into a turn.
n
After waiting all
morning, the sun and earth had aligned to create spring snow perfection on a
mountain slope in central Idaho… and I was there to experience it.  For a moment
in time, the forces of nature were perfectly balanced, time slowed, and I hung
in suspended animation as I slid through the turn. 
In another instant
however, it was over, and I was back in the real world contemplating my surroundings. 
I had come to Brundage Mountain Resort in central Idaho to experience the mountain
with my partner, Erica.  It had taken much of the morning for the mostly western-facing
slopes to soften up, but now the snow was perfect, and we were loving every
sun-filled minute.
When it comes to
ski areas, Idaho is full of unknown gems, and Brundage is right at the top of
that list.  Chances are you've heard of the state's famous Sun Valley, or maybe
even Schweitzer, but if you're looking for the region's best snow, most people
in the know will tell you to head to Brundage.  Decent elevation, ample snowfall,
and low skier traffic have combined to bless the mountains around McCall, Idaho
with light and deep snow, and it stays that way for quite a while.  Although
we visited the resort at the end of March, when spring snow conditions had taken
hold, the nearly 100-inch base told the tale of many storms that had worked
their way in from the Pacific, and the numerous powder days that they had created.
PLATE TECTONICS
Brundage Mountain's
origins as a prime powder paradise began about 200 million years ago, when the
land that currently makes up the local mountains was over near the western coast
of North America.  Here, a clash began between two continental plates, creating
fold and uplift and, subsequently, mountains.  Combine this uplift with glacial
action carving up the terrain as recently as 10,000 years ago, and you've got
the current geography.   
McCall was initially
founded as a timber town, located about 100 miles north of Idaho's capital city
of Boise and a mere eight miles from Brundage Mountain.  Gradually, McCall's
natural beauty and atmosphere transformed the regional economy from logging,
mining and cattle ranching to recreation and tourism.  Located on the south
shore of beautiful Payette Lake, McCall is now one of Idaho's most popular year-round
vacation destinations.
Commercial skiing
at Brundage began in earnest in 1961, when the ski area was founded by a local
man named Warren Brown, Idaho industrialist J.R. Simplot, and Olympic skier
Corey Engen, of Utah's famed Engen skiing family.  The ski area opened with
one double chairlift, one rope tow, two ski runs, and a small A-frame lodge.
The base lodge at Brundage Mountain Resort.
(Photo: Jay Silveira/J&E Productions)
The Blue Bird High-Speed Quad provides quick access to the summit.
(Photo: Jay Silveira/J&E Productions)
The Face. (Photo: Jay Silveira/J&E Productions)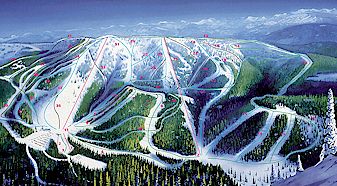 Plenty of room to cruise.
(Photo: Jay Silveira/J&E Productions)
Today, Brundage
offers an expansive base lodge and two main lifts, the Blue Bird High-Speed
Quad and the Centennial Triple Chair, providing ample access to 1,800 vertical
feet of varied ski terrain.  Dozens of runs pour off the west side of Brundage
Mountain's broad ridge that rises to 7,640 feet, from which one can soak in
the magnificent vistas of central Idaho ranges including the Salmon River Mountains
to the east, and the craggy Seven Devil's Mountains along the Snake River and
the Oregon border to the west.
EXPLORATION
We were fortunate
enough to meet up with Mary Naylor, Brundage Mountain Resort's marketing director,
for an up close and personal tour of some of the terrain.  We began at the base
lodge, where Mary introduced us to some of the friendly faces that worked at
the mountain.  One of the most common comments I've heard about Brundage is
how friendly the staff is, and this praise rang true as we shared a quick morning
snack with them. 
The bulk of Brundage
Mountain's terrain is of an intermediate pitch, gradually transforming from
open powderfields near the summit to broad cruising trails and "The Face" near
the bottom, the latter a large, open area where advanced skiers can let loose
to provide those in the base lodge with a front row seat for the action. 
Mary introduced
us to a few classic trails that shouldn't be missed.  Near the southern end
of the resort, don't miss "45th Parallel", a blue cruiser that drops nearly
2000 feet with little cross traffic and plenty of room.  The run known simply
as "North", aptly found near the north edge of the resort, is a fairly steep
groomed cruiser that is a favorite of many visitors.  Continue on down below
its rolling terrain, and new-schoolers can jump into Brundage's terrain park. 
Although terrain park aficionados may find that the features are a bit smaller
than those at the mega-resorts, the park seemed to go on and on with a variety
of jumps, spines and rolls.  It really looked like the kind of place that a
family could enjoy together.   
We set aside our
skis for a period and jumped on our snowboards to fully appreciate Brundage's
cruising terrain in the middle of the mountain.  "Sidewinder", a broad intermediate
slope, provided a gradual descent from open treeline terrain into a wide boulevard
of cruising pleasure.  We made turn after turn on a perfectly pitched slope
that lasted all the way down to the base of the Blue Bird High-Speed Quad. 
The lack of catwalks cutting across the trail eliminated any flat spots, and
with only a couple of other trails even merging with Sidewinder, it was the
perfect forum for turning up the speed. 
In general, this
experience was repeated on many parts of the mountain.  Aside from traversing
across the top of the resort to start each run, and a few small exceptions on
trail, the consistently pitched terrain was a joy to ride.  Of course, let's
not forget what it must be like to surf that great Brundage powder on a snowboard.
Beginners have a
few options from the summit, but they can find additional terrain serviced by
a platter tow rising to mid mountain, and a specific learning area conveniently
located near the base lodge. 
Advanced and expert
skiers can find plenty of tree skiing scattered about the mountain, varying
from wide-open to tight and steep, and our explorations off the Centennial triple
revealed a plethora of trees that advanced skiers could explore for days.  Experts
in search of steeps should certainly check out the Hidden Valley area at the
north end of the resort that offers up tree-lined chutes, steep open terrain,
and hairball cliffs for those who are interested. We were very thankful to Mary
for urging us to check out the sector, as it gave us the chance to experience
the truly expert terrain that Brundage has to offer.  We found plenty of excitement
among Hidden Valley's trees and chutes, and people who like it steep and deep
owe it to themselves to give it a try.  Although the vertical in this area is
not huge, a short hike above the standard trails can increase the length of
the run, as well as open up some of the less-tracked, steepest lines.   
Although individuals
seeking lots of bumps will likely be unsatisfied with Brundage – it requires
ample skier traffic to build them, after all – we did find some on the double
black diamond "Northwest Passage", another great stop for advanced skiers seeking
a steep challenge.
For those who are
really looking for a unique experience, Brundage Mountain Resort offers half-day,
full day, and even overnight Cat Skiing adventures.  Cat skiing guests can enjoy
more than 19,000 acres of open powder, tree skiing, and steep chutes outside
the resort's boundary.  Accompanied by Brundage Mountain's experienced, licensed
guides, you're sure to have a safe and unforgettable trip.
DIVERSIONS FOR
ALL IN McCALL
If you can drag
yourself off the slopes, you'll find that the local city of McCall provides
all of the amenities necessary for a well-rounded ski vacation.   
McCall, on the shore of Payette Lake.
(Photo: Jay Silveira/J&E Productions)
McCall and surrounding
towns such as New Meadows and Donnelly have a pleasant small town feel, and
the pace of life is conducive to a truly relaxing vacation.  With a combined
population of more than 10,000, however, the region provides a surprisingly
ample variety of lodging, dining, and off-piste activity options.  Lodging choices
range from motels and bed & breakfasts, to condominiums, cabins, and home
rentals for larger groups.  Our stay at the Scandia Inn featured a clean, comfortable
room, with a moose theme that gave it a nice mountain feel.  Packages that include
skiing at Brundage are available, and our hosts, Rob and Lindy were ready to
help with any questions that we had. 
Dining options in
the area are also plentiful, and feature casual fare such as pizza and burgers,
ethnic cuisine including Mexican and Chinese, or gourmet dishes of steak, seafood,
and game meats.  Upon Mary's recommendation, we had a delightful dinner at Jessica's,
one of the Mexican restaurants in town.
Another enticing
diversion is a trip to the Blue Moon Yurt on the shore of Payette Lake.  Groups
from 8 to 26 can don headlamps and head the single mile on snowshoes or cross-country
skis out to the cozy yurt.  After a gourmet meal among the quiet outdoors, visitors
make the return trip back through beautiful Ponderosa State Park. 
Outdoor recreation
opportunities abound in the McCall area in winter, and there's plenty to do
even for those that don't want to visit the slopes of Brundage.  At an altitude
of over 5,000 feet, the city itself has an average annual snowfall of
174 inches.  That's as much as many mountains receive, and ensures that there
is never a dearth of snow for winter activities in the region.  We were amazed
by the 15-foot snowbanks in town, and the houses buried up to their eaves in
snow.  If you're a snow lover, it doesn't get much better than McCall. 
| | |
| --- | --- |
| ONLINE VIDEO | |
View Weekend at Brundage, from our partner J&E Productions.
Formatted for RealPlayer.
(Running time 5:59)
The Activity Barn
is one of the popular winter activity sites in town, offering lift served snow
tubing and cross-country skiing.  The tubing hill is almost 700 feet long over
an 85-foot vertical drop, and is even lit for nighttime use.  Three miles northwest
of the city, the volunteer-run Little Ski Hill offers 400 vertical feet of alpine
skiing, and over 50 km of groomed skating lanes and touring trails for cross-country
enthusiasts.  Additional cross-country skiing selections include Ponderosa State
Park and the McCall Golf Course.  The McCall area is receiving national recognition
for its snowmobiling, and a number of outfitters provide guided tours. 
Those searching
for something more relaxing may enjoy soaking in one of the many hot springs
in the McCall area.  They range from developed soaking areas to distant backcountry
pools, so everyone should be able to find a setting that suits their taste. 
If you happen to
plan a trip to McCall during the first week of February, you may be able to
experience the McCall Winter Carnival.  A tradition since 1924, the carnival
features snow sculpture contests, as well as special skiing, snow shoeing, dog
sledding, and sleigh ride events.  Plan ahead, since lodging can be scarce during
the carnival.
GETTING THERE
The bulk of Brundage's
skier traffic is local and regional, derived from residents of Idaho, and eastern
Washington and Oregon.  However, plenty of people from around the U.S. have
discovered that Brundage is a great destination resort as well.  Brundage recently
began selling super discount season passes, including a combined pass with Boise's
Bogus Basin Ski Area, and amazingly, passes were sold in 29 states! 
For those who are
coming from afar, flying to Brundage is fairly convenient, as the resort is
only a 2-hour drive from Boise Airport, which is serviced by a number of major
airlines.  Additional flights can even be chartered directly to McCall Municipal
Airport if desired. 
Skier visits are
expected to be on the increase in the future, as Brundage Mountain Resort moves
ahead on its ambitious expansion plans.  When completed, the expansion will
include 22 new trails, and increase the mountain's uphill capacity from 3,400
to 7,200 people per hour through the addition of five new lifts.  Plans also
include an additional 42,000 square feet of building space, including a new
skier services building and a mountaintop lodge.
A mountaintop yurt provides snacks, lunch, or a brief respite. (Photo:
Erica Silveira/J&E Productions)
GREAT SNOW, SMALL
CROWDS, & FRIENDLY ATMOSPHERE
If I had to sum
it up and pick a single part of Brundage Mountain that best describes the resort's
skiing experience, it would have to be the broad open slopes found on the upper
half of the mountain.  Varying between intermediate and advanced pitches, plenty
of exciting contours, as well as a smattering of trees makes them even more
interesting.  As we worked our way down the mountain among gnarled evergreens
that have seen decades of harsh winters, we couldn't help but imagine this with
a fresh coat of that famous Brundage powder.  These have to be some of the world's
most perfect slopes for those who love powder skiing, or those that want to
learn it. 
With great snow,
small crowds, friendly atmosphere, and a beautiful ski town like McCall, you
owe it to yourself to plan a trip to Brundage.  It's truly one of the great
ski destinations that you never knew existed.