Courchevel, France – "Have an espresso. It's quite good."
This sage advice came from Skip King, an old friend and the American press attaché for the Courchevel Tourist Office. He had just flown in from Boston, and he didn't look much better than I felt. A nine-hour overnight flight from Miami had brought me here to Zurich, too.

Courchevel's Les Avals.
I had hoped to catch some sleep on board the flight. But when you're accustomed to flying steerage on U.S. airlines, the cabin service in Swiss International's business class is amazing. White linen. Wines from around the world. Real food, good food — such as roast duck and Swiss milk chocolate. I didn't want to miss anything, and by the time the cabin lights dimmed I had only three hours remaining for sleep
We shuffled into Swiss' local connection to Geneva, which was filled to capacity with commuters. My constricting middle seat (between two Zurich bankers) was a far cry from the nearly limitless legroom and horizontally reclining seats of my previous flight.
"This isn't a flight," explained one of the bankers, "as much as it is a bus."
He was right. Forty minutes after takeoff, we landed at Geneva's international airport, where we hooked up with Richard Weir of the New York Daily News, another journalist and regular ski companion, and rendezvoused with our taxi driver for the 150-kilometer (93-mile) drive to Courchevel. I got my camera out.
"Hey, Skip…" I asked, "…because I'm filming, do you mind if I take the front seat?"
"Not at all," he replied, "as long as you don't mind if I puke on the back of your head."
---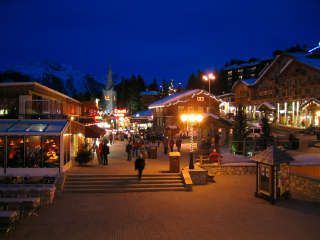 Courchevel 1850
Courchevel is actually four resorts, each named for its respective altitude in meters. Courchevel 1300, also known as Le Praz, is the first you encounter as you enter the resort area. Two massive ski jumps (Courchevel 1300 was the site of the ski jumping events during the '92 Albertville Olympics) loom over a patchwork of homes and small inns. Several trails and two gondolas connect it to the rest of the resort. The road switches back up the mountain from there, past the quiet Courchevel 1550, then Courchevel 1650 (a somewhat unattractive collection of hotels and boutiques, but much livelier and with great access to the skiing above) and ending at Courchevel 1850 — the crown jewel of the valley.
1850 is what gives Courchevel bragging rights as one of Europe's most chic and exclusive ski and snowboard resorts. Elaborate hotels, ornate inns, shops, restaurants and multi-million-Euro chalets lie tucked into the forest and just above the treeline. 1850 draws royalty and rock stars.
We checked into the four-star luxe Hôtel Byblos des Neiges in the early afternoon. It's an extraordinary hotel with a lot of charm and direct access to both the slopes and a gondola midstation.
Despite my lack of sleep, I was anxious to board that lift and see what Courchevel's terrain had to offer. Our hosts, including René Montgrandi, the director of Courchevel's Office of Tourism and several other folks from the resort, plus Washington-based journalist Bill Triplett (who had arrived two days earlier) were having none of that. In Courchevel,
lunch is as important as the skiing. Ours spanned nearly two hours and half a case of wine.
Dining at the Byblos includes a selection of local cheeses.
Click image to open a full-size Trois Vallées trail map in a
new browser window.
Le Chalet de Pierres
An on-mountain lunch in Courchevel isn't exactly burgers and fries.
"Maybe one percent the planet really has the money, and they wish to find someplace to spend that money," Montgrandi said, explaining the realities of marketing a ski resort at the stratospheric level. "In Europe, we have Courchevel, St. Moritz, Gstaad, Davos, Lech. Four, or maybe five maximum. In the States, you have Aspen, Beaver Creek, Deer Valley, and in Canada you have Whistler. But you have lots of mid-range resorts, too. In Europe, you have to choose between the upscale market and the downscale market. There's really no choice in between."
Over cognac, Montgrandi spoke lovingly of the resort, its history, its philosophy (everything in France, it seems, is based on a philosophy), its architecture, the local culture. I settled back in the sunshine and took in Montgrandi's words. Wine? Cognac? Exhaustion? I was starting to mellow in. Skiing? Yes, well… and then I suddenly remembered: I was here to SKI, dammit, and it was 3 p.m. Good thing the lifts run 'til 5. I staggered to my room to change into ski gear.
---
Courchevel's four villages dot the center of a massive alpine valley to the east of — and more or less parallel to — two other valleys. The first contains the resort villages of Val Thorens and Les Menuires. The second features Meribel and Meribel/Mottaret. Combined, Les Trois Vallées (the Three Valleys) is the largest interconnected ski region in the world. Nearly 200 lifts provide access to the region's seemingly endless 24,711 acres, all on a single lift ticket. Courchevel alone includes 65 lifts –10 gondolas, 10 high-speed detachable chairlifts, one aerial tramway, eight fixed-grip chairs and 37 surface lifts. The overall vertical drop is 1,438m (4,717 feet) at Courchevel, or 1,966m (6,450 feet) for the Three Valleys as a whole.
To put it into perspective, this is an area that could swallow up four Whistler-Blackcombs or five Vails and still have room left over for the odd Sugarloaf. That's an awful lot of skiing, and we had only a few days to take it all in.
We were joined for those few first afternoon runs by Montgrandi, who sped us around the central portion of the resort like a man possessed of a full night's sleep.
The mind was willing. The body was not, and by the time we'd skied down from the Byblos, ascended the Plantrey chair, skied down to the Sources poma and the Vizelle gondola and dropped to the Chanrossa via Marmottes, my sleep-deprived stupor had truly become a hindrance. Nope, it was time to accept my limits, and we retired to Le Chalet de Pierres for a beer. After nearly falling asleep in their plush upstairs sofas, we again clicked into our bindings to descend to our hotel in the dwindling daylight, long after the lifts — except a handful of gondolas that run well into the evening, as a sort of aerial mass-transit system — had closed for the day.
---
Skip puts the European ski experience into perspective for Americans by explaining that "Here, the resort is the town, and the mountain serves the resort. In the States, the mountain is the resort, and the town serves the mountain."
As a lifetime first chair-to-last chair skier, I was surprised at how easy it is to become accustomed to the European ski vacation model. And if you treat your ski day the way you would at home, you'll be missing out on vital elements that make the European experience so special.
Wake up in the morning to a bountiful breakfast buffet, and then ski for a few hours before dropping by an on-mountain restaurant for lunch, which can take hours. Most restaurants are chef-owned, and what would be a quick burger and fries in the States becomes a lavish five-course affair. You ski some more, as much as a prelude for dinner as anything else.
In Courchevel, you don't have one company controlling the lifts, the lodging and the on-mountain food. Everything is independently owned, and the competition is quietly ferocious. A wide variety of French regional styles — and a slate of international styles — can be found in Courchevel. But it would be a crime to miss out on the local cuisine de la Savoie. Savoyarde food hearkens back to the region's agrarian roots — short growing season and all — and relies on dried and smoked meats, root vegetables, firm and pungent cheeses, and other dairy ingredients. Traditional dishes such
as raclette –melted cheese, served with boiled potatoes and pickles; tartiflette — sliced potatoes sautéed with butter, a bit of cured pork and onion, then baked with half a wheel of Reblochon cheese; and fondue shouldn't be missed, nor should sampling of the local pride and joy, Beaufort cheese. Visit Courchevel in the summer, and you'll see cows dotting
the slopes. Beaufort owes its creamy, fruity character to the local Alpine grasses and wildflowers, which are distinctly noticeable in the cheese's taste and aroma. Beaufort has the texture of a good gruyere but a flavor all its own, and is served in paper-thin slices carved from a large wheel or incorporated into a fondue Savoyarde.
Local wildflowers also flavor another local delicacy: genépi. It's an 80-proof digestif created by infusing a bit of sugar and grain alcohol with flowers and stems of the genépi plant — a plant related to chamomile, and which grows only on the region's steep, rocky faces. Nearly every restaurateur offers his or her own homemade version.
The Meribel Valley.
The slopes of Meribel.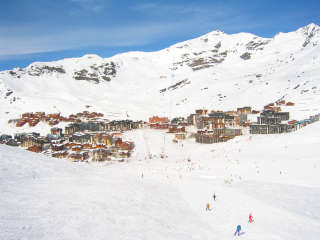 Val Thorens
The Cime Caron tram at Val Thorens.
ORIGINAL ONLINE VIDEO
Come with our camera and explore the wonders of Courchevel and
the Trois Vallées.
(Running time 9:17)
On our first evening in Courchevel, we enjoyed all of the above at a traditional restaurant in the village 1850 named for that flower. Tradition dictates that you start with the house aperitif, and the kir de la maison at Le Genépi is a chestnut liqueur mixed with champagne. Chef-owner Thierry Mugnier joined our table for a toast after we had sampled an assortment of his regional offerings, washed down with local wine. Other delicacies on the menu include a terrine of wild boar and bilberries, pumpkin soup, and sole with crayfish and artichokes. Warm and inviting, Le Genépi offers a perfect introduction to Savoyarde cuisine.
---
I awoke the next morning feeling rejuvenated, despite the significant quantities of alcohol consumed the night before. The day's agenda: a tour of the Trois Vallées, from Courchevel through Meribel to Val Thorens and back, on the heels of Stephane Turc. A native of nearby Grenoble, Turc is one of more than 700 ski instructors and high Alpine guides who now call the Courchevel area home.
We started the day as we had the day before: on the Plantrey chair. This time, though, we followed a high-speed cruiser down Bou Blanc to board the precipitous Dou des Lanches chair to reach the Col de La Loze that lies between Courchevel and Meribel.
It was mid-March, and spring had arrived. Just as it had been the day before, the skies were cobalt blue and the temperatures reached 55 degrees Fahrenheit. It had been this way here for days on end, and a good two weeks since the last snowfall, so most of the off-piste terrain was a heavy assortment of cut-up crud, at times gloppy, at other times bone-jarring. Most of the skiers here stick to the 4,680 acres of marked trails, leaving more than 20,000 acres relatively empty for those who prefer their snow in a natural state. Because of the snow conditions we stuck to the groomers most of the morning, too, following the Boulevard de La Loze and Marmottes down into Meribel/Mottaret.
The run looks short on the trail map. It's not. It's actually incredibly long. That's one thing you discover quickly in the Three Valleys: the trail map is only marginally useful. There are so many nameless peaks, exposures and faces that attempting to understand the resort in two dimensions is a pointless exercise. We were glad for the guide.
While Meribel/Mottaret is visually appealing, Meribel lacks the charm and upscale quality of Courchevel 1850. Its more attractive pricing invites many Britons on holiday tours.
Meribel/Mottaret is a long valley with countless lifts ascending each side, until the valley reaches its head at the Mont du Vallon, which offers the second-greatest singular skiable vertical drop of any lift in the the Trois-Vallées at 794m (2,605 feet). Only two groomed pistes flank its cone-like structure, making the rest of Mont du Vallon one gigantic off-piste extravaganza.
We worked our way to the summit of Mont de la Chambre via the Côte Brune chair to descend the other side into Val Thorens. Architecturally, the village is rather sterile — especially when compared with the cozy ambience of Courchevel 1850. But it's nonetheless uniquely charming thanks to its high Alpine location. Without a tree in sight, Val Thorens sits unprotected at the head of this, the region's third skiable valley. Just down valley, some of the region's best bargains may be found in Les Menuires, thanks in part to its 12-story blockhouse-type architecture.
By the time we reached the queue for the 2,952 vertical-foot Cime Caron tramway I was getting a bit fidgety. It was warm, things were beginning to corn up in places, and I had spent the morning gazing longingly at acre upon acre of enticing off-piste terrain as we sped past along groomed cat tracks to travel from one portion of the region to another. I really didn't care much about snow conditions. I was getting tired of traveling — I wanted to ski!!
Turc sensed my frustration. As we were nearing the top of the tram, looking out the uphill window against which our faces were pressed, he turned to me and pointed to a 40-degree couloir beneath the cables. "So … shall we ski that?" he asked.
I honestly think that he expected me to say no. But he grinned
when I agreed. The four of us leaned over the edge. Skip, selflessly carrying six liters of water in his pack for the crew, opted to pass on the chute and meet us on the cat track below. Bill, feeling tired after several straight weeks of skiing through the Alps, stuck to the groomed boulevard of the Combe de Caron. Rich, Stephane and I all hit the couloir.
Turc dropped into the north-facing primary line, filled with chalky bumps, skiing it with an effortless grace. At this altitude and exposure, the snow quality had remained consistent throughout the spring thaw. I had skirted over to the
sunny side of the couloir, much steeper than the primary line and filed with spring mashed potatoes, in order to film Turc and Rich.
My turn. I couldn't ski with Turc's skill or grace, but I suspect that I surprised him when, instead of traversing back over to the primary line before descending, I dropped right below where I was standing. It was challenging to work the steep, rotten snow, and the convex hill fell away to where I couldn't see the terrain below. I later learned that they were yelling to direct me to skier's right, for my chosen line devolved into boulders melting out the rotting snow, but I stayed where I was, threading the rocks to drop back to the cat track. I was thrilled. This was what I had traveled nearly halfway around the world for!
After descending several thousand more vertical feet to Val Thorens, we stopped for lunch at the Chalet de Caron. The sundeck is colossal, and we stretched out beneath the warm afternoon rays. The only problem was our location.
Even though refueled, our energy was spent and we were still at the opposite end of the Three Valleys. It was a long slog back to Courchevel — mostly trying to catch up with Turc and praying that he would stop to catch his breath (he didn't). At 5 o'clock we collapsed in a heap at the Le Tremplin's outdoor café in the center of Courchevel 1850 for a beer. It was here that Turc calculated that we had logged about 100 km — 62 miles — on skis this day. No wonder we were pooped.
---
Rich and I struck out the next morning by ourselves. After more than a day of following a guide, it was refreshing to do a bit of exploring on our own.
The tree skiing below 1850 is rumored to be superb, and while the huge conifers looked inviting from the road, the snow had rotted out to the point that it really wasn't worth investigating. We instead stayed up high, playing on the many false summits below the Vizelle gondola. The convoluted topography yields any possible combination of exposure and pitch. Hit a steep, then traverse to another when it bottoms out. Snow getting crusty? Traverse around the corner to the sunny side. Snow getting like glue? Traverse the other way until you're back in the shade. Each run off this one gondola was
more than 1,900 vertical feet of pure fun.
This isn't an area for aimless wandering during whiteout conditions. Follow the wrong traverse and you'll end up atop a 50-degree chute or a 30-foot cliff drop. "Danger: Cliff Area" signs apparently aren't a hot commodity in France. During clear conditions it's no big deal, for a dead-end simply forces you to return from whence you came, but I'd hate to stumble upon some of this stuff on those days when it's difficult to see your hand in front of your face. Those are the days to stick to the marked piste or ski with a guide.
This day we had no such worries, for it was yet another crystal-clear 55-degree day in Courchevel. Our only concern regarded the rapidly changing snow conditions. To the west, the sun was baking the forbidding wall below the Rocher de la Loze, where numerous slough slides had ripped through the chutes to expose the bare earth below. We avoided similar exposures like the plague, cautious of their propensity to slide in the mild conditions.

Cap Horn

The author and Skip King carve up Courchevel corduroy. (photo: P. Pachod)

Gondolas depart La Croisette at Courchevel 1850.

Courchevel's lone aerial tramway.
We were due to meet up with Skip for lunch at the Cap Horn, a mid-mountain restaurant, so we rode the Vizelle gondi one last time before angling down toward the eatery. It became a familiar routine: drop for 20 or 30 steep turns, traverse right, drop another 20 or 30, traverse again.
We eventually found ourselves having to plot our course. We could see the top bullwheel of the Biollay chair below us and to our right, and we knew that we had to pass still further to the right to reach the Cap Horn. Between our position and the chair lay a razorback ridge.
After shooting off a few quick hop turns and a hard traverse right, we reached a saddle in the ridge. Rich stayed uphill as I peered over the edge into the gullet of a steep, narrow couloir perhaps 15 feet wide. Its 45-degree pitch lasted for only several hundred verts before mellowing into a broad apron, but it possessed a southeastern exposure, something that we wished to avoid after the warm morning sun had done its work. I couldn't see the face of the run at its choke point, so discretion won out as we traversed a bit lower to round the shoulder of the ridge.
Clearing the ridge, we looked back for our first view of what we would have skied. It had already slid, carrying a massive mound of snow through the couloir and depositing it at its base. The tightest, steepest point of the couloir was now nothing more than bare earth. Discretion, indeed!
That night, Rich and I were on a mission: to explore the nightlife
of Courchevel. Courchevel after dark is unique. The resort draws the moneyed set from the far corners of the world. One might therefore expect a giant melting pot, but as we were to soon discover, it's actually quite the opposite.
We sipped an unidentifiable concoction of various liquors at a pirate-themed club as a group of 20 or so Lebanese patrons danced on a table. Quickly tiring of this, we decided to wander around to sample more — straight into the basement discotheque of La Cave. The few patrons present clearly knew each other. Nothing made us feel welcome, especially the doorman's cold stare. Up, out, and into another pub where deep red velvet curtains and candelabras adorned the walls. Patrons mixed with each other, but not with us. Suddenly the music changed, and as if by cue the entire place — customers and staff
alike — erupted into Russian folk dance.
"Uh, Rich? Are you ready to split?"
About ready to throw in the towel on Courchevel's après-ski scene, we opted to give it one last shot. We stumbled into Piggy's and were surprised when, for the first time this trip, we were surrounded by our own language.
We entertained this outpost of British ex-pats with tales of our evening's misadventures. Each nightspot in Courchevel caters to a very particular clientele. The trick is to discover the place that caters to you, or at least your language, and after Piggy's shuts down for the night, for English speakers it's Le Kalico.
It's somewhat surreal to watch a local French band thumping out hits from The Beatles to The Clash. Le Kalico was filled to the rafters with visitors from the U.K., and we sweated it out on the dance floor with a dozen Scots until the band stopped playing, the bright lights came on, and they threw us out at 4 a.m. I'm amazed that we even found our way back to the hotel.
---
It was 7:30 a.m. when the telephone rang.
"Err … Marc? It's Rich." The voice at the other end of the line was groggy and confused. "I, uhh, won't be able to make it out there this morning. See ya at lunch."
Our final morning, sans Rich, was spent exploring the area of Courchevel below Roc Merlet. It's a sector that appears inconsequential (surprise!) on the Trois Vallées trail map but by itself is larger than most North American ski resorts. It's a mix of gentle green slopes down low near Courchevel 1650 and nearly endless off-piste opportunities up high. It's also the jumping-off point for a memorable guided backcountry excursion into Les Avals, on the edge of the Vanoise National Park.
We were in the company of the charming Aurélie Grospiron, a former world-class mogul skier and member of French Ski Team (and sister of Olympic mogul gold medallist Edgar Grospiron). Aurélie is now the head of International Communications for Skis Dynastar. She was here to give us a preview of Dynastar's new Courchevel ski, an upscale cosmetic translation of their Cross 10, which is scheduled for a market debut during the 2003-2004 season. Our menagerie also included Montgrandi, two Parisian writers, mountain guide (and assistant Courchevel mayor) Patrick Pachod, and several members of the Ecole de Ski Français. The group overtook each piste en masse, a multi-colored wave of high-speed adrenaline. These skis were built for cruising, and their damp construction just begged to be taken to warp nine.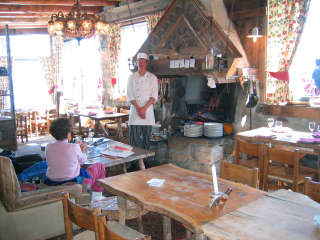 La Soucoupe offers a unique twist on "fireside dining."
Our lunch stop this day is a must-do for any visitor to Courchevel. At the summit of La Loze sits La Soucoupe (translation: The Flying Saucer), an on-mountain eatery where meat is grilled over a wood fire in the dining room's central fireplace. As with most mountain eateries here, an ample terrace allows diners to choose between the comforts of indoor dining, or the warm rays of sunshine and spectacular views when the weather cooperates. Self-service dining is also available downstairs.
Wine — lots of it. Digestifs. Sunshine. I could get used to this. It was mid-afternoon as we clicked back into our skis and  separated from many of the others in our group. Those of us who remained found the north-facing steeps surrounding the nearby Dou des Lanches chair to be perfectly positioned to preserve snow quality even during this spring thaw, and we spent the remainder of the day yoyo-ing laps on its face — chutes, trees, steeps, fun. One final descent into town through the gentle trees lining Chenus, their shade also preserving the snow, was a fitting end to days filled with wonder in Courchevel.
The alarm at 4 a.m. came much too soon. Packed and out the door by 4:30. Back to the airport in Geneva. Back to America, back to reality. Between the cuisine, the wine, and of course the skiing, I had discovered a new way to enjoy a ski holiday — the European way. No, the Courchevel way. It's a way that I'm more than ready to rediscover.
IF YOU GO:
You can spend a boatload of money in Courchevel. The resort makes no bones about its upscale clientele and its willingness to help them dispose of income. But folks with more modest budgets can still have a fabulous experience. For one thing, lift tickets in the Three Valleys are considerably cheaper than they are in the States. And most hotels include two meals — either breakfast and lunch, or breakfast and dinner — in the daily tariff, so your wallet needn't be drained with extra dining. Even the simpler hotels have excellent kitchens.
The Roof:
Home to 12 four-star and four-star luxe hotels, 19 three-star hotels, eight two- and one-star hotels, and various chalets, apartments and condominiums, you'll find plenty to choose from. As a rule of thumb, the higher the elevation, the higher the quality…and the higher the price. Per person/double occupancy rates at the four-star luxe Les Airelles (www.airelles.fr), for example, range from €640 to €5,500 per night, including breakfast and either dinner or lunch. As at many of the luxury hotels, you'll find a minimum stay of seven days (14 days during holiday periods) at Les Airelles. Before you shake your head, realize that Les Airelles enjoys 90% occupancy and 80% revisitation rates.

The Hotel Kilimandjaro
The four-star luxe Hôtel Byblos des Neige (www.byblos.com) publishes its full board rate at €360-530 per night per person, double occupancy. The sister hotel to the famed Byblos St. Tropez, the entire staff migrates between the two hotels each October and April. It is conveniently located right at the first stop on the Jardin Alpin gondola, and features a luxurious indoor swimming pool and an attended ski room with boot dryers for each guest. The service in the hotel is outstanding, even when you fry a circuit breaker by mistakenly plugging a 110-volt power strip into their 220-volt service. Embarrassingly, I speak from experience.
Le Kilimandjaro (www.hotelkilimandjaro.com), another four-star luxe property, is a collection of luxury chalets connected to a central core via an underground garage and network of passageways. Rooms include plasma screens that serve double duty as televisions and Internet monitors. Half-board rates range from €310-420 per person per night for a room, or €600-742.50 for a suite.
Too rich for your blood? The Alpina les Grandes Alpes (www.lesgrandesalpes.com) is a three-star hotel (still exquisite in these parts) situated on a prime piece of real estate immediately adjacent to La Croisette and its smorgasbord of lifts. Rates range from €127-372 per person per night for full board, or €105-350 for half-board.
And prices drop further as the star-count and elevations do, too. Three-star accommodations in Courchevel 1650 may be had for as little as €55 per person per night for bed and breakfast at the Hôtel du Golf du Courchevel (www.hoteldugolf-courchevel.fr), and you're still able to ski from your door.
The Eats:
This is France, after all, so it's tough to go wrong anywhere. The local Savoyarde cuisine is a diner's delight (and a cardiologist's nightmare). In addition to Le Genépi (described in detail in the main article), there are numerous other fine dining experiences worthy of mention, including:
Le Chabichou (www.chabichou-courchevel.com) is home to Michel Rochedy, one of two Michelin two-star chefs in Courchevel 1850 (the other is Jean-Pierre Jacob at the Bateau Ivre). Relax before dining in the fireplace-lit piano bar before partaking in Chef Rochedy's award-winning cuisine.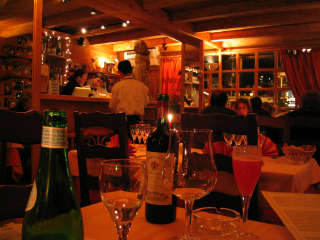 The dining room at Le Cendrée.
Enjoy delicacies such as zucchini flowers rolled around lobster meat and fresh Mediterranean filets in Les Airelles' warm dining room, which is adorned with hand-painted Tyrolean art. One evening per week, Chef Michel Renaud departs from his typically French cuisine to serve a thematic dinner, which might include Moroccan specialties, Mediterranean, or Russian. During March 2003, the prix-fixe dinner was priced at €115, lunch at €85. Be sure to relax in the living room afterward for a taste of their genépi and a fine cigar.
Le Cendrée serves wonderful Italian cuisine in a cozy, intimate dining room. The chef's hand-made manicotti and cannelloni is served alongside filet mignon, wood-fired oven pizzas, and one of the most extensive wine lists in the resort. The house aperitif — Bellinis — are made with champagne and fresh peach juice. Yum.
If it's seafood you're after, the dining room at the Alpes Hotel du Pralong (www.relaischateaux.com/pralong) serves a Thursday night seafood buffet, featuring everything from chilled lobsters to several varieties of oysters.
One note: popular on-mountain lunch spots do accept walk-ins if they have the space, but it's a better idea to make reservations. Hotel concierges can do this for you.
The Nightlife:
In Courchevel 1850 you'll find nightclubs of all manner. Experience taught us to choose carefully one that caters to your needs, your wallet, and your nationality.
The Shopping:
As our traveling companion Bill commented, "There's nothing on sale here." You'll find the usual assortment of ski shops
mixed in with upscale gift shops selling anything from crystal pieces to Hugo Boss. There are perfume shops, art galleries and a baffling array of status-symbol wristwatches on offer. Just be sure to bring your wallet.
Two evenings per week, a collection of street vendors set up their wares along the street just below La Croisette for a flea market, which features everything from fleece pullovers to Beaufort cheese and local charcuterie.
The Fun:
No American resort I've seen can match Courchevel for off-slope diversions. A (very) small sampling of the attractions:
75€ will get you a 12- to 15-minute flight aboard a parapente or paraglider from the top of the Suisses chair. Stop by the cabin atop the lift for more information from Air Performance Parapente and Paragliding.
In the center of Courchevel 1850 you'll find any number of activities, from ice skating or bowling at Le Forum to a horse-drawn sleigh ride. Ice climbing on an artificial wall, go-karts on ice, hot-air balloon or airplane rides, snowmobiling, snowshoeing…the choices are nearly limitless.
One activity that shouldn't be missed is an illuminated two-kilometer (1.25-mile) "toboggan" run that drops nearly 1,000 vertical feet from Courchevel 1850 to Courchevel 1550. What they call "toboggans" are actually plastic sleds with two steel bars for steering/braking. Given the facts that the 'controls' are only marginally effective and that the course switches back down a steep mountainside and through the forest, you can't help but realize that this nonsense would never be allowed in the litigious USA. We couldn't stop laughing from the sheer fun and insanity of it.
Getting there:
The closest major international airport is in Geneva. Swiss Airlines is a partner with Courchevel, and offers flights from major east coast cities (although visitors from cities other than New York will need to change planes in Zurich). Getting to the resort from there, however, can be a bit tricky. While helicopter transit from the airport to the resort may seem extravagant at $1,000, the price is for five people, which doesn't seem so bad compared to $195 per person for a taxi. And what a way to see the Alps! (At press time, Courchevel was aware of the skyrocketing costs of taxi transportation and was exploring ways to transport guests more inexpensively.)
Any number of taxi services make the trip, including our driver Richard Guessoum's Passat (www.taxi-prestige-courchevel.com).