Avoriaz, France – Perched
atop of an enormous cliff only an hour and a half from Geneva airport, the custom
built village of Avoriaz is a unique skiing and snowboarding destination with
an atmosphere all of its own. The unique architecture of the wooden buildings
make this a strangely compelling place to visit, and the car-free environment
allows visitors to ski through the streets surrounded only by pedestrians and
horse drawn sleds. This gives Avoriaz a very insular sensation, where visitors
feel isolated and perfectly safe in their own little world. The village is the
highest point in the sprawling Portes du Soleil ski domain which encompasses
12 villages spanning the French/Swiss border, and claims to be the largest international
and linked ski area in the world, including 650km of groomed trails.
ALTITUDE SICKNESS OF THE WRONG KIND
The very shaky start to the European
ski season in 2001/2002 had lead us to book flights to Geneva airport a few
months earlier and leave our choice of resort until the very last minute in
the hope of actually seeing some snow. As it turned out, the two best resorts
in Europe the week we left were St Anton in Austria (a good 5 hours from Geneva)
and Avoriaz, so Avoriaz it was. As it turned out, we'd stumbled upon a pretty
decent place, especially if you compared the snow levels to some of the other
French resorts at the time. The snowpack was good when we arrived and improved
over the first couple of days despite the warm weather creating slush underfoot.
Towards the middle of our trip, the main flaw in Avoriaz's armor was revealed
as the low altitude of the Portes du Soleil reared its ugly head, causing it
to rain and wipe out all the fresh snow.
Overall, the Portes du Soleil has
the potential to be a fantastic destination, however two things stop it from
fulfilling its potential.
Number
one: the aforementioned altitude issue. The highest point of the area is
directly above Avoriaz and stands at a meager 2,466 meters (8,091 feet)
and the lowest point comes in at around 800 meters (2,625 feet). This is
a real shame, because the terrain is sufficiently diverse to please nearly
everyone except the hardcore extreme skiers and boarders.
Number
two: getting around the area. On the face of it, the Portes du Soleil is
one complete system that is easy to get around, allowing you to travel vast
distances with ease. The reality of this, however, is an entirely different
matter. It can be particularly difficult to get from one region to another,
especially traveling across Morzine. You'll quite often have to walk or
catch a free bus to get yourself to the next lift, although this is not
a particular problem unless you plan on doing a lot of touring. The best
way to appreciate the area is to pick a region and spend all day there,
so that you get the most out of it and than move onto another area the next
day. If you've got a car this will be easier as it's quicker to drive to
certain parts of the Portes du Soleil than to use the lifts to travel. Don't
let either of these two factors put you off from visiting, though, just
be aware of them, especially if you're booking an early-season trip. I'd
go back to Avoriaz in a second, but I'd never book a trip there in advance,
simply because of the altitude. Having said that, the area does get a lot
of snow on a regular basis and is hugely popular with a lot of people.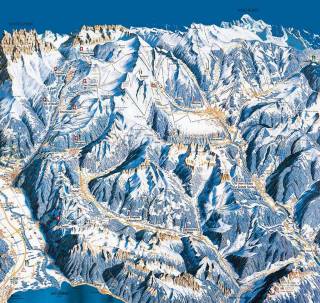 Click image to open a full-size Portes du Soleil trail
map in a new browser window.
The lift system is quite good as
long as you stop in one place for the whole day or don't move too much. The
whole of the Portes du Soleil comprises 212 lifts – 117 surface lifts, 81 chairlifts,
10 gondolas and 4 cable cars – providing a total uphill capacity of a staggering
235,828 people per hour. There are a lot of surface lifts, but it's easy to
get around without having to use them too often because most of them seem to
be in the lesser-used areas. If the snow conditions are bad at lower elevations,
the lift lines in and around Avoriaz can be huge, as everyone from the
whole Portes du Soleil converges on the village. It's really easy to get over
to the Swiss side of the resort, and the management has devised several different
touring itineraries to guide people of different abilities around the area.
These are all reasonably well marked, but it can get slightly confusing in places
as well as slightly surreal when you have to spend all day following gigantic
rabbit symbols. The tours are a good idea, though, as they allow beginners and
intermediates to see a lot more of the area without fear of getting lost, or
ending up somewhere they shouldn't. Aside from the lift map, a separate booklet
is available with details of all the times needed to get from one place to another,
which should hopefully get you back to the correct place by the time the lifts
close.
The area is split into four major
areas: Morzine/Avoriaz, Les Gets, Les Crosets and Chatel, as well as a number
of smaller villages. There are accommodations available in most if not all of
the villages, but most visitors choose Avoriaz and Morzine, and to a lesser
extent, Les Gets. Ski schools and guiding companies are available; however,
the number of guiding companies isn't huge, presumable due to the close proximity
of the resort to Chamonix. The tourist information office in the village was
very helpful and can even arrange heliskiing trips.
Finding good off-piste skiing and
riding can be confusing, as the trail map isn't terribly functional. The TS
Chamossiere lift around Morzine/Les Gets has some good terrain as does the Mont
Cherry back bowl above Les Gets. If you're around Avoriaz, check out The Wall,
the steepest run in Europe and the black runs around TS Combe du Machon as well
as the runs around Fornet and the three lifts out the back of Avoriaz. The TSD
Mossettes and TS Chauz Fleurie will also provide you with some decent terrain
if you hike a bit above the lifts. In the Chatel area, the best off-piste places
are Lingo, the Super Chatel area and the runs around Le Cret and Cret Benl.
In Les Crosets, the small hike off TK Ripaille is worth the effort as is the
bowl between TS Grand Conche and TS des Mosettes. The hike off the top of the
TS Pointe de l'Au is good as well – stay high and left in the bowl for some
good terrain and trees.
VILLAGE LOGISTICS
Accommodation in Avoriaz is almost solely
limited to self-catering apartments. There are a couple of hotels, but apart
from that you have no choice to go self-catering. All the apartments are basically
the same – some are in different areas of the village, and a small number of
luxury apartments are also available. All accommodation has to be booked through
one of the leasing agencies that control all accommodations in the village (details
of all of these can be found on the Avoriaz website). A word of warning: they
don't speak very good English, so it might be best to send them an email or
book through a travel agent if your French language skills are not so hot.
The village is separated into two parts,
which are about a four- or five-minute walk apart. It really makes no difference
which one you stay in, as everything is fairly close to everything else. If
you suffer from vertigo, make sure you don't get one of the buildings that overlook
the cliff, because there'll be a very large vertical drop below your window.
The apartments are also notoriously small. The best thing to do is exaggerate
the size you'll need when you book, as a general rule of thumb I'd add at least
two people to your real total, unless you are all very friendly.
If you're looking to visit the Portes do
Soleil on a slightly cheaper budget, you'll be able to find cheap accommodation
in one of the other villages, especially in Morzine. If the snowpack is good,
this is a sensible option, but if decent skiing and riding is limited to the
higher stuff round Avoriaz you'll need to allow an extra half hour to get to
the decent snow in the morning. Getting around the village is easy; you can
walk from one end of it to the other in 10 or 15 minutes.
Getting all your belongings to your
apartment can be an entirely different experience, however, especially if you
are right at the far end of town. Because the village is car-free, when you
arrive you have to check in at a central unloading point, unload all of your
bags, and then park your car in the lot (or further down the road if you don't
want to pay for parking).  If your apartment is a long way away you can pay
for a horse drawn sled to take you and your luggage there. This would be a wise
option, because although the village is not huge, it would seem an awful lot
bigger with all your gear in tow after a long trip. You can also hire little
sleds to pull along yourself, which is what we did as our apartment was quite
close to the village entrance.
All apartments come with kitchen
facilities, and there are three or four supermarkets in the village if you want
to cook for yourself. There are quite a few restaurants and bars, mostly the
usual savoyard and pizza places. Most of the bars are all reasonably similar
in price and choice. An honorable mention goes to the superb ski repair shop
under the Douchion apartments near the entrance to the village, without a doubt
the best repair shop I've ever had the pleasure of dealing with. As far as non-skiing
activities go, I'd definitely consider going somewhere else if you've a non-skier
with you. The village is a great place, but you'd go stir crazy or turn into
an alcoholic in a couple of days.
Mountain restaurants are plentiful,
and some are better then others depending on your tastes and budget, although
some of the best on-mountain restaurants that I've ever dined in are in the
Portes du Soleil. There are some fine après-ski drinking bars close to town
as well. Grooming, if that's your thing, is comprehensive and takes place in
the middle of the night in the village, which can be a bit disconcerting if
you're staggering home from the pub and see a snowcat coming toward you.
Avoriaz is a cool place with bizarre
buildings, some good terrain and a good feel. There a decent mix of different
nationalities, lending to the village a very laid back European feel. Yes, I
think it's fair to say I've developed a bit of a soft spot for Avoriaz.