Whistler (B.C.), Canada – We dispatched snow statistician and First Tracks!! Online Contributing Writer Tony Crocker to British Columbia's famed Whistler Blackcomb Resort last March to experience two sides of the ski and snowboard megaplex. Tony, likewise, delivered a report with two sides! Read on for the "Yin and the Yang" of Whistler- Ed.
Extremely Whistler
Whistler/Blackcomb has gathered many superlatives from the ski press in recent years. The size and variety of skiing is unsurpassed in North America. Many skiers of upper intermediate and better abilities believe that the quality of skiing is North America's finest along with the quantity. Skiers accustomed to the consistent snow or sun weather cycles of Utah or Colorado should be prepared for the unpredictability of Pacific Northwest weather. The two ski mountains that comprise the resort do have distinct differences, and Vancouver locals often have a strong preference for one over the other.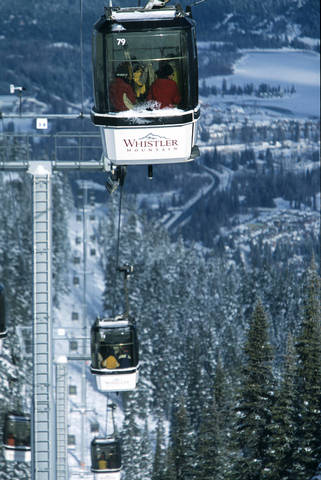 All of Whistler's major base area ski lifts are covered from the elements.(photo: Toshi Kawano)
The snow statistics provided below show the impact of elevation upon snowfall rather than any true difference between the two ski areas. The huge vertical and proximity to the ocean, about 30 miles away as the crow flies, influence Whistler weather. The base area frequently receives rain and all major lifts from the base are therefore covered. The lower mountain runs have snowmaking to build sufficient base to hold up to the fickle weather into April. Surface conditions can be pretty sloppy, and many skiers download at the end of the day after skiing the better snow higher on the mountain. Even without the lower runs, remember that these high elevation areas have 3,500 vertical feet spread over 6,000 lift-served acres.
On average it rains to the top of Whistler/Blackcomb only two or three times per season. It snows a lot in the alpine region, however, and the snow up there is generally lighter than at most West Coast areas, although not as dry as it is in the Rockies. Snow preservation in the alpine is excellent, second on the West Coast only to Mammoth. Consistency of snowfall in the alpine results in an enviable 90% reliability record at Christmas, the best of any major resort in North America. 2005 was only the second season in Whistler's 40-year history that the resort suffered through poor mid-season conditions.
Pacific Northwest weather is unpredictable, as exemplified by the common joke that Whistler is a four-season resort because you experience all four seasons in the same day. With the huge vertical, it is possible to board a base area lift in the rain and ride through snow and fog and finally emerge into sun at the top. The lower mountain surface is likely to be better in December and January when the snowmaking equipment may be used more often. The alpine region, however, has better coverage and visibility in February and later months. The lifts close at 3 p.m. through January and at 3:30 p.m. from February onward.
During storms, Whistler will usually experience more terrain closures than Blackcomb. In warm weather, Whistler will turn to spring conditions more gradually than Blackcomb with its greater number of northern exposures. Blackcomb therefore closes in late April, while Whistler runs several upper lifts serving 2,500+ vertical feet until the first weekend in June. Then Blackcomb's Horstman Glacier T-bars lift skiers and riders 800 vertical feet in the summer.
TERRAIN TYPE
Cruising: Blackcomb has a continuous west-facing fall line of 4,000 vertical feet from the Rendezvous restaurant to the base. If the lower runs have poor snow conditions, there's still 2,000 vertical feet available on Solar Coaster. In spring conditions, it's best to start in the north facing Jersey Cream area (1,200 vertical feet) and save Solar Coaster for the afternoon.
Whistler's Emerald chair is a direct analogy to Jersey Cream, north-facing and at similar elevation. Check the grooming report for longer runs near the Garbanzo chair such as Raven, Bear Paw or Tokum. Franz's or the Dave Murray Downhill may be groomed to the Creekside base. Although low altitude, they get less traffic than the runs to Whistler Village and can develop corn snow in early afternoon.
Blackcomb's Pakalolo Chute is amongst the B.C.
ski mountain's best steeps.(photo: Tony Crocker)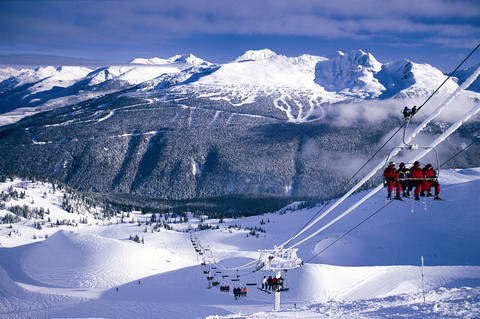 Blackcomb's 7th Heaven forms a backdrop for Whistler's
Harmony Express chair.
(photo: Toshi Kawano)
Moguls: Blackcomb: Usually a couple of runs on the long front face, such as Gearjammer, will be mogulled and best left to the afternoons on sunny days. There will also be good bumps on several ungroomed trails approaching the popular Glacier and 7th Heaven lifts.
Whistler: The upper sections of Whistler Bowl and Harmony Bowl usually have the best moguls. Also check out Chunky's Choice and ungroomed runs on the Black chair.
Steeps: Whistler: Nearly all of the entrances to Glacier Bowl, Whistler Bowl and West Bowl are impressively steep. The Horseshoe Chutes provide the steepest lines in Harmony Bowl.
Blackcomb's most well-known steep run is the Couloir Extreme, overlooking the Rendezvous restaurant. It faces west and is often best left to afternoons. From the Horstman Glacier area, bear left into Secret Bowl, which provides access to north facing Pakalolo and Secret Chute. The longest steep runs are Ruby, Garnet/Diamond and Sapphire Bowls, accessible by climbing Spanky's Ladder from the Glacier chair.
Wide Open Spaces: Whistler offers the most extensive open bowl skiing in North America. There are six bowls that cover as broad an expanse as those Vail or Mammoth, but steeper and better exposed than Vail (north instead of south), and with longer fall lines than Mammoth – over 2,000 vertical feet in some cases. The Peak chair accesses the expert-oriented Glacier, Whistler and West Bowls plus a long catwalk to the shorter and mellower Bagel Bowl. The Harmony Express serves intermediate and expert terrain in the Harmony, Symphony and Burnt Stew sectors. From the back of Harmony, Whistler blasted open a notch to create a wide open groomed run in Glacier Bowl.
Blackcomb's open terrain is varied in character. 7th Heaven is a broad south face similar to China Bowl at Vail. North of 7th Heaven is the Horstman Glacier, an intermediate bowl with an 800 vertical-foot T-bar. From Horstman, you can choose amongst the steep chutes dropping into Jersey Cream Bowl or continue down Blue Line to the Glacier Creek area. The most distinctive open terrain is the immense Blackcomb Glacier, reached by a short hike from the Showcase T-bar. It's a mile wide and three miles long, with a choice of intermediate or advanced routes. After reaching the tree line, another three miles of terrain await on the exit trail leading to the Excelerator chair for a total drop of 4,000 vertical feet.
Stormy weather or marine cloud layers can make alpine visibility very difficult. Take advantage of clear weather days by skiing the high alpine regions early and often. Don't forget your camera for the breathtaking views.
Trees: Whistler has a transition zone of glades starting on the ridgelines separating some of the bowls. The most noteworthy areas are the lower boundaries of Whistler Bowl and the back side of Harmony Ridge. As you must ski and traverse through the alpine to reach these areas, skier density is low and new snow can last a while.
Blackcomb's transition zone is more abrupt, but the area has cut some glades below 7th Heaven and from the Crystal area down to the Blackcomb Glacier exit road. Most of these have sunny exposures and are best skied in fresh snow.
Powder: Whistler's sprawling alpine bowls can offer outstanding powder skiing, although at least half of the above-treeline acreage is likely to be inaccessible when the Peak chair is closed during storms. After storms, the visible direct lines near Peak and Harmony will get tracked out quickly, but powder lasts quite a while in outlying areas such as Symphony / Burnt Stew to the east , West and Bagel Bowls to the far west and the glades just below timberline.
Whistler's new Flute Bowl offers over 1,000 vertical
feet of hike-to terrain.
(photo: Tony Crocker)
Whistler's Harmony Bowl.(photo: Tony Crocker)
Blackcomb's 7th Heaven and Glacier lifts are more likely`to operate during storms than Whistler Peak. Areas near these lifts will be the first to get tracked out. Secret Bowl, Jersey Cream Bowl and nearby chutes take a little longer due to less obvious navigation to reach them. Powder lasts the longest on the Blackcomb Glacier and the Spanky's Ladder expert runs which merge into it. Recall that it takes two chairs, a T-bar and a short hike – a minimum committment of 45 minutes total – to complete a circuit on the Blackcomb Glacier.
Hiking and Backcountry:
Both areas have enlightened boundary policies typical in Canada. You're on your own, but responsible for any rescue costs. Due to the nature of the glaciated terrain, guides with transceivers and rescue equipment are strongly recommended. New for 2005 is the 1,000+ vertical-foot Flute Bowl, which is patrolled and avalanche controlled but must be hiked.
Crowds: Blackcomb's efficient high-speed lift system was one of the key factors in making Intrawest a successful ski company. There can be skier congestion in popular areas, such as at Glacier Creek, the site of two high-speed lifts and an excellent day lodge and cafeteria. Blackcomb is still a large enough mountain that many trails will be less busy. The Blackcomb Glacier always has low skier density due to its slight inconvenience.
Whistler had lower lift capacity under separate management from Blackcomb despite having more usable ski acreage. The Peak chair used to have horrendous lift lines before Harmony Express was built to provide alternative access to some of the alpine bowls. When Intrawest purchased Whistler in 1998, the Peak Chair was immediately converted to a high speed. With continued upgrades each mountain now has six high-speed quads and one gondola. Whistler still has quite a few off-the-beaten-track areas where skier density is extremely low, particularly the 2005 expansions in Flute Bowl and Peak-to-Creek.
The major point of congestion can be getting up the mountain from Whistler Village in the morning. During peak periods it's advisable to be there by the 9 a.m. opening time. If you really want to beat the rush, consider the First Tracks breakfast up on the mountain at 7:30 a.m.
Intermediates: Both mountains are more advanced- to expert-weighted than most North American destination resorts. Most intermediates will nonetheless be challenged and inspired rather than intimidated. Extensive alpine regions in Harmony Bowl, Burnt Stew Basin, 7th Heaven and the Blackcomb Glacier are intermediate accessible. Grooming is excellent on most of the mid- and lower-mountain trails. Stamina may be tested by the extra long runs and variable snow conditions.
Novices: Whistler / Blackcomb is a questionable destination for beginners. Most green trails on the map are catwalks or would be rated blue on many other mountains. Blackcomb's front face is a continuous fall line similar to Sun Valley's. Whistler has a little bit of flat terrain up at the Roundhouse, but the teaching areas for beginners at both mountains are at low altitude with inconsistent snow conditions.
Whistler's Creekside Village offers ski-in/ski-out
convenience off the beaten path.
(photo: Insight Photography)
Children: Suitability for children is dependent upon the ability considerations discussed above. Most children need to be closely supervised on such vast mountains.
Costs: Most Canadians bemoan the high cost of Whistler/Blackcomb, particularly compared to the bargain resorts of interior B.C. But lift ticket and restaurant expenses are still below average compared to top American resorts. Those planning to eat meals in their condos should stock up in Squamish on the way in from Vancouver. Accommodations are expensive (and particularly jacked up at Christmas), but no other resort has as much lodging within walking distance of the lifts. With the extensive real estate development at Whistler it is worth examining a detailed map when booking. The North Village and some of the outlying Blackcomb properties are farther from the lifts than the day parking lots and thus served by free shuttle bus. Whistler Creekside is a very convenient 100 yards from a Whistler gondola but three miles from Whistler Village or the Blackcomb base.
SNOW STATISTICS
Whistler
Altitude Range: 2,140-7,160 feet
Exposure: 55% north, 2% east, 40% west, 3% south
Roundhouse (el. 6,000 feet):
Season average snowfall: 400 inches
Season standard deviation: 85
Percentage of months >=90 in. snowfall: 32%
Percentage of months <30 in. snowfall: 13%
Average maximum base depth: 105 inches
Whistler base (el. 2,200 feet):
Season average snowfall: 189 inches
Season standard deviation: 60
Percentage of months >=90 in. snowfall: 5%
Percentage of months <30 in. snowfall: 48%
Average maximum base depth: 27 inches
Blackcomb
Altitude Range: 2,140-7,420 feet
Exposure: 30% north, 0% east, 55% west, 15% south
Snowfall at el. 5,002 feet):
Season average snowfall: 346 inches
Season standard deviation: 79
Percentage of months >=90 in. snowfall: 19%
Percentage of months <30 in. snowfall: 13%
Average maximum base depth: NA
EXTREMELY CANADIAN
Extremely Canadian guides bring clients
into Whistler's steeps such as Diamond Bowl.(photo: Tony Crocker)
I had skied Whistler/Blackcomb in 1991 and 1998, and my son Adam had attended Mike Douglas' freestyle summer camp in 2002. In 2005 we were ready to return to two of our favorite mountains. On the 1998 trip Adam was 13 years old and we were almost perfectly matched in ski ability. Now he is on UC San Diego's ski team, and I thought an Extremely Canadian two-day clinic would be a good way to keep both of us challenged.
Extremely Canadian runs well-regarded advanced/expert clinics all season long at Whistler/Blackcomb and operates a lodge there as well. They also offer all-inclusive guided trips to exotic destinations such as Alagna, Italy, Niseko, Japan and Las Lenas, Argentina.
Whistler's snow reliability left me unconcerned when I booked the trip in December. Though the early season had brought only two-thirds of the resort's normal average snowfall, I have in my possession nearly 30 years of snow data showing enviable reliability. Only in 1977 had it been as late as February before Whistler was amply covered in snow.
2005 proved to be different, as I found out the hard way when I went snowcat skiing in the British Columbia interior the week after January's infamous "Tropical Punch" rainstorm had drenched most of the province to elevations up to 8,000 feet. Even more surprising at Whistler was the ensuing six-week drought, during which it snowed a meager 28 inches, leaving the area at a shocking 41% of normal season snowfall as of March 16.
After reading online horror stories from Whistler locals, I decided to place the decision to proceed with my March 21-24 trip in the hands of Extremely Canadian. Aside from the two-week period during and after the Tropical Punch they had continued with their clinics. With local knowledge they knew when to time the expert runs for the best "late spring" surface conditions, and which lines were still safely skiable in the abnormally low snowpack. We were amply rewarded for our faith when it snowed 33 inches during the three days immediately preceding our arrival.
Eight customers headed up the Whistler gondola Monday morning with guides Ralph Forsyth and Steve Mayer. After desending only about 500 vertical feet we were separated into two groups. Ralph took Adam and three other hotshots, while another three of us went with Steve. In my group were Neil, a 17-year-old from Ohio, and Rick, an Australian working in Whistler for the season. Rick's girlfriend Lucy had signed up, but after one run she realized that Extremely Canadian's "let's step it up a notch" approach was beyond her abilities.
Steve quickly sized us up, and gave me a few tips to think about for the two days ahead. Besides my trademark flailing upper body and tendency to let my hands fall back, Steve also noted that I sometimes finish a turn with a straight lower leg that makes the transition to the next turn more difficult. But given that our runs were draped with the most new snow to fall all season, the immediate emphasis was on getting to the goods in just-opened Harmony Bowl. Most of the morning runs consisted of a technical entry, some wide-open fresh tracks, and finally a narrow line of powder bumps in the Gunbarrels where we could work on the techniques Steve had recommended.
While there was plenty of powder to go around in the Whistler alpine, many entrances into the steep terrain were far more difficult than they were during my 1991 and 1998 trips. Confined entries had many more exposed rocks, and after only a few skiers the new snow would be scraped off, leaving patches of boilerplate in its place. Steve used these as an opportunity for instruction. Some slots should be straightlined into the powder below, while in others he wanted us to carry speed above the hazard so that if we wiped out, it would be on the safer slope beyond. I am used to side-stepping slowly into confined areas until I have room for my first turn, so after hitting icy sections I fell on both of the higher speed entries that day, in Horseshoe Chute and in West Bowl.
The entrance into Whistler's Couloir required a couple of stairstep drops of four or five feet each over a no-fall zone, and all three of us declined the option. By this time I understood that I would clear the hazard, but I didn't think that I would have any chance of controlling speed as I reached the 40-plus degree Couloir beyond the rocks. But this is the kind of instruction aspiring expert skiers need and will not find in typical ski area lessons. And on day two at Blackcomb, I finally nailed one of these higher speed entries on Chainsaw Ridge, and was rewarded with a steep chute of untracked powder.
We primarily spent Monday afternoon riding the Peak Chair. Powder on Cream Cheese Ridge and West Bowl was still only slightly cut up. Adam's group hiked partway up the newly opened Flute Bowl, but had to traverse in when met by ski patrol at 3 p.m. Adam reported that the new 1,000 vertical-foot bowl itself is spectacular, but requires close to an hour of hiking, including the hike out to the Burnt Stew Trail at the end. The lower part of the skiing, another 700 vertical or so, is fairly low angle, so he recommends embarking upon the hike only if you go all the way to the top.
Chainsaw Ridge.(photo: Tony
Crocker)
Whistler Bowl(photo: Tony Crocker)
This ice cave represents the
summer terminus of Blackcomb Glacier.
(photo: Tony Crocker)
On Tuesday, only Neil and I showed up to ski with Steve at Blackcomb. The two of us could not have been more different clients. I had been to Whistler/Blackcomb twice before and have spent lots of time in similar terrain over the past 25 years in search of fresh tracks. Usually I'm on my own or leading the way, but now I'm following an expert local who knows where the stashes are on the second day after a storm. Ability wise, I'm an "old dog" with a few bad habits that are tough to change. Neil is 17 year old, lives in Ohio, and had never skied powder before or been on a mountain more difficult than Breckenridge. But with youth, conditioning (he was on a state champion water polo team) and a whole lot more athletic talent, Neil was having the time of his life. And you could see his skiing improve by the hour.
I had developed a preference for Whistler over Blackcomb on prior trips, as Whistler's vast lineup of north-facing alpine bowls reminded me of my home mountain of Mammoth, California, but with longer fall lines. Steve's guidance on Tuesday brought out the virtues of Blackcomb. He explained, "We always ski Whistler first after a storm, because Blackcomb has lots of stashes you can't see from the lifts or easily figure out how to reach."
After a warmup (?) run linking several short stashes near Glacier Express, we headed up the Showcase T-bar to Blackcomb Glacier just after opening. After skiing the wind-affected Blowhole, we traversed high skier's left and above a few cliffs to hit the best powder stash of the week. The next time up we went up Spanky's Ladder and skied Diamond Bowl, which had been open Monday but was only lightly tracked. At the bottom of Diamond Bowl, Steve took us inside an ice cave that is the terminus of the Blackcomb Glacier in summer.
Most of our later runs were 2,500 vertical-foot laps from the Horstman T-bar down to Glacier Express, usually entering at Couloir Extreme/Big Bang, then traversing hard left or right when the bowl opens up to get some fresh tracks. Finally we would funnel back to the lift via the soft bumps on Staircase, where Steve could see if we learned anything since skiing the similar terrain on Whistler's Gunbarrels. Another interesting run was the step-over-rocks entry to a narrow chute to skier's right of Pakololo. Below that I skied a powder bowl while Steve showed Neil how to launch some air off a 10-foot boulder.
At the end of the clinic both groups met in Merlin's at the base of Blackcomb, where Extremely Canadian has an upstairs lounge and provided an ample supply of wings, nachos and beer. I can highly recommend this program to adventurous advanced skiers. That Las Lenas trip is looking very tempting….
Adam and I skied one more day on each mountain. The lift lines fortunately settled down as the powder finally tracked out. Monday and Tuesday were the busiest days I'd ever seen at W/B, as it was Easter Week, British Columbia spring break and by far the best conditions of the year according to the locals. So it had also been perfect timing to have line-cutting privileges with Extremely Canadian. Wednesday's weather rivaled Tuesday as the nicest I've ever seen at Whistler, with primarilly blue skies and no alpine fog or flat light. We skied some runs in Burnt Stew Basin and Whistler Bowl that we had not done on Monday. Thursday we were on Blackcomb, sampled a few highlights, and called it a day in mid-afternoon as we needed a breather after 93,000 vertical of energetic skiing in only four days. Conditions at Whistler/Blackcomb continued to improve after we left. About 10 feet of snow fell after March 15 in 2005, nearly half the season total.
We did not spend a lot of time in Whistler Village on this trip. We had booked a room at Chateau Whistler at the base of Blackcomb through Tourism Whistler. Chateau Whistler was built in the 1980's, but very much in the style of the historic Canadian resort hotels I have enjoyed on other ski trips: Chateau Lake Louise, Banff Springs, Chateau Frontenac and Manoir Richelieu. After the Extremely Canadian workouts we were content to relax and enjoy the amenities of the Chateau, including excellent dinners at the Wildflower and Portobello restaurants. After my fourth day of skiing I also indulged in a massage at the Chateau's La Vida Spa in an effort to revive my body for an upcoming weekend at TLH Heliskiing.