Las Leñas, Argentina – Las Leñas is the largest but perhaps most controversial ski area in the Southern Hemisphere. Advocates compare its scale to Vail and Snowbird combined, though the long and steep off-piste terrain is perhaps more analogous to low density European areas like Alagna or La Grave. Detractors point out that 80% of this terrain is dependent upon the Marte double chair, which is closed at least half the time due to weather, avalanche control, wind or less diligent management than we expect in North America. When open, Marte's skiing can also be limited by substantial lift lines and by the other slow lifts needed to return to it.
The polarized opinion above, plus my favorable impression of Extremely Canadian's clinic at Whistler, convinced me to sign up for one of their World Tour weeks. Extremely Canadian has been coming to Las Leñas since 2002, and lead guide Joe Lammers has over 200 days of lifetime skiing at Las Leñas.
Some skiers put a premium on skiing anything in the Southern Hemisphere, just to break up the typical six to eight months between northern ski seasons, so it's worthwhile to analyze Las Leñas relative to Southern Hemisphere alternatives, as well as on an absolute scale vs. European and North American skiing.

Click image to open a full-size Las Leñas trail
map.
Santa Rosa snowstorms are sometimes so intense at Las
Leñas that ski resort staffers need to dig out the Marte chairlift.
(photo: Derek Foose)
Las Leñas skiing is entirely above treeline.
(photo: Derek Foose)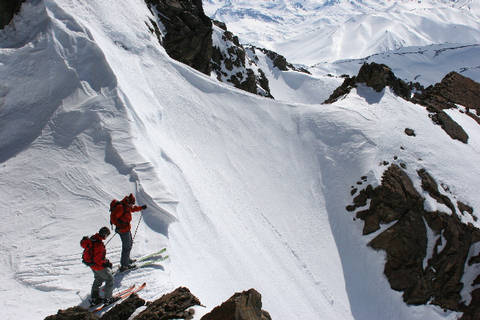 Las Leñas is known for long, sustained steeps.
Here, two skiers inspect the top of Eduardo's (photo: Derek Foose)
Las Leñas, like all South American and New Zealand ski areas, is completely above tree line, so there are substantial lift and terrain restrictions during storms. Snowfall is measured near the base of the mountain, and no one really knows how much more snow falls up higher. It is close to the Chilean border and crest of the Andes, so reported storm totals and base depths are similar to Valle Nevado and about 75% of Portillo's. These three ski areas average much more snow than New Zealand's South Island lift serviced areas, all of which are much lower altitudes (top lifts lower than Las Leñas' base) and well leeward of the crest of the Southern Alps. Bariloche, which is low and leeward of the Andes, has a poor reputation for natural snow though it has the best mountain resort town in South America.
Word of mouth before my visit was that South American snowfall was very volatile, and that it was driven by El Nino. Las Leñas' monthly snow data (thank you Joe Lammers for letting me get my mitts on this!) is 44% correlated to the strength of El Nino, about the same as at Arizona Snowbowl but less than in Southern California. The standard deviation of snowfall is much more than any of the North American areas I track, about 50% more than in the Sierra and double that of the Rockies. Thus three of Las Leñas' 22 seasons have been total wipeouts, with less than five feet of natural snow all year, while snowfall was a whopping 492 inches in 2002.
There are anecdotal comments about big Santa Rosa storms (in honor of South America's first saint, commemorated each year on August 30) that have arrived conveniently close to some of the Extremely Canadian trips. The 22 years of data show that July is actually the highest average snowfall month, though that fact is inconsequential in light of the huge volatility. Las Leñas snow does tend to fall in big dumps of several feet, with extended sunny spells in between, similar to but even more extreme than in the California Sierra.
The lower mountain terrain, served by six chairs and several surface lifts, faces predominantly east up to 9,100 feet and thus turns to spring conditions quickly on sunny days at a latitude (35 degrees) similar to Arizona Snowbowl or Taos Ski Valley. Marte's terrain preserves very well as it is 2,000 feet higher and some of it faces south (away from the sun in its hemisphere). The low density east-facing bowls tend to produce outstanding corn snow after just a few sunny days and cold nights.
There are several reasons why skiers should prefer Las Leñas in mid-August to early September. First, the snowfall volatility argues to hold off booking until snow is on the ground. There has been enough snow by sometime in July to book in 15 of the 22 seasons. Also, South American holidays in the latter part of July are the busiest time. Weekly lodging costs at that time of year are approximately $500 higher per person. Finally, Las Leñas' inefficient lifts (no high speed detachables) do not handle crowds well. Marte's lift lines can be well over half an hour when the resort is full. It is for these reasons that Extremely Canadian chooses to run its one or two weeks of tours around Labor Day.
2009 UPDATE ON MARTE, THE KEY TO BIG-MOUNTAIN SKIING AT LAS LENAS
Although this article was published in 2006, in 2009 I obtained useful information about operations at Las Lenas from Jeff Eckland, a new director of mountain operations who formerly worked at Kirkwood ski resort in California.
Marte operates about 40% of the time. This is based upon actual chair loadings during the 2009 season compared to the Minerva and Vulcano lifts and fits the "gut reaction" of repeat visitors. Avalanche control is more complex than in North American resorts, more comparable to Chamonix in France.
"We have Catex — Cable Explosives Delivery Systems, basically a small ski lift that spans the top ridges here — very common in Europe, unheard of in the USA. And Gazex — also common in Europe, but typically only owned by Highway Departments in the USA," Eckland explains. "Every single storm, five people are stationed up at the top of Marte in our Catex facility at the top patrol station which is called Bora Bora. We have to carefully watch the storms to get up there before it arrives, and we are trapped up there for the entire duration of the storm, with supplies and diesel and explosives to last up to 10 days. The record thus far is nine days for one team. Four of the team are Catex and explosives experts, and one is a dedicated snowcat operator who continually digs out the top terminal of Marte and also digs out the Iris Teleski — a huge job to try to keep up with the drifting snow all night. Those teams do avalanche control from above, and we do further work down here in the base, where we fire the Gazex, the Avalaunchers, and the 75mm Howitzers. We protect the faces above Caris, Minerva, and Vulcano with the Howitzers, and they are further protected higher above with the Catex and Gazex.
"The crew at Bora Bora hardly sleeps. During the storms every four hours we must wake up and do a Catex mission to protect Marte."
When storms are over, the top of the Vulcano lift often needs to be excavated as well.
The top of Marte is wind exposed, which could result in closure 25% or more of days even when storms and avalanche control are not factors.
Why weren't lifts built up the sheltered Apolo Valley rather than in Marte's exposed location?
"When they built Las Leñas in the early 80's, they wanted to use this alignment, but the Apolo valley is an old glacial channel, and the surface is 100% unstable permafrost," says Eckland. "The engineers chose to put Marte up in the rocks where it exists now because they were discouraged by the lack of stability in the permafrost. But modern lift foundation technology and concrete chemistry are now advanced enough to allow lifts to be in the Apolo Valley, funds permitting."
The ideal solution for Las Lenas would be an aerial lift to the top from the frontside base, preferable the more wind-resistant double-cable Funitel design used at Squaw Valley, Calif. Unfortunately cost in North America would be similar to the $25 million for the recent new tram at Jackson Hole, Wyo. And in Argentina there would be a 50% import tariff on that. This tariff applies to any new equipment Las Lenas might need, like new snowcats or cheaper lifts in the Apolo Valley.
TERRAIN TYPE
Cruising: Each of the six chairlifts has one major groomed line, with minor variations. Think Alta in the 1980's, but quality of grooming is not as consistent. In fairness I observed a similar standard of grooming at Treble Cone, Cardrona and Coronet Peak in New Zealand in 1997. The best cruising by far is when you nail one of Las Leñas' huge bowls in smooth windbuff or corn.
Moguls: Off-piste skier density was so low that I never saw a mogul during my entire week. Moguls would be likely to form in confined lines on the Cenidor slopes dropping south from the Caris chair at 8,500 feet. But with the high snowpack of 2005 Cenidor was a broad face where everyone spread out and the snow remained smooth.
Wide Open Spaces: Even without Marte there is a considerable expanse of open skiing, comparable to New Zealand's best at Mt. Hutt and Treble Cone. In addition to Cenidor, there are the extensive lower Mercurio bowls reached by traversing north from the Vulcano chair at 9,100 feet. When Marte is open, there's another 2,000 vertical above Vulcano on Billboard, upper Mercurio or Paradiso. From any of these you traverse back to Las Leñas' lowest lift, the Urano poma at 7,200 feet. Occasionally Extremely Canadian will go beyond Paradiso, ski to the valley floor and arrange a truck pickup. During our week they arranged a snowcat ride to Necklace Bowl, which drops 3,000 vertical into the Neptuno canyon opposite Marte.
Steeps: Here the hype is for real. Las Leñas' steep pitches are sustained for longer verticals than we usually see in North America. The Marte liftline averages 30 degrees for 2,400 vertical, and the upper Mercurio and Paradiso bowls are similarly pitched. The Billboard face directly above the top of Vulcano chair averages close to 40 degrees, as does Eduardo's, a couloir that drops into the middle of the ski area near the top of Minerva chair. As measured by Google Earth Eduardo's has the same average pitch as Squaw Valley's 75 Chute for over twice the vertical. There are further long and steep routes through the rocks moving south from Eduardo's to the Marte liftline and beyond, but one should first go with a guide to avoid unstable snow or becoming cliffed out.
Trees: None. They have planted a few near some of the hotels and they aren't doing very well. In fact Las Leñas is named for a small desert shrub that grows naturally in the area.
Powder: With vast and steep terrain and low skier density there should be plenty of powder to go around after storms. Besides delayed opening of Marte, the major caveat is wind. While we noticed little wind while skiing, the lower south facing bowls of Cenidor and Mercurio had obviously been windpacked before we first skied them. The east facing areas had powder when we first arrived but had been windpacked by the time Marte opened late in our week. Joe Lammers explained that wind direction at Las Leñas is not predictable; you have to explore after each storm and figure it out. Further evidence of varying winds was the lack of huge cornices that build up from prevailing winds at areas like Mammoth. The snow tends to be between the Sierra and Rockies in water content.
Hiking and Backcountry: Las Leñas management has you sign a waiver and tie a small ribbon to your clothing when you go off piste the first time, even to Cenidor or lower Mercurio. Avalanche control work is done from the top of Marte because several of the bowls overlook and potentially threaten the pistes just above the resort. However, Extremely Canadian requires (and will rent to you) backcountry gear (transceiver, probe, shovel) for all customers. If you're going to explore less obvious routes, it makes sense to do so in groups and carry the gear. There are longer (more than one hour) hikes available to Necklace Bowl (which we accessed by snowcat) or to any number of 12,000 plus- foot peaks west of Marte close to the Chilean border.
Dropping through Eduardo's. (skier: Joe Lammers;
photo: Derek Foose)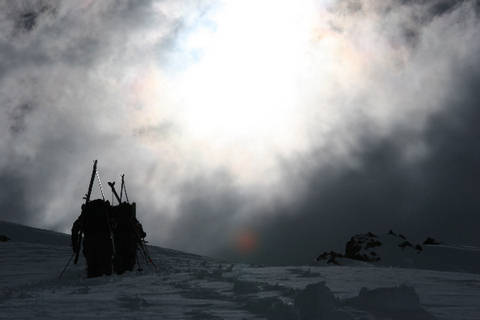 A one-hour hike opens up a whole lot more terrain
at Las Leñas.
(photo: Derek Foose)
Lots of elbow room in Las Leñas' Necklace
Bowl. (photo: Derek Foose)
The village of Las Leñas. (photo: Derek Foose)
Crowds: Las Leñas has a 1980s-vintage lift system with no high speed chairs. During my week 10-15 minute lines were typical for Marte, and also for Caris and Vulcano on sunny days when Marte was closed. When skiing from Marte directly into the resort area it takes two to four lifts to return to Marte's base. I did not consider these logistics issues serious as most advanced skiers would be delighted with 15,000 to 20,000 feet of vertical per day given the quality of terrain. The upside of the lift system vs. terrain served is the preservation of fresh powder or pristine corn. In terms of very low skier density I think Silverton would be the only area in North America comparable to Marte's off-piste.
Intermediates, Novices and Children: An August/early September vacation would be worthwhile for families where all are strong skiers. Las Leñas is not an appropriate destination for North American novices or intermediates due to its remoteness and costs relative to the amount of suitable terrain and non-skiing activities. New Zealand is the most logical Southern Hemisphere destination in terms of a mixed vacation where skiing is just a portion. Valle Nevado in Chile probably has the most intermediate terrain, and logistics for a mixed vacation in Chile are between New Zealand and Argentina in terms of convenience.
Dining, Apres-Ski and the South American Lifestyle: There are two independent restaurants on the mountain for lunch. La Cima has an extensive menu and wine list and is particularly known for its Asada plates, where the famous Argentine beef is grilled at your table. It is a few hundred feet above the base area at the top of two short T-bars. At the base of Marte is Santa Fe, which has tasty Mexican and Southwestern food. There are also restaurants in the resort, but the better hotels include breakfast and dinner with your room.
Las Leñas is 25 degrees latitude west of the center of its time zone, so in early September it was pitch black at 7 a.m. and light until 7:30 p.m. Lift hours are 8:30 a.m. to 5:30 p.m. Dinner in South American resorts is usually not served before 8:45 p.m., and the nightclubs (UFO Point and Corona Club are best known) don't get lively until well past midnight. So Extremely Canadian advised any aspiring party animals to take a two- to three-hour nap between skiing and dinner.
Lodging and Getting There: Las Leñas is very remote, 663 miles from Buenos Aires, so it makes sense to "go with the program" and do a Saturday-to-Saturday trip. On Saturdays only there are flights to Malargue and a bus transfer 42 miles to the resort. The alternative airports are San Rafael, 124 miles from Las Leñas, and Mendoza, 248 miles distant. The timing of the Malargue flights requires an overnight stay in Buenos Aires when you arrive from North America. But most people want a day to sightsee and/or shop there anyway. The good news is that winter is low season in Buenos Aires and the flights from North America run $650 – $850 round trip, very reasonable for that distance.
The most popular hotels with North Americans are the 4-star Escorpio and the 5-star Piscis. Room accommodations at Escorpio are basic (reputedly also at Piscis), but the food is good, service excellent and it has the best ski-in/ski-out location. We were over at Piscis after skiing to use its free WiFi, and the public areas certainly looked upscale, including the pool and spa that I poached after our biggest ski day. Escorpio has more of a retro ski lodge atmosphere, particularly when Extremely Canadian is occupying about half of its rooms. A 2005 week including breakfasts, dinners and the Buenos Aires to Malargue flight plus transfers between August 27 and September 10 costs $1,250 at Escorpio and $1,700 at Piscis. Add $50 for weeks between August 6 and 27 and $500 for July weeks. For more detailed info on package prices and the resort in general see www.laslenas.com and www.laslenasski.com.
The Bottom Line: So you can do a week in Las Leñas for $2,000 – $2,500, comparable to what a western skier might pay for a week skiing in Europe. And unlike Europe in our winter, there's no comparable or cheaper skiing near home.
For budget-minded skiers there are a couple of ways to reduce the cost. $330 of the package cost is for the Malargue flight and transfer. The cheapest way to get to Las Leñas is to take the 16-hour bus from Buenos Aires to Las Leñas that leaves at 8 p.m. every day from the bus station downtown for about $30 each way. The bus from Buenos Aries is a special night bus with big seats and includes dinner and a movie. Some people fly into Mendoza via Santiago and catch a six-hour bus to Las Leñas for $20 one way. There are also 2-star apartments in Las Leñas, and while tour operators quote prices similar to the Escorpio some message boards indicate that you can sometimes get apartment lodging on the cheap. There is a grocery in the resort and Argentine restaurant prices are a bargain by North American standards.
There is little doubt that Las Leñas is a premier Southern Hemisphere destination for advanced/expert off-piste skiers. Drought risk can be minimized by waiting until June or July to commit. It makes sense to spend a full week and not only because it's required by most of the hotel/flight/transfer packages. With volatile weather you want to be there awhile to increase your chances of a clear day with Marte open. If you get that for as many as half of your days you will be delighted. And in the 10% of weeks that Marte never opens you'll probably have lots of fresh powder as consolation.
SNOW CONDITIONS & TERRAIN
Las Leñas, Argentina – 7,400 ft.
Lift-serviced altitude range: 7,219-11,253 ft.
Season average snowfall: 266 in.
Season snowfall standard deviation: 127
% high months >=90 in.: 18%
% low months <30 in.: 51%
Average maximum base depth: N/A
Exposure: 5% north, 59% east, 1% west, 30% south
Terrain difficulty: 20% yellow, 25% black, 20% red, 30% blue, 5% green
Extremely Canadian World Tours
Extremely Canadian is best known for its steep skiing clinics at Whistler/Blackcomb. Several of the guides and coaches are competitive freeskiers and have extensive photo and video credits all over the world. Starting about 10 years ago some of the guides knowledgeable about the Alps started to run guided tours there. For advanced or expert skiers most of the best terrain in the Alps is uncontrolled off-piste, so skiing with guides greatly enhances the experience. Now the "World Tours" are a popular and expanding part of Extremely Canadian's business. They continue to run one or two each season in the Alps at resorts such as Val d'Isere, Verbier, St. Anton, La Grave and Alagna.
Joe Lammers had been skiing Las Leñas on his own throughout the 1990s and persuaded EC to offer tours there in 2002. Las Leñas has proven to be the most popular tour (feeding that off-season jones) and they now fill up two trips there each season. New and successful for EC in 2005 was Japan's Niseko, where powder is almost guaranteed with its 500-inch annual snowfall on the thinly populated island of Hokkaido. EC management recently visited the Gulmarg resort in India's Himalayas since it built a gondola to 13,000 feet and may offer tours there as soon as 2007.
The Europe, Japan and Las Leñas tours all cost about $2,800US in 2005 for transfers, lodging, breakfasts and dinners plus guiding. This is about $1,500 more than on a do-it-yourself basis and slightly less expensive than a week of snowcat skiing in Canada. For this you are getting local expertise in an exotic environment and increasing your chances of getting the maximum out of the experience. You are always skiing with a guide who knows the area inside out plus four or five other skiers of compatible ability. The four ski groups at Las Leñas were set up the first day and adjusted as needed during the week.
Las Leñas' rental ski selection is limited and the best skis are rented early Saturday and kept out the whole week, so I strongly advise skiers to bring their own, even if you have to drag them through tropical locales elsewhere in South America.
We had very deep coverage in 2005 but saw a wide variety of surface conditions and had only one clear day with Marte open. This is not a situation where you want to waste time with trial and error, and the Extremely Canadian guides made that day memorable with perfect choice of terrain and timing of sun exposure. This service is most valuable for the top group, where Joe can navigate extreme lines that would be very difficult for skiers to find safely on their own. Weather was unsettled at the beginning of the week, when we had some powder Sunday but it unfortunately rained on the bottom 1,000 vertical feet of the mountain on Monday. Terrain selection was important for the next two clear days while Marte was being excavated from a late August storm. And Extremely Canadian arranged a snowcat to take us up to 10,800 feet the afternoon before Marte opened.
The guides will provide technique tips or as much instruction as you want. In my case Cara Dolan was helpful in adjusting my technique for rental skis that were not ideal for the terrain and conditions. For the last two days I skied some with the fourth group, and I was very impressed how quickly a couple of those skiers had improved during the week. The terrain utilized by Extremely Canadian is not suitable for most intermediates, but fit and athletic aspiring off-piste skiers can really accelerate their learning curve under EC's tutelage.