Big Sky, MT – Southwestern Montana's Big Sky ski and snowboard resort was founded by legendary news anchor Chet Huntley, and for 20 years it appealed mainly to low intermediate skiers and those attracted to nearby Yellowstone National Park.  The construction of the Lone Peak tram in the 1990s, however, brought lift access to some of North America's most extreme in-bounds terrain from the mountain's summit.  With the tram construction, Big Sky expanded to 3,500 acres, but the lifts and terrain are sharply stratified by ski ability.  The lower mountain retains its low intermediate character, while advanced skills are required to negotiate nearly all runs from the Challenger lift, the Lone Peak tram or the new Headwaters lift at adjacent Moonlight Basin Resort.
Big Sky's terrain covers the south and east sides of Lone Peak.  North of Lone Peak lies Moonlight Basin, which was purchased in 1992 primarily for conservation purposes.  Real estate was developed at Moonlight Basin at the northern edge of Big Sky's terrain, and Montana Backcountry Adventures offered snowcat skiing in some of the sheltered forest.  Eventually the high-speed Six-Shooter lift replaced the cat skiing and Moonlight Basin was born as a separate ski area in December 2003, though the two smaller lifts near Moonlight's real estate, Iron Horse and Pony Express, are shared by Moonlight and Big Sky.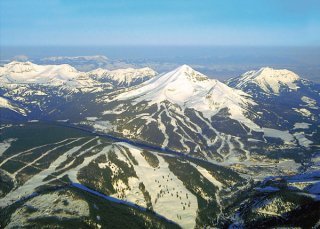 Lone Peak in southwestern Montana is home to two interconnected ski and snowboard resorts, Big Sky and Moonlight Basin.(photo: Big Sky Resort)
The relationship between the ski areas was acrimonious for two seasons, but in June 2005 agreement was reached to offer a combined lift pass. The combined ticket is only offered on a single day ($79 in 2006-07 vs. $69 Big Sky alone or $47 Moonlight alone) or season pass basis. The combined skiing offered by the two resorts can nonetheless often be worth more than the sum of the parts, as I will explain.
Big Sky resembles Jackson Hole with its long vertical and sunny exposure, but has substantially lower snowfall than its nearby Wyoming cousinl. Big Sky's higher altitude and more northerly latitude, though, result in better snow preservation than at Jackson. With normal snowfall and cold midwinter weather, the lower mountain terrain is usually well covered with packed powder
snow from Christmas into February. In March, good spring conditions can be expected around the base area at 7,600 feet, with only the backside of Andesite serviced by the Thunder Wolf and Lone Moose lifts, reaching down to 6,970 feet, getting very slushy.
Big Couloir and Little Couloir, accessed via Big Sky's Lone Peak Tram, aren't for the faint of heart.(photo: FTO/Matt Duffy)
Moonlight's northerly exposure should result in mostly packed powder conditions well into spring. From late February onwards, the combined Lone Peak pass allows savvy skiers to follow the sun around to ski on the most pleasant surfaces all day long.
Experts will have different concerns. Two hundred and fifty-eight inches of mid-mountain snow is plenty for most ski areas, but rock outcroppings on the steeps of Lone Peak, Challenger and Headwaters require significant cover. While wide-open terrain like Highway and Liberty Bowl might open by Christmas, experts should stick to the deepest months of mid-January to mid-March to maximize skiable lines. Most of Lone Peak's and much of Challenger's terrain faces south, so timing is key in spring. The top of Lone Peak will preserve
packed powder for a day or two after fresh snow, but is then best skied midday or later once surfaces soften. Lone Peak may be closed for safety reasons on cooler spring days when the snow remains firm. Experts should then head for Moonlight Basin, where the north-facing Headwaters will likely remain packed powder or windbuffed chalk.
At Big Sky's altitude and latitude, snow preservation is superb on the quarter of terrain which faces north. These include the Ramcharger groomed runs for intermediates, plus the Gullies and Cron's Bowl off the tram. From Challenger the Midnight and Moonlight subalpine areas face north.
At Moonlight Basin, the only significant natural terrain that does not face north are the east-facing advanced/expert runs near the Lone Tree chair. Lone Peak is about 2,000 feet higher than any other nearby mountain, and thus provides stunning views from the top, well worth the brief walk from the tram station for pictures. Lone Peak will always be closed during storms due to exposure and limited visibility, but is otherwise not as windy as one would expect for such an isolated peak. Temperatures are colder than at Jackson Hole, but not as cold as the Alberta Rockies .
Terrain Type:
Cruising: At Big Sky the Ramcharger quad serves several wide open cruisers of 1,200 vertical feet each. Midwinter, the 1,700 vertical-foot runs down to Thunder Wolf are even better, but they can get sloppy or thin with direct sun in spring. The long runs from Swift Current and the Gondola are quite flat, with a length-to-vertical ratio over 5-to-1. The south-facing Shedhorn runs are mainly skied by a handful of skiers coming from Lone Peak, so they may have excellent corn snow cruising on sunny days.
Moonlight Basin has similar gentle lower mountain topography, but many groomed trails have been cut narrower than those at Big Sky, with changes in pitch to provide more interest. The best of these start from the top of Lone Tree and spill off Lookout Ridge, eventually ending 2,000 vertical feet below at the base of Six-Shooter. Runaway and Elkhorn are more conventional cruisers parallel to Six-Shooter.
Moguls: Challenger's most visible lines, Little Tree, Highway and Big Rock Tongue have Big Sky's best bumps. They are best skied midday as exposure is southeast. Liberty Bowl off the tram and the black marked runs on Thunder Wolf and Lone Moose lifts also sport moguls.
I hardly saw a mogul on my quiet January days at Moonlight Basin. I would expect some challenging bumps lines along the Lone Tree liftline, especially when it softens in the spring.
Steeps: Lone Peak's rocky terrain confines skiers to a selected few lines, but they are sustained and memorable. Directly under the tram is Big Couloir, a dogleg chute of more than 40 degrees in pitch for over 1,000 vertical feet, skiable only with patrol checkout, a partner and rescue equipment.
Everyone else at Big Sky starts down Liberty Bowl, but the steeper open runs are first Lenin and then Marx, accessed by traversing left on Otter Slide. Both are about 1,500 vertical feet, with Lenin being slightly steeper and also providing access to the three Dictator Chutes. By traversing across
Marx you reach the ridgeline overlooking the Lone Peak triple chair. Below you are the northeast facing Gullies, over 40 degrees for about 700 vertical feet with openings in two rock bands for added interest. After the first rock band you can traverse left again into the relatively mellow Cron's Bowl
and return directly to the tram. Skiers should be comfortable with the Gullies before considering the more precipitous and confining Big Couloir.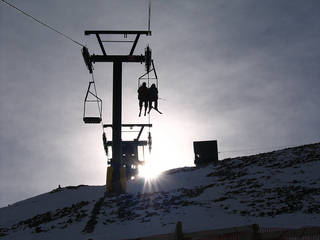 The Headwaters Chair access Moonlight Basin's steepest ski terrain.(photo: FTO/Matt Duffy)
In 2005-06, Moonlight Basin installed a double chair to the eastern edge of the Headwaters area. The ridges are still wind-exposed and the skiable lines are as confined as on Lone Peak despite the better northerly exposure. Headwaters Bowl and about four of the chutes are now accessible with short traverses and step-ups. The chutes farther west marked Whitewater and Three Forks require a longer and more exposed hike of up to 400 vertical feet of ascent. Skiers emerge from any of the Headwaters chutes into Stillwater Bowl and must take a long runout down to Six-Shooter before returning to the Headwaters lift. Make it a three-lift circuit via Lone Tree for more interesting skiing. The unloading stations of Headwaters and Big Sky's Challenger are just a few feet apart, so experts with the combined ticket can concentrate on much of the steep terrain more efficiently.
Also on the combined ticket you can ski from Big Sky's Lone Peak tram into Moonlight Basin with patrol checkout, a partner and rescue equipment. You step down the same sketchy ridgeline to Big Couloir and then drop the other direction into the North Snowfields. These have a fairly broad diagonal 30-degree fall line for about 1,000 vertical feet. Then you traverse past some cliffs to reach either Rips or Great Falls, which are another 1,000 vertical feet and comparable in challenge to the Gullies or Dictator Chutes but not as extreme as Big Couloir or Whitewater/Three Forks.
Wide-Open Spaces: Tree line at Big Sky is around 9,000 feet. The only open intermediate terrain is served by the 833 vertical-foot Lone Peak triple. The real wide-open spaces are Lone Peak's south side runs of Marx, Lenin and Liberty Bowl. These fall lines continue for 3,000 total vertical through scattered trees to the Shedhorn lift. At Moonlight Basin the tree line marks the sharp transition from the steep Headwaters and North Snowfields above to the mostly intermediate trails below.
Trees: At the bottom of Big Sky's Liberty Bowl, Bavarian Forest is nicely gladed on skier's right for about 1,000 vertical feet. On the front side, most of the terrain flattens abruptly right around the tree line. There are a handful of short steep tree shots beside the Moonlight and Midnight runs north of Challenger and around Rice Bowl under the Gondola. Several of the single black runs dropping off Moonlight Basin's Lookout Ridge were designed by thinning the otherwise dense forest to provide some good glade skiing rather than by cutting conventional trails.
Powder: Powder days at Big Sky are likely to yield only a small number of very high quality runs. Skier density is very low, but lift access to the prime sustained fall lines on Lone Peak is limited. During times of deep snow cover, Challenger can be a promising powder alternative. A traverse south from the top of Challenger leads to the Cache trees and with a short hike, to the A-Z Chutes. These runs all face south and are best skied in fresh snow.
The Lone Tree area should provide the best fall lines on Moonlight Basin powder days. These will range from the gladed single black trails to the steeper and more open lines near the chair. Moonlight's skier density is so low that it's probably a good strategy to go for the marquee lines on Lone Peak the first day, then hit Moonlight on the second day when fresh tracks should still be available. This plan will also allow time for control work to open up the Headwaters.
Hiking and Backcountry: The major hiking area is the rocky ridge above the top of the Challenger and Headwaters chairs. The hike and the runs it accesses (A-Z Chutes and Whitewater/Three Forks) are all serious no-fall zones.
Crowds: Crowds have always been rare on Big Sky's 3,500 acres due to the ski resort's remote location. Skier density is very low and most lifts require little or no waiting. The conspicuous exception is the Lone Peak Tram, which only holds 15 people. On a pleasant spring day when you could walk onto any other lift, the tram wait was at least 20 minutes all day and peaked at 35 minutes in mid-afternoon. On powder days skiers may have to choose between quality and quantity of fresh tracks.
Moonlight Basin was so deserted during my January visit that it might have been confused with the private Yellowstone Club on the other side of Big Sky. It is safe to say that no other destination in North America comes close to the combination of Big Sky/Moonlight's 5,300-acre scale and uncrowded slopes.
Intermediates: Big Sky has always been a paradise for low intermediates. The more adventurous may be frustrated by the inaccessibility of the upper mountain. The easiest way off Lone Peak is via 1,500 vertical feet of usually mogulled Liberty Bowl. Moonlight Basin has similar topography (Headwaters
is definitely off-limits) but its trail design provides more variety for intermediates.
Novices: The easy runs are much longer here than at many destination resorts. Big Sky's Gondola, Swift Current and Southern Comfort lifts access gently pitched runs of up to 1,600 vertical feet. Nearly all of the terrain between Moonlight Lodge and the Six-Shooter chair is novice friendly, and provides up to 1,800 vertical feet of descent with access from the Lazy Jack trail.
Children: Big Sky and Moonlight Basin are good family resorts. It's very convenient to travel with children thanks to uncrowded runs, on-site day care, and ample slopeside lodging.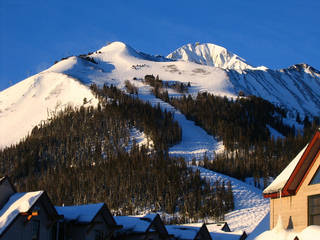 Moonlight Basin's resort center lies on the north side of Lone Peak.(photo: FTO/Matt Duffy)
Other Considerations: Most visitors fly into Bozeman, about 45 minutes north of Big Sky. Some skiers will want to spend some time there to ski nearby Bridger Bowl. It's a six-hour drive from the nearest hub airport in Salt Lake City. The main entrance to Yellowstone National Park is 45 minutes south of Big Sky and is a big attraction to many visitors. Skiers should take note that Yellowstone is closed to the public during most of March.
Snow Conditions:
Big Sky:
Lift-serviced altitude: 6,970-11,145 feet
Terrain exposure:

North: 24%
East: 38%
West: 1%
South 37%
Moonlight Basin:
Lift-serviced altitude: 7,000-9,720 feet
Terrain exposure:

North: 65%
East: 32%
West: 3%
South 0%
Lone Peak Combined:
Lift-serviced altitude: 6,970-11,145 feet
Terrain exposure:

North: 37%
East: 36%
West: 2%
South 25%

Season average snowfall: 258 inches
Season snowfall standard deviation: 44
Percentage of months with snowfall greater than or equal to 90 in.: 3%
Percentage of months with snowfall less than 30 in.: 19%
Average maximum base depth: 68 inches
| | | | | | |
| --- | --- | --- | --- | --- | --- |
| Terrain Difficulty | Yellow | Black | Red | Blue | Green |
| Big Sky | 15% | 22% | 20% | 32% | 11% |
| Moonlight Basin | 15% | 15% | 27% | 30% | 12% |
For More Information: