La Grave, France – Extremely Canadian is best known for its steep skiing clinics at Whistler Blackcomb in British Columbia. Several of their guides and coaches are competitive freeskiers and have extensive photo and video credits from all over the world. Starting in the 1990s, some of the company's guides who were most knowledgeable about the Alps started to run guided tours in Europe. For advanced and expert skiers much of the best terrain in the Alps is uncontrolled off-piste, so skiing with guides greatly enhances the experience. Now the "World Tours" are a popular and expanding part of Extremely Canadian's business.
I've enjoyed two of the clinics at Whistler Blackcomb, and in September 2005 a tour to Las Lenas, Argentina, so I naturally turned to Extremely Canadian to ski La Grave last March.
n
La Grave
(photo: Bertrand Boone)
La Grave is about an hour and a half's drive into the Alps from Grenoble, site of the 1968 Olympics. It is near two mainstream French ski resorts, Alpe D'Huez and Les Deux Alpes, but there is little conventional about La Grave. A three-stage gondola rises from the town at 4,700 feet of elevation to the P1 station at 5,600 feet, the P2 station at 7,800 feet and the top station at a lofty 10,500 feet. A poma on the Girose Glacier continues up to 11,650 feet. The only groomed runs are next to the glacier poma. There are a handful of straightforward routes between the gondola stations, but none of it is groomed so conditions can be variable.
The major attraction of La Grave, however, is the more technical off-piste terrain. Some of this is similar to advanced alpine areas in North America, but in the topography of the Alps sustained steep pitches can go on for thousands of vertical feet, often with a varied range of snow conditions and glacial features. Guiding is essential both to safely navigate this terrain and to maximize the visitor's experience. The guides avoid cliffs, crevasses and transitory snow and weather conditions that might make a route unskiable. They carry mountaineering gear requisite to gain access to some of the couloirs or more safely navigate obstacles. They must also assess their clients' abilities to choose routes that test, but do not exceed their abilities.
Extremely Canadian's guiding in La Grave is thus much more intense than on the company's other tours. In addition to their own guides Steve Mayer and Chad Hendren, they employed a French guide named Fred and an American, Joe Vallone, who has lived in La Grave for five years. This yielded a 2:3 guide to client ratio, whereas one guide typically leads four to five clients at Whistler or Las Lenas. Steve and Chad arrived in La Grave several days ahead of our group to ski with the local guides and dial into the current snowpack and conditions.
"The most north-facing place I've ever been"
I have no snow data for La Grave, but I have scattered data for some other nearby locations in the French Alps. Annual snowfall, generally measured between 6,000 and 8,000 feet, ranges between 200 and 250 inches. Volatility is high and comparable to the California Sierra, the most volatile snowfall region in North America. It had not snowed for a month prior to my arrival, which while unlucky is by no means a rare event. Remember that spanning 7,000 vertical feet, snowfall will vary more widely by elevation at La Grave than at much shorter North American ski areas.
Despite modest snowfall by North American standards, snow preservation at La Grave may be the best of all of the lift accessible mountains in the world. Pro freeskier Alison Gannett described La Grave as "the most north-facing place I've ever been." Keeping in mind the relatively northerly latitude of 45 degrees, sustained steep terrain and low skier density, dry winter snow will usually preserve well into spring. The steep couloirs can protect the snow from wind as well as sun, so even fresh powder snow may be preserved for many days.
The tree line at La Grave lies at around 7,000 feet. The upper gondola stage will rarely operate during storms or high winds. La Grave is an area where you root for the big dumps to occur right before you arrive, not while you're there, somewhat like high alpine/glacier heliskiing in North America.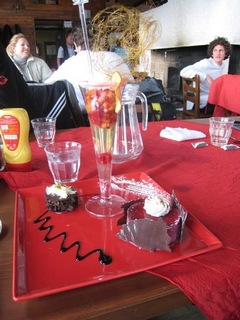 Even when the French snow conditions are sub-par, there are consolation prizes available.
(photo: FTO/Tony Crocker)
After the month with no snow, the terrain at La Grave had survived without any melt/freeze cycles above 9,000 feet, and on the other five Extremely Canadian trips to La Grave, winter conditions have prevailed to far lower elevations. But on our trip, most lower terrain was hard packed with many frozen granular moguls near the P1 station. I would advise visitors planning in advance trips to the Alps for March and later to check out trail maps and look for a good chunk of terrain over 2,500 meters (8,200 feet) if they want to ski packed powder conditions.
Modest snowfall and excellent snow preservation are usually a recipe for optimal late season skiing. La Grave is therefore usually a safe bet for maximum snowpack in March. Skiers should keep in mind that many of the off-piste routes drain to the valley floor below 5,000 feet. Thus, in spring you could be hiking 1,000 feet or more out of some of those couloirs, even if the snow is still good up high.
I flew into the French city of Lyon and caught a direct bus to the center of Grenoble. From Grenoble you can board an early morning bus to Serre Chevalier/Briancon, which will drop you at La Grave on the way. I was more fortunate to hitch a ride with fellow skier Russ from Seattle, who was driving a rental car from Geneva. This allowed me time to visit Grenoble's hilltop medieval fortress, which also houses the 1968 Olympic museum. The other four Extremely Canadian clients were British. Andy and Robert had done this trip with Extremely Canadian before, while Nick and Tina were solo skiers who, like Russ and me, were visiting La Grave for the first time.
Getting acclimated
Extremely Canadian stays at the Edelweiss Lodge at the east end of town, and the package includes breakfast and a four-course dinner each day. The Edelweiss has a basement hot tub and sauna, and a ski shop with Black Diamond demo skis.
On the first morning, after breakfast we walked the five minutes through town to the Rossignol center across from the gondola where Extremely Canadian arranges for rental gear. Skis and a mountaineering harness are provided. They will rent you avalanche gear (beacon, probe, shovel) for $150 unless you bring your own. I had just purchased Volkl Mantra skis from Alta's demo shop and opted to use my own skis on the first day.
Click image to open a full-size La Grave trail map in a new browser window.
Our first day's skiing took place mostly along the dotted line routes on the trail map at right. It was a comfortable 27ºF at 10,500 feet on a calm and sunny day. We started with a few warm-up runs on the glacier poma, then descended the Girose Glacier off-piste fall line for another 1,000 vertical feet or more to Col du Lac. It's important to cross the Col into Vallons de Chancel in order to return to the La Grave gondola. As we skied past Lac de Puyvachier we could tell it had been much warmer sometime in February, because everything below 8,500 had been through a melt and re-freeze, and most of it remained firm. In the shade below tree line the snow was frozen granular, and the last 1,500 vertical feet down to the P1 from were filled with solid and tedious traverses and bumps.
After a pizza lunch atop the gondola at Les Ruillans we skied two afternoon runs beneath the gondola in Vallons de la Meije. On one of these runs we boarded the gondola at the higher P2 station, and on the last run had a shorter traverse to P1 than we had coming from the Vallons de Chancel side. With the firm and sketchy surface conditions we never skied into town all week – it was better to ride down from the P1 and save energy for more exciting adventures.
Tossing the beer can
Having observed the snow conditions, on the second morning I opted to use the Rossignol B94 demos instead of my own skis. Along with the snow conditions, our guides had been assessing our skiing skills on the first day, so they set up a couple of drills to prepare for couloir skiing during our warm-up runs on the poma. First, we made short turns on the groomed, staying within a fall line no more than a couple of ski lengths wide and keeping the upper body facing down the fall line. Next, we traversed skier's right from the poma to the very head of the Girose Glacier, with a chalky 41-degree slope of just a few hundred vertical feet. I felt right at home, as the terrain was reminiscent of Western North American alpine steeps that I ski all the time. I unfortunately had not noticed that the vibration from skiing the lower mountain a day earlier had loosened my boots, and when my outside ski wobbled I shot across the slope for 50 feet or so before recovering. When I was thrown off balance at the end of the turn, I thrust my downhill arm forward to regain control, which turns the upper body away from the fall line as the uphill arm flies in the air to the rear. Steve Mayer colorfully referred to this as "tossing a beer can," and for the rest of the week that was the catch phrase for not being in control of one's turns.
After cranking my boots up a notch we went back up the poma and split into two groups. I've always been tossed into the "lower" groups with Extremely Canadian, and Joe and Chad were assigned to guide Robert, Tina and myself. We skied the glacier to Col du Lac again, but this time traversed to the Patou Couloir, which drops a few hundred vertical feet into the middle of Lac de Puyvachier. The Patou was pitched at approximately 35 degrees, but the top had a ledge that dropped off into a short section that was only one ski length wide. Joe anchored a rope, and the rest of us sidestepped into the couloir with poles stashed behind our backs as our arms, outstretched to each side, guided the rope. If anyone fell, he or she could grab the rope with either hand, and thus avoid a slide to the frozen lake below.
Once the rope was packed away, Joe jump turned through the narrowest section, and we all skied the rest of Patou without incident. Exiting Patou, we could see the other group skiing the longer Banana Couloir above the west end of the lake. Banana may be a bit steeper at the top, but is not as narrow and did not require the rope entry.
Vallon de la Selle
(photo: FTO/Tony Crocker)
Following a late Les Ruillans lunch, our group skied under the gondola and started toward the P2 before dropping through a rock band off the traverse into Vallons de la Meije. The Bear Couloir was probably only 30 degrees in pitch, but it narrowed to a crux, and since it faced east and we skied it in 4 p.m. shade, snow conditions were the biggest challenge. Tina was quite frightened avoiding the obstacles in Bear. Her skiing skills were sufficient, but the mental challenges of the exposure in La Grave were foreign to her and were starting to fray her nerves. This was curious to me, as Tina was a skilled rock climber and was quite comfortable in some situations later in the week that made me far more nervous.
Since I was comfortable on the Rossi B94 demos in Patou and Bear, I decided to spare my new Mantras the hardpack and rocks for the rest of the week. In early evening, after we got off the hill some clouds moved in and six inches of snow were predicted for overnight.
La Vaute
Alas, the storm was a bust, but it drove temperatures on the glacier down to 12ºF. Not an auspicious start, but the day nonetheless delivered a memorable day of skiing.
Once again we all did a poma warmup, and then skied the Girose Glacier below the poma. But this time we did not traverse through Col Du Lac, but instead continued down the glacier. We soon passed signs warning not to descend further without mountaineering gear.
The wide glacier splits, and we ski a series of bowls and short couloirs descending to about 8,100 feet. This sector is well sheltered and holds the most powder-like snow that we'd see all week. The guides know that this drainage cliffs out, so we take off our skis.
We climb up perhaps 50 feet of snow to an anchor set into the rock to gear up for a 100-foot rope rappel into the longest couloir I've ever been near. The La Vaute couloir extends 3,600 vertical feet below the glacier all the way to the valley floor. The rappel in ski boots was scarier to me than any of the skiing. Skis are lashed to our packs, though my daypack is so small that the French guide, Fred, takes them down along with his own. At the end of the rappel is a small ledge where a guide takes the skis off your pack and sets them on the snow for you to click into. Joe handled the rope up top and lowered each skier using the carabiners attached to our harnesses. While our entire group stuck together this day up until this point, now Steve and Fred led the others on while Chad, Tina and I waited for Joe to descend and pack up the climbing gear.
The La Vaute couloir was perhaps 30 feet wide and 35 degrees in pitch, but the towering walls down to about 7,000 feet protected the snow. The initial view down its throat looked fine to me, but I didn't know there was slight dogleg and that I was therefore looking at only a quarter of the couloir. Tina was quite frightened, and no doubt this was the reason the guides adjusted the group to allow us to ski one on one. As we started down, Chad shadowed me while Joe did the same for Tina. Once Chad saw that I was staying in my line and not "throwing beer cans," he gave me instruction from a distance while remaining in touch with Joe and Tina.
Below 7,000 feet the snow became firmer, but the pitch held to 30 degrees or more. Tina fell, but her slide was arrested by Joe who was shadowing her closely. This spooked her even more, so Joe attached a rope to enhance her feeling of security. We very deliberately descended the rest of the couloir to 5,600 feet, including a short section where we all used ropes for protection while sideslipping past a few rocks.
After passing the last of the rock walls protecting the couloir, we bushwhacked down to the road and taxi pickup at 4,500 feet by 3:15 p.m. With skies now cloudy, and a potentially bulletproof descent to the P1 we passed on another run and called it a day. Tina treated us all to a nice lunch and lots of beer at La Castillan when we got back to La Grave.
The Euro experience
The next day was even colder, estimated to remain at 9ºF and windy at upper elevations, so with the potentially unappetizing off-piste conditions we opted for a mellow day.
Extremely Canadian rarely skis the closer ski areas of Les Deux Alpes or Alpe d'Huez. Les Deux Alps nearly adjoins La Grave at the top and is subject to the same weather conditions. Alpe d'Huez is across the valley with sunny exposure, resulting in surfaces this day that would primarily be frozen granular.
So the company's guides usually elect to ski the bad weather days at Serre Chevalier, where base elevations sit just below 5,000 feet and the highest lift reaches approximately 8,700 feet. By my observation, Serre Chevalier is good example of a lesser known area in the Alps that would still swallow a couple of Vails. There's plenty of advanced intermediate or higher off-piste in the alpine that would have been delightful in either winter snow or warmer temperatures that would soften things up, and there are scattered trees to well over 7,000 feet for good powder potential on a stormy day.
Serre Chevalier
(photo: FTO/Tony Crocker)
Our schedule this day was reflective of a classic Euro ski experience. We rolled onto the Le Monetier lifts at the western base of Serre Chevalier at the crack of noon. and headed up into the alpine terrain. Everything off-piste was still frozen solid despite the sunny morning skies, so we stuck to the groomed pistes for a couple of hours, moving as far east as the slopes above Villanueve, before settling in for lunch at L'Echaillon restaurant. Following foie gras, salad, duck and a killer dessert special, we emerged at 3:30 p.m. to overcast skies and rapidly dropping temperatures, so we skied down to the nearest base and took a shuttle bus back to our cars.
Our gourmet day didn't end at the mountain, as we later enjoyed an outstanding dinner at Restaurant Aux Vieux Guide, which is tucked into a narrow alley below the main street in La Grave.
Le Rama
The following morning, a listless crew headed up La Grave into weather predicted to be only marginally better than the previous day. But it was 14ºF at 10,500 feet, and more importantly skies were a deep, clear blue, and winds were calm.. So after a 2,600 vertical-foot warm-up (?!) run through the upper Vallons de la Meije in dust over chalk and crust to the P2, the guides regrouped and organized another adventure.
We first ascended the glacier poma. From its top terminal at 11,650 feet, it's a five minute hike to a plateau where Les Deux Alpes' uppermost surface lift is visible just west. On the backside, facing south, is a steep drop into Vallons de la Selle, which drains 11 miles due west to the town of St. Christophe.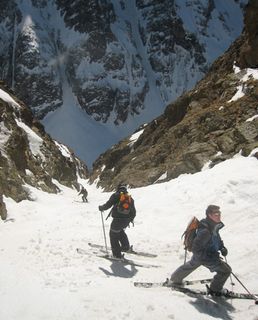 Le Rama
(photo: FTO/Tony Crocker)
This direct line is fairly open, but part of it had burned off, so we skated and traversed west just past the Deux Alpes lift and into a southwest-facing bowl. The bowl had soft chalk up high, then a thin layer of powder over a frozen subsurface. But as the pitch steepened, the surface softened, and we eventually regrouped at 9,100 feet at the top of Le Rama Couloir. It was now a bit after noon and the Extremely Canadian guides had timed the run so the couloir was facing direct sun. The perfectly softened surface was welcome in the Rama Couloir, which averages approximately 30 degrees in pitch and 15 feet wide for 1,700 vertical feet, with a couple of sections barely a ski length wide that had to be sideslipped.
The highlight of my week, Le Rama is perhaps best summed up by the Skier's Lodge's poetic description:
Technical difficulty: Very serious. The deep connection that lures one to a place like Vallon de la Selle goes beyond anything that modern society has an explanation for. Pointing out Le Rama couloir is what a skier would witness in a run that will romance its visitors into letting go their common ideas and giving into what she (the mountain) offered.

Her steeps intimidate you, but then she softens the blow with a bowl of open velvet corn snow that pulls you back to Earth. Her alpine is pristine, so desolate, so vast; you find yourself gawking at her glaciated slopes as they sparkle in the sun. The top part is a wide open bowl that flows on to the valley below into the steep Rama couloir that could require a rappel and good route finding skills. A must.
Snow conditions make all the difference. Le Rama looks scarier than La Vaute, but this was not so because any missed turn in the shaded, firm and somewhat steeper La Vaute was a potential slide for life. Le Rama was perfectly timed for the "open velvet corn snow," so that while concentration was still required, I think we all had more time to appreciate the aesthetics of our unique surroundings that day. The rest of us relaxed and took pictures from 7,400 feet in Vallons de la Selle for 10 minutes or so while Joe and Tina got down Le Rama slowly but without incident.
The Hotel la Cordee in St. Christophe
(photo: FTO/Tony Crocker)
At the bottom we set off on the long, icy traverse on the shady side of Vallons de la Selle, dropping about 1,000 vertical feet over six miles before crossing back to the sunny side, traversing a few sketchy sections, and recrossing the now flowing stream at a dam before a 500 vertical hike down to arrive at the village of St. Christophe at 3:15 p.m. We capped the day with a four-course gourmet lunch at St. Christophe's Hotel la Cordee before our 45-minute bus ride back to La Grave.
Via Ferrata
On our last day the high alpine slopes were socked in, but no new snow had fallen. Extremely Canadian recommended that we drive to Briancon and climb the Via Ferrata rock wall instead of skiing the assuredly hardpacked snow.
Via Ferrata is a decidedly European form of rock climbing that includes a cable installed for attaching protection as you ascend, plus some strategically placed metal ladder rungs on the sheer rock faces. A hiking trail rises 700 feet to the base of the cabled wall. From there it took two and a half hours to ascend the Via Ferrata's 1,290 vertical feet.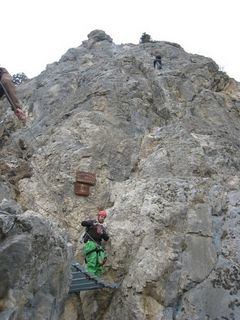 On the Via Ferrata above Briancon
(photo: FTO/Tony Crocker)
Steve and Chad had to talk me into this new adventure. About 10 minutes up, Joe noticed the apprehensive look on my face, so I asked him, "Do we have to come down this way?" There's fortunately a hiking trail down the back side, and while ascending I'm concentrating on where I'm going and not so concerned about the exposure below.
Andy is even more acrophobic than I, so he and his friend Robert skied Serre Chevalier again instead. We met them in late afternoon and wandered around Briancon for an hour or so. The town sits at the junction of five valleys along the easiest route from Italy, so numerous medieval and Renaissance forts were built to guard its citizens.
"It's all about the terrain"
The following morning I caught a ride back to Lyon with Steve and Chad, as we all had morning flights. I was headed for more skiing in Utah, but unfortunately my luggage did not stay with me through my connection at the infamous Charles De Gaulle Airport in Paris. In retrospect flying to Geneva, and renting a car as the other clients did is a safer choice. This is particularly true if you're not with an organized group. On bad weather days you have numerous options within an hour or so of La Grave, and having a car will lend the greatest flexibility to take advantage of them.
Most weeks at La Grave will involve a fair amount of work to achieve some peak experiences. It is a tribute to our guides' organization and expertise under adverse conditions that we were able to ski any of those long couloirs to the valley floor. There is a mental aspect to adventure skiing, and the 100% concentration and full commitment demanded is a big part of the attraction. "It's all about the terrain, more important than the powder," Joe Vallone said. "I'd rather be skiing here than anywhere in the world."
For More Information:
Skier's Lodge has online descriptions of La Grave skiing routes. Their hotel also organizes guests with the local guides.
Snow Legend is another local tour operator in La Grave.
Joe Vallone lives in La Grave two to three months each season, and is a useful contact for guiding and assessing current conditions. He may be reached through Snow Legend or via email at joevallone(at)hotmail.com.