Niseko, Japan – In January I spent three days skiing in Japan's Hakuba Valley, site of the 1998 Olympic alpine events, and eight more days on the northern Japanese island of Hokkaido, which over the past decade has attracted a growing number of powder skiers from all over the globe thanks to the world's greatest "lake effect" snowfall.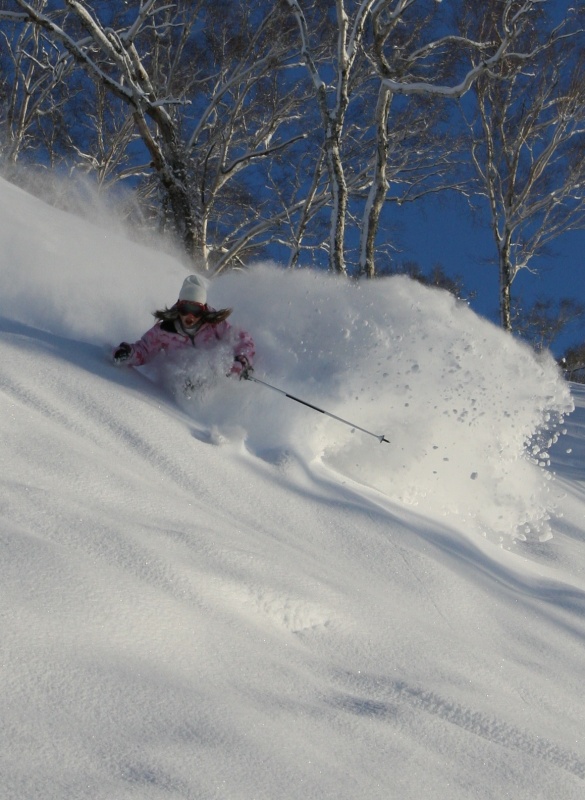 Hakuba is easily accessible from Tokyo by Japan Rail, so it's easy to fit in a few days of skiing on a general tourism trip to Japan.  Most destination ski visitors to Japan fly to Sapporo and stay in Niseko, where I skied for six of my eight days on Hokkaido.  I was hosted in Niseko by Black Diamond Tours and stayed in their lodge near the Niseko Village base.
Terrain Type

Terrain




Rating

Happo One

Niseko

Yellow
2%
3%
Black
16%
27%
Red
32%
40%
Blue
32%
20%
Green
17%
10%

THE WORLD'S GREATEST "LAKE EFFECT"
North American skiers are familiar with lake effect snow from the Great Lakes in the Midwest and Utah's Great Salt Lake.  In Japan, this effect is taken to a completely different level.  For lake effect snow to occur the atmosphere at 5,000 feet must be at least 13ºC colder than the body of water below.  The mid-winter air over the Sea of Japan comes from Siberia and can be 40ºC colder or more.  The fetch of open water must be at least 60 miles, and for the Sea of Japan it's at least 250 miles.  The snow falls heaviest within the first 25 miles of the western shore and is enhanced if elevation rises sharply. North America, Great Lake snowbelts are typically 500-1,000 feet above lake level, while Japan's west coast mountains rise abruptly for 4,000 vertical feet or more.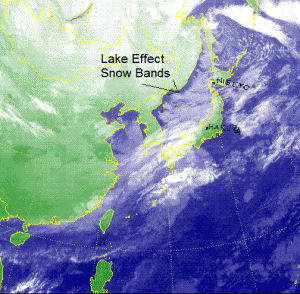 Prevailing winds from the northwest through the southeast generate consistent mid-winter snowfall along the entire west coast of Hokkaido and most of Japan's main island of Honshu.  Annual snowfall is consistently 500 inches or more at the western Hokkaido ski areas near Sapporo, Niseko and Rusutsu and over 400 inches at ski areas in the Tohoku and Niigata regions along the west coast of Honshu.  The Hakuba Valley is the westernmost part of the Nagano Prefecture on Honshu, and the small Hakuba Cortina area closest to the west coast has the snowiest reputation in the valley.
For powder skiers, another positive feature of lake effect snow is that it tends to be lower in water content than snow from typical weather frontal systems.   Despite its low elevation Niseko's snow averages eight percent water content, similar to ski areas in North America's Intermountain West such as Snowbird in Utah and Jackson Hole, Wyo.
Unlike other ski regions, Japan's snowfall is concentrated in the months of December and January.  Those two months average between 33% (Loveland, Colo.) and 43% (Mt. Baker, Wash.) of total annual snowfall at North American ski areas.  In Japan, a full two-thirds of annual snow falls in December and January.  Statistically, 77 percent of January ski weeks planned in Niseko will have at least two days with six inches or more of new snow, compared with 48% in Utah at Alta.
January Averages

Resort

Snowfall

Days 6″+ New Snow

Days 12″+ New Snow

Snowfall Water Content

Alta, Utah
96″
22%
8%
8%
Mt. Baker,
Wash.
128″
30%
12%
13%
Hakuba,
Japan
111″
28%
8%
10%
Niseko,
Japan
177″
43%
14%
8%
The flip side of Japan's snow pattern is that the period of optimal conditions is short lived.  December is a gamble because there is often little if any snow base at the start of the month. Locals recommend the first half of February as snowfall is still abundant but with somewhat less intensity, the sidecountry and the hike to Niseko's summit are more likely to be open.  By March snowfall is only half of January's as the air coming from Siberia is not nearly as cold.  Locals in both Hakuba and Niseko told me that March skiing in Japan is like April in North America.  Spring surface conditions are likely impacted negatively by low elevation (5,000 feet lower than western North America ski areas at comparable latitudes) and predominantly sunny exposure at Niseko.  Both Hakuba and Niseko average less than 10 inches of April snowfall, implying strongly that most spring precipitation is in the form of rain. Some ski areas stay open until the beginning of May as the huge midwinter snowpack takes a long time to melt.
(Click below for next page on Hakuba)
Resort
Happo One
Niseko
Measuring
Altitude
4200 feet
2400 feet
Altitude
Range
2492-6006
feet
840-3838
feet(4292 with hike)
Average
Snowfall
370″
572″
Season
Std. Dev.
92
158
Days
6″+ January
26%
43%
Months
over 90″
33%
81%
Months
Under 30″
6%
3%
Exposure: N
23%
19%
Exposure: E
71%
35%
Exposure: W
0%
15%
Exposure: S
6%
31%