HAKUBA
The Hakuba Valley is an attractive destination for Japan tourists with its four-hour direct train connection from Tokyo's Shinjuku station.  It can be a better value than Hokkaido for foreign visitors, particularly Australians who comprise the largest foreign skiing population in Japan, as international flights into Tokyo cost typically cost less than those connecting through to Sapporo on Hokkaido.
There are several ski areas in the Hakuba Valley, but Happo One, site of the 1998 Olympic alpine events, is by far the largest.  With limited time I skied two days there and one at east-facing Goryu and north-facing Hakuba 47, which have separate bases but are connected at their summits 2,000 feet up.  The fall lines to all four of Happo's base areas face east, while the somewhat isolated Kurobishi/Skyline sector faces north.  Wind severely limited lift operations on the day I arrived and after 1 p.m. on my day at Goryu/Hakuba 47.  On a big snow day at Happo only the top Grat Quad lift serving roughly 700 vertical feet and perhaps five percent of the resort's terrain was closed.
Visiting skiers should be aware that within Hakuba Valley areas, skiing is generally confined to designated runs and the forests adjacent to and between runs are off limits to lift-served skiers.  There is no restriction upon pure backcountry skiing for those with the gear to ascend on their own.  The rugged Japan Alps soar up to 9,500 feet above the ski areas, which top out around the 6,000-foot timber line.
Terrain Type:
Cruising: Groomed runs fall over 2,000 vertical feet from the top of Happo's gondola to four separate base areas. The Panorama and Kokusai runs are slightly steeper than the runs to the gondola or Nakiyama bases.  I believe that groomed routes are prepared from all lifts, though it snowed all day on my first day there.
Moguls: There were only a few bumps visible during my short visit due to the ongoing snow.  Black ungroomed runs should grow moguls with normal traffic as I noted on the narrow sections below the Sakka Kitaone Quad.
Steeps: The designated runs only occasionally meet the black diamond criteria by the standards of challenging ski areas in North America. The steeper pitches are located in sections served by the Kurobishi and Skyline lifts.  The canyon to skier's left of Kurobishi is much steeper but is out of bounds.
Wide Open Spaces:  The highest lift at Happo, the Grat Quad, is situated above treeline but serves just a broad intermediate slope on the spine near the lift.  Kurobishi's slopes are mostly above the trees and more varied.
Trees: Skiing in the trees is generally considered out of bounds in the Hakuba Valley.  Happo One has a few more opportunities to ski the woods than at the smaller areas.  Skier's right of Skyline has scattered trees within boundaries.
Powder: It snowed all day long on my first day at Happo.  With traditional Japanese restrictions on off-piste skiing, these areas do not attract aggressive powderhounds, thus by afternoon I could often find powder along the edges of designated runs.  Local guide Bill Glude said that during sustained storms you can consistently ski powder within boundaries.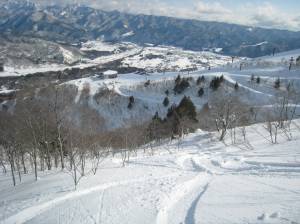 The weather cleared on my second day and I could not resist the temptation to follow two snowboarders into the roped sector between Kurobishi and Panorama.  This area was comprised mostly of open terrain at skier's right and deciduous forest to the left for about 800 vertical feet, and with the mostly untracked snow I returned four more times.   In the Hakuba valley even small canyons tend to be confined at the bottom and contain small flood control dams, leading to terrain traps that make it inadvisable to explore without someone who knows the way out.  The trail maps warn that skiers will be charged all expenses for off-piste search and rescue.
Hiking and Backcountry: Bill Glude of Alaska Avalanche Specialists lives in Hakuba from Dec. 15 to Feb. 15 each season and returns home to Alaska to guide the rest of the season. He prefers the Japan Alps surrounding the Hakuba Valley to the mountains of Hokkaido for the more technical alpine terrain above the lifts and minimal competition for powder.  I skied with him at Goryu/Hakuba47 but did not bring any touring gear with me to Japan.  Glude offers guided touring in Hakuba and hopes to eventually start a snowcat operation in the area.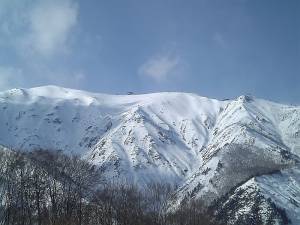 Crowds: Japan overbuilt its ski industry during the 1980's boom years when it averaged 100 million skier visits per season.  Now there are only half as many visits, so facilities are much less likely to be crowded but in some cases may not be modernized in the last 20 to 30 years.  As the largest ski area in the region, Happo has a gondola and five high speed quads.  I experienced no crowd or congestion issues in Hakuba but my ski days all took place midweek.  Hakuba is within a weekend commute  of Tokyo's 36 million people, so I would advise tourists to visit midweek as I did.
Intermediates: Both Hakuba areas I skied have strong intermediate orientations.  Recreational skiers who are in Japan in winter for business or tourism should make the effort to visit Hakuba for a few days.
Novices/Children: While few people would go to an exotic location to learn to ski, there is plenty of novice terrain in the Hakuba Valley.  There were numerous Australian families on summer holidays during my visit with children of all ages.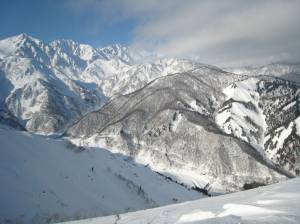 The Resort and Town: I used Ski Japan Holidays to book lodging in Hakuba.  There are many hotels within walking distance of Happo's lifts, and there is bus service for others such as the Hotel Ougiya where I stayed for the package deal ($172 per day day at current exchange rates) that includes breakfast and kaiseke-style multi-course Japanese dinners.
The Hakuba Valley is a thermal area and nearly every hotel has an onsen, or Japanese hot bath.  Hot water in Hakuba is so abundant that most hotels use it to hose down their parking lots and melt the snow.  I did not get out much in the evenings, but after the first day's skiing Bill Glude took me to his favorite sushi spot Ohta Masuo, 0261-72-3633, very high quality and less than half the cost of comparable sushi restaurants in North America.
(Click below for next page on Niseko)