NISEKO
Niseko has attracted growing international attention among powder skiers over the past decade. It is located roughly two hours by car or train from Hokkaido's Sapporo/Chitose airport.   From Tokyo or Hakuba it takes a full day to reach Niseko by train and the route goes through the area damaged by the Tohoku earthquake that occurred six weeks after my visit.  The Tohoku bullet train service was restored by May 2011 but may be more limited than when I used it in January.
Niseko is home to a volcanic peak of 4,292 feet.  There are four base areas: Annupuri on the south side at 1,312 feet, Niseko Village on the southeast side at 919 feet, Hirafu on the east side at 840 feet and Hanazono on the northeast at 1,010 feet.  Off-limits canyons separate the main base areas up to timber line at close to 3,000 feet.  There are four single chairs and a double chair above tree line to 3,800 feet, serving skiers coming from each base who can thus move easily from one area to another.  Hanazono and Hirafu are connected by ski runs and are both situated well below the tree line.  The Hirafu and Niseko Village areas are connected just above the tree line by a short flat trail that is easy to negotiate when groomed but close to impassable in deep snow.  Annupuri is not accessible from the other areas unless the alpine chairs are running.  The "Niseko United" lift ticket is valid at all four of the ski areas and costs around US$60 per day.
Off piste skiing in Niseko is regulated much in the way it is in western North America.  Only the low elevation canyons are forbidden to skiing. The summit and vast sidecountry west of Annupuri and north of Hanazono are accessible through designated gates.   The summit gates G2 and G3 were closed for wind or low visibility during much of my visit.    The lower gates were only closed on my last day, as the 40 inches of new snow received led to high avalanche risk and deeply buried exit trails.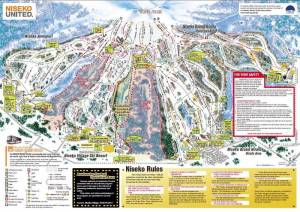 During my visit I did not experience Niseko's normal weather pattern of consistent moderate snowfalls.  A total of 22 inches of new snow fell over the three days leading up to my arrival, yet only four inches fell during my first six days in the region. My visit was capped by a snowfall of 40 inches over my final two days in Niseko.  Despite typical ski temperatures in the 20s and 30s (ºF), only those slopes facing directly south experienced a melt/freeze during my first six days on Hokkaido. Powder preserved well in the trees as well as on those slopes facing east and west that were not wind affected.  The high proportion of sun exposed slopes can nevertheless experience a swift transition to spring conditions on sunny days after mid-February.  I have confidence that most of the sidecountry would remain open in the typical moderate snowfall pattern because it stayed open with 15 inches new snow on my next to last day in Niseko.
Terrain Type:
Cruising: Hirafu has the most terrain below the timber line of any of the Niseko areas, and also the most groomed runs with a consistent intermediate pitch. Most of the runs between the Ace Quad and the Hirafu gondola are groomed daily.  The Niseko Village sector is relatively narrow with just one top-to-bottom groomed trail.  Annupuri's middle elevation and the lower two-thirds of Hanazono are relatively flat for the easiest groomed runs.
Moguls: As Niseko's ski area with the most developed base area and the most on-site lodging, Hirafu has both the varied terrain and traffic to build some bumps.  Miharashi, Konayuki and the much of the area near the Ace Quad lift will grow bumps when there is a lull in the weather.  The Fukayuki run at the bottom of Annupuri also sported bumps on my visit and they were the most difficult due to variable snow and direct southerly exposure.
Steeps: As at Happo there is minimal truly steep terrain within the boundaries at Niseko.  There are several short steep shots from the skier's right boundary ridge at Hirafu that drop toward the Ace Quad.  Within boundaries the Superstition/Jagaimo/Misoshiro runs at Niseko Village offer the longest fall lines with adequate pitch when the powder is very deep. The steepest terrain is outside the upper sidecountry gates, particularly from the summit hikes accessed via gates G2 and G3.  I did not get a chance to ski the steepest west face of the summit from the G2 gate.
Wide Open Spaces:  The mountain's alpine chairs serve advanced intermediate terrain above tree line.  This area is reminiscent of the runs near Mt. Bachelor's Summit chair but with about half as much vertical.  Most of Niseko's open terrain is accessed through the sidecountry gates G2 and G4 and the summit hikes.
Trees: Skiing in Niseko's famous white birch trees is legendary.  These are deciduous forests similar in appearance to many in eastern North America but the trees are better spaced for skiing.  There are some sizable tree sectors between the cut runs at Hirafu but I had the most success in the sidecountry just outside the G1 and G5 gates.  I spent most of the morning of the 15-inch day running laps in the trees out Annupuri's G1 gate.
Powder: The atypical weather I experienced gave me a good feel for the range of powder conditions.  I was with a guided group led by Black Diamond Tours hiking Niseko's summit the first day and on the second day at the nearby resort of Rusutsu.  Powder was usually lightly tracked but easy to ski thanks to its low water content and shelter from the forest when skiing in the trees.  On day three I skied more cut up powder in the Hanazono sidecountry where I had been guided my first day, but noted flurries and afternoon winds blowing east to west, so on day four I worked the Annupuri sidecountry leeward of those winds where previous tracks had been largely resurfaced.  On day five I hitched a ride with some lodge guests to the small Chisenupuri ski area which was low intermediate in pitch, but its week-old powder was only lightly tracked.
On my sixth day, a week after the last significant storm there was still some powder to be had if you were willing to traverse far into the north-facing Hanazono sidecountry.  Day seven brought 15 inches of new snow and was epic by anyone's standards.  My final day, however, was too much of a good thing for with 40 total inches of light and dry snow the sidecountry gates were all closed and I would frequently grind to a halt in waist deep fluff on intermediate terrain.  As a California skier I would expect dense or heavy snow at an elevation of less than 4,000 feet on an island, but I can assure anyone that Niseko's mid-winter powder skis similarly to Utah's or Colorado's.
Hiking and Backcountry: My first day in Niseko was on Black Diamond's guided Niseko Back Bowl tour, an ideal introduction to the Hanazono sidecountry.  We did three summit hikes of about 400 vertical feet each, strenuous but not nearly as much as they would be at far higher altitudes in western North America.  After a powder run of 2,000 to 2,500 vertical feet you end up quite away from the Hanazono base, requiring a five- to ten-minute walk up a road followed by a relatively short run back to Hanazono. On our second run we pushed farther out the Eastern Ridge area and returned via the very long Jackson traverse of perhaps two miles that was tough on the snowboarders.
The third summit run was especially memorable.  We had enjoyed waist deep untracked powder for close to 1,500 vertical feet to the northwest, easily the deepest snow I had skied in three years. I was quite disappointed to see the Gashiki Onsen loom into view at 2,500 feet, much higher than the Niseko base areas, hoping the powder perfection would last a bit longer, but after a relaxing soak the Black Diamond guides picked us up in vans and drove us back to their lodge.
My second day was occupied by a guided Black Diamond Rusutsu off-piste tour. Rusutsu Ski Area is located about half an hour from Niseko, and we spent most of the day skiing the trees between primarily intermediate runs on Rusutsu's 2,000 vertical-foot Isola/West mountains.  Late in the day we crossed to the smaller East mountain and skied our final run off its untracked southwest face to a road pick-up.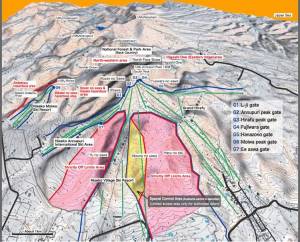 I was able to explore the Annupuri sidecountry on my own on my third and fourth days with minimal navigation issues.  There are wide open bowls up high (Osawa and Kozan no sawa) which drain into canyons that lead back to the Annupuri base.
There is also the Mizuno no sawa Special Control Area beneath the Niseko Village gondola. You must pay a one-time $20 fee and watch a 20-minute snow safety film to be allowed into this area under the direction of the resort's ski patrol.  I wanted to do this on my last day but patrol did not consider Mizuno no sawa to be safe with 40 inches of new snow.
Crowds: Niseko has three gondola lifts, each rising about 2,000 vertical feet from the Annupuri, Village (Hilton) and Hirafu base areas.  Hanazono has three consecutive high speed lifts ascending its runs and there are four other high speed lifts on the mountain, three in Hirafu and one at Annupuri.  In bad weather or at early morning the gondolas could have a five- to ten-minute line, and on nice days there could be similar waits for the low capacity single chairs in the alpine.  On my final day when many lifts were closed you could wait a half an hour or more to catch a bus between the base areas that were no longer connected higher up on the mountain.
There is prevailing impression among powder skiers that those wishing to visit Niseko should do so as soon as possible as it gets busier there every year, yet I found competition for untracked powder to still be lower than it is at most well known North American ski areas.  The sidecountry would be tracked out days after a storm but still not packed down, allowing for a refresher by a storm of just a few inches, or by snow blown in on the leeward sides of ridges. I have heard that the feeding frenzy is more intense when the sidecountry first opens after a big storm shuts it down for several days, and I later read that the storm at the end of my trip ultimately lasted five days and totaled 79 inches.
Intermediates: Most of the inbounds terrain is comfortable for intermediates. Those prepared for snowy or foggy weather, or interested in learning powder, would enjoy Niseko.
Novices/Children:  As in Hakuba there were lots of Australian families on summer holidays at Niseko. There is much beginner friendly terrain, notably on the lower two-thirds of Hanazono.  I'm nevertheless not so sure that many beginners would find it easy to learn at a place that averages six inches new snow every day.  Lower-end skiers would probably prefer February or March for more breaks in the weather relative to January.
The Resort and Town: Hirafu is the only real town within walking distance of the lifts, so skiers looking for an active après-ski scene should find lodging there.  There are smaller developments at the Annupuri and Hanazono base areas.  I can highly recommend the sumptuous Chinese/Japanese/western buffet at the Niseko Northern Resort at Annupuri's base, where I twice had lunch for roughly US$22.
The Niseko Village is somewhat of a misnomer.  This original Niseko base area is very quiet with just one small lodge and is about a quarter mile walk up from the Black Diamond Lodge.   From there it's a short chair ride and ski to the Hilton and its gondola to the upper mountain.  From a pure skier's perspective, however, Niseko Village is an attractive lodging base.  It is the least busy in the morning, it sits between the other areas for easy access at the beginning and end of the day, and also has the best in-bounds fall lines for powder.
Niseko Village's downside occurs when wind closes the Hilton gondola, necessitating a bus ride to access the other base areas or accepting three slow chairlifts on the bottom 1,000 vertical feet of the Village terrain.  Hirafu is the most sheltered area during storms and also has extensive lighting for night skiing until 9 p.m. that was also helpful when snow dumped heavily in the late afternoon of my last day at Niseko.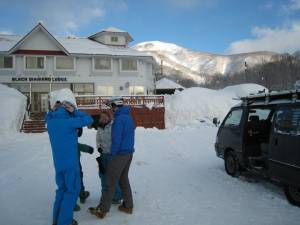 Black Diamond Lodge and Tours:  I stayed at the Black Diamond Lodge.  Double occupancy rooms in 2011-12 will cost US$85-100 per person per night, with some dorm space priced as low as $59 per night. Bathroom and shower facilities are shared.  A hot tub has been added for 2012, and I used their massage chair as a substitute last winter.    The lodge serves a buffet breakfast and has a reasonably priced and varied dinner menu.  Lodge food typically runs approximately US$20 per day.  I only had one dinner away from the lodge, joining a tour group at an Okonomi-Yaki restaurant. Rarely found in North America, it serves Japanese pancake batter with meat (pork, squid and shrimp in my case), Japanese Worcestershire sauce, bonito flakes, green seaweed, mayonnaise and fried noodles.
Black Diamond Lodge is run by Canadians and serves mostly North American, Australian and European clients.  Its major draw is the extensive choice of guided tours to take advantage of local expertise.  This is particularly attractive to those who want to sample multiple ski areas or get into the backcountry.  My first two days in Niseko and Rusutsu were part of a Power Trip group which continued primarily skiing in the Furano area backcountry.  If Black Diamond Lodge is full, they will recommend nearby alternatives such as Brooks Lodge for those who still wish to participate in the guided tours.
JAPAN TRAVEL AFTER THE TOHOKU EARTHQUAKE
Japan's tourism has declined significantly after the March 11, 2011 earthquake and tsunami.   Tokyo and Hakuba are far from the damaged areas but do use the same electrical grid that has lost some capacity from the damaged Fukushima reactors.  Hokkaido is a separate island with its own power grid which was not affected.  I contacted my hosts at Black Diamond Lodge, where operations for the remainder of the 2011 season continued as normal.  They expect business as usual for 2011-12, and if skier numbers decline there should be even more powder available for this season's visitors.