Calgary (AB), Canada – The Canada Post Grand Prix Freestyle ski World Cup lands at Winsport Canada's Canada Olympic Park in Calgary this week, and with it comes the world's greatest mogul and aerial skiers.
Canadian fans will be looking for success from their home team. Men's mogul skier Mikael Kingsbury of Quebec is on a winning streak, having won all four World Cup events this season. Americans heading north to watch the show will see if Vermont's Hannah Kearney can extend her women's mogul winning streak to 12.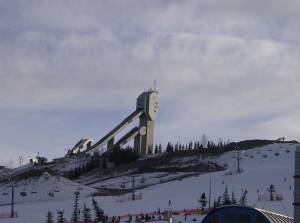 The staff at Canada Olympic Park and a plethora of enthusiastic volunteers have been working around the clock to ensure that the freestyle sites are in top shape when the athletes arrive here for training on Thursday.
"We had a bit of a challenge getting the courses ready this year because of the unseasonably warm weather in Calgary earlier in the month," said Canadian Freestyle Ski Association COO Bruce Robinson, "but our team on the ground has really come through for us and we are going to have an excellent event."
Robinson added that the Grand Prix would not be possible without the  support of CFSA partners, including Canada Post, RBC, Suzuki, the Government of Canada, Winsport Canada, Travel Alberta and the Calgary Hotel Association.
"The Government of Canada is the single largest contributor to the Canadian sport system, and we are pleased to provide funding through Sport Canada's Hosting Program in support of the 2012 Canada Post Freestyle Grand Prix in Calgary," said the Honourable Bal Gosal, Minister of State (Sport).  "Our athletes are an enormous source of pride and I will be thrilled to join in and watch them compete at a world-class facility like Calgary Olympic Park, an important sport legacy of the 1988 Olympics."
Cindy Tedd, communications coordinator from the Calgary Hotel Association added, "We are very excited that Calgary is once again hosting the Freestyle World Cup. Supporting events such as this helps showcase Calgary's world-class sporting facilities and provides a spotlight for our outstanding Canadian athletes."
The Canada Post Grand Prix at Canada Olympic Park is a free spectator event. Moguls finals run at 1:15 p.m. MST on Saturday, while Aerials finals start at 2:00 p.m. MST on Sunday.