Røldal, Norway – The fourth stage of the Swatch Freeride World Tour went off on Sunday in Røldal, Norway. The strong field of riders showed high-quality runs with technical skiing as well as big airs.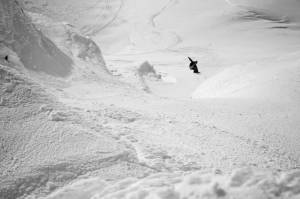 The competition face was playful with a wide range of cliffs and wind lips to drop. The snow on top of the competition face was packed and icy but getting much better further down. The big surprise of the day came from Norwegian wild card skier Dennis Risvoll throwing two back flips and a lot of amplitude in his run. Austrian Flo Orley and French Margot Rozies were on top of their game and won the snowboard categories. Christine Hargin from Sweden knows the Scandinavian mountains and won women's ski category with a powerful run.
Ski Men
It was Dennis Risvoll's creative line with no more than two back flips that got the best score on Sunday. The local Norwegian won the Røldal Freeride Challenge last year and now has a taste for gold.
"I didn't think my run was that good as I wanted to do a double back flip. So I am stoked to win," said Risvoll. "We have a lot of great skiers in Norway, so I didn't feel pressure standing on top next to the big guys on the world tour. Conditions in the face were good, despite flat light during my run. I'm now hoping to get more wild cards and competing in more events."
Last year's world champion Aurélien Ducroz, from France, is back in the game, contributing with a beautiful run with a long flight and a huge back flip. Season wild card Sam Smoothy of New Zealand, who won in Chamonix-Mont-Blanc, kept on charging and took third with high speed in a powerful run. With his third place on Sunday he still sits in first place on the overall ranking.
Snowboard Men
In the men's snowboard division Austrian rider Flo Orley won with a solid run combining a lot of features.
"Incredibly happy! This has been a tough season for me but with constant improvement race after race, I now have a goal to go and compete in Verbier where I have been competing the last 12 consecutive years," Orley said. "So, I don't want to miss it this year."
Emilien Badoux of Switzerland, who won the Freeride World Qualifier in Røldal in 2010, got the second best score of the day with multiple drops and stable landings. Austria's Christian Schnabel didn't hesitate and went fast, which put him in third place. Jonathan "Douds" Charlet of France is still leading the overall ranking after a fourth place on Sunday.
Ski Women
The women seemed to enjoy the Norwegian mountains and all eight female skiers charged hard and stable, making it difficult for the judges. Christine Hargin of Sweden has been to Røldal before and skied faster and stronger than her competition.
"It was a really long day and I was very nervous on top, waiting," she said. "I'm happy because I did what I expected to do."
Austria's Lorraine Huber took second after hitting several cliffs and riding with fluidity. Her fellow country member Eva Walkner skied fast in the icy top part, took good air and earned third. Angel Collinson of Snowbird, Utah still sits in top position on the overall ranking despite an eighth place finish on Sunday.
Snowboard Women
France's Margot Rozies didn't get the best light but that did not seem to stop her. She rode fast, fluid and took great air on the last two cliffs.
"Really happy with my ride," said a pleased Rozies. "I was super stressed on top and when I started I was lost on the top ridge, so I climbed back up and started again. This victory gives me a great boost for the overall ranking and the title is now my goal."
Second place went to Shannan Yates of the U.S., who excuted a creative line in the mid section and stomped her cliffs. Fellow American Maria de Bari continues taking podiums and came third, meaning that she still retains the top position on the overall ranking.
Two more stages are left for the Freeride World Tour 2012 before the four World Champions will be crowned in Verbier, Switzerland, at the end of March. The next stop goes to Fieberbrunn in Austria, and the contest day is scheduled for Mar. 10.