Lakewood, CO – The National Ski Areas Association has released preliminary data showing  that U.S. ski areas tallied an estimated 56.6 million skier and snowboarder visits during the 2012-13 winter season, representing an 11 percent increase over the disappointing 2011-12 season and the largest year-over-year gain in 30 years.
Despite a slow start to the 2012-13 ski season in parts of the country, many ski areas experienced a strong Christmas holiday period, and also reported strong visitation during President's Day and throughout March, helping to propel the industry back into a more typical visit volume following a winter with below-normal snowfall across most of the U.S. in 2011-12.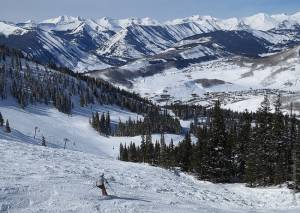 In another indication of the widespread rebound this season, 78 percent of reporting ski areas posted increases in visits. The median resort experienced a 10.6 percent gain in visits.
Visits were up in all regions of the U.S. in 2012-13, with the biggest rebounds seen for the Pacific Southwest, up 20.5 percent. Meanwhile the Northeast was up 20.3 percent, and the Southeast was up 17.2 percent. Impressive gains were also recorded in the Midwest, up 11.5 percent, and Pacific Northwest, up 7.5 percent. The Rocky Mountain region was up 1.9 percent over the 2011-12 season.
On an overall national basis, visitation was up in every period of the season, with the most substantial increases recorded at the end of the season. Specifically, visits were estimated to be up two percent in the early season; up 16 percent during the Christmas and New Year's holidays; up seven percent during the January 7 to February 18 period; up 14 percent in the February 19 to March 24 period; and up an impressive 25 percent during the March 26 to closing period, a time of year largely wiped out in the Northeast in 2011-12.
CNL Lifestyle Properties, Inc., a real estate investment trust (REIT) that with a portfolio of 17 resorts from coast to coast is the largest ski resort owner in the U.S., saw a jump in revenues of 16 percent over 2011-12 as of March 31, and an increase in skier visits of 10.4 percent as of April 29.
"We have made substantial investments in our resorts to boost snowmaking capacity, add lifts, open up new terrain and enhance base area facilities," said Steve Rice, senior managing director of CNL Lifestyle Properties' ski/mountain lifestyle and lodging properties. "We believe these investments, as well as the strong snowfall we've had this year, have helped our resorts perform as well as or better than the industry over the past three seasons."
A final Kottke End of Season Survey will be issued by the NSAA in July.