North Conway, NH – New Hampshire's Cranmore Mountain Resort, Jiminy Peak Mountain Resort in Massachusetts, and Bromley Mountain in Vermont announced on Wednesday that they will partner this winter with Snow Operating, LLC, a snowsports instruction consulting company based in Vail, Colo.,  to initiate Terrain Based Learning practices at their respective resorts. Terrain Based Learning is a new learn to ski and snowboard practice that incorporates entry-level terrain park features with progressive teaching principles. Results from this teaching approach have shown learn to ski and snowboard conversion rates grow from 15% to up to 45% at trial resorts.
"Cranmore is known for their legendary ski school programs, and the concept of Terrain Based Learning will only help bring us to the next level," said the resort's SnowSports Director, Karen Dolan. "The process of Terrain Based Learning allows a first time guest to be a skier or snowboarder after their first day of sliding. The fun factor of learning in customized elements is huge and fuels them to push themselves further. Results have shown a day filled with fun, encouragement and entertainment and they can't wait to return."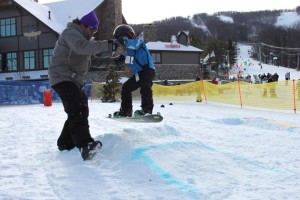 Terrain Based Learning introduces a first time skier or snowboarder to a non-intimidating environment at the resort. Features such as rollers, mini-pipes and bank turns allow a first time guest to explore various sensations of sliding on snow. Terrain Based Learning lets the guest control their speed, gain balance and confidence, reduce falls, minimize fear and have fun while they learn.
"It's all about having fun in a "fear-free" zone," says Sherrie Bradway, Jiminy SnowSports Director. "When you challenge guests with specific tasks in the TBL features, learning to ski or snowboard can become intuitive for guests of all ages. Less fear definitely equals more fun."
Terrain Based Learning was first tested at Mountain Creek Resort in New Jersey in 2012. Joe Hession, President of Snow Operating, LLC, was Mountain Creek's acting General Manager during the launch of this program which resulted in a 200% increase in skier and snowboard retention.
After witnessing the program's success, Hession took the successful program to the industry. Hession's teaching method has been continued at Mountain Creek and implemented at Jay Peak in Vermont, Pennsylvania's Camelback Mountain Resort, Whistler Blackcomb in western Canada, the resurrected Powder Ridge in Connecticut, Colorado's Copper Mountain, and now at Cranmore, Bromley and Jiminy Peak.
"Terrain Based Learning allows first time skiers and riders to have a low impact day focused on fun and creating memories. The teams at all three resorts are passionate about creating great memories for their resort guest, this makes them a great partner for Snow Operating," says Hession.
Snow elements will be constructed at all three resorts in December and signature, three-mountain programs like Kids Rule and GET (Guaranteed Easy Turns) will shift all instruction practices to Terrain Based Learning.
"Terrain Based Learning is going to continue Bromley's commitment to offering a top notch experience for the whole family," said Bromley Snowsports Director, Burleigh Sunflower. "The Kids Rule and GET programs at Bromley have always been very successful at introducing skiing and snowboarding to beginners of all ages. With the Introduction of Terrain Based Learning, all three resorts will be providing guests with a more fun, positive, and successful learning experience than ever before."