Lincoln, NH – New Hampshire's Loon Mountain Resort is scheduled to open this Friday, November 8, with over 37 acres and two miles of top-to-bottom skiing and riding on Loon Peak. This will be one of the earliest opening days in the resort's history.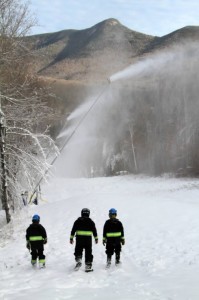 After just two nights of intense snowmaking, the resort plans to open five trails and one continuous route of top-to-bottom skiing and riding for intermediate and advanced skiers and riders. Trails opening Friday include Exodus, Upper Bear Claw, Grand Junction, Link and Lower Picked Rock. All trails will be serviced by the White Mountain Express Gondola and the East Basin Chair.
This winter's speedy opening comes thanks to $1.3 million in off-season snowmaking improvements, including two new pumps that boost snowmaking water capacity by over 40 percent; 29 additional low-energy, high-efficiency tower snow guns; and 100 semi-automated snowmaking hydrants that reduce snow gun startup and shutdown times on key trails by 75 percent. Since 2010, Loon has invested $3 million and added more than 650 low-energy tower guns to its arsenal, the largest installation of these highly efficient snow guns in North America.
"Our snowmaking investments during the past three years have totally changed the way we make snow," said Ralph Lewis, Loon's director of skiing operations. "With this season's major snowmaking upgrades, the difference from last winter should be quite notable."
The resort will be open for skiing and riding this Friday, Saturday, and Sunday, with early season ticket prices at $49 for adults, $39 for teens, and $29 for juniors and seniors. The mountain will be closed on Monday, November 11, and will reopen on Friday, November 15 for daily operations. Snowmaking operations will continue whenever temperatures allow to expand open terrain as quickly as possible.