Vail, CO – Lindsey Vonn has undergone successful knee surgery to repair a left knee damaged from several incidents, beginning with a crash at the 2013 Alpine Ski World Championships in Schladming, Austria, and culminating with her withdrawal from the 2014 Olympic Winter Games in Sochi, Russia.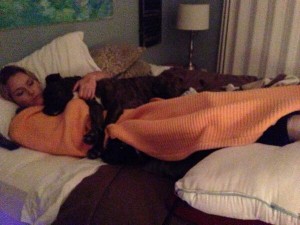 "Surgery was successful! Resting with loved ones and of course my cuddle buddy Leo," the 29-year-old four-time World Champion wrote on Facebook yesterday, referencing the 9-month-old dog she adopted from a shelter last week. "So thankful to have such great people helping me. Will update more later."
Vonn and Leo are "bum knee buddies," according to a hashtag used by Vonn; she says that Leo has a knee damaged from a collision with a car when he was a puppy.
Vonn's surgery was performed by Dr. Jim Andrews, who has previously worked with football stars Tom Brady and Brett Favre.
"(Dr. Andrews ) expects (Vonn) to make a full recovery in time for next year's World Championships in Vail, Colorado," Vonn's publicist indicated today.