Ashland, OR – A "Blessing Mt. Ashland" ceremony has been scheduled for this Sunday, November 23, at the base area of this non-profit ski area in southern Oregon. A diverse range of cultures and traditions will participate, offering their gratitude to the mountain.
Over the past eight years, the annual ceremony has been conducted in the spring. "After last years' dry winter, we feel it is  especially important to honor the mountain now, and call in the first snows to begin the season," said organizer Robert "Bobcat" Brothers.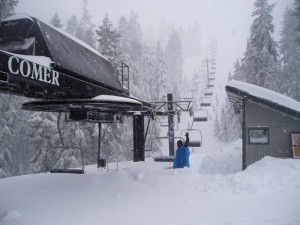 "Snow on Mt. Ashland is not only important to the ski area, it is necessary for the health of the Ashland Watershed and the rivers downstream.  We have seen clearly how a lack of snow on all of our high mountains can impact the entire Rogue Valley," said Mt. Ashland General Manager Hiram Towle, who recently joined the Mt. Ashland team from Sunday River Resort in Maine. "We invite each and every one to join us in the blessing."
The ceremony will take place outside the Main Lodge, beginning at 1 p.m., and will include "Native Americans, a Rabbi, a Kenyan as well as local community members from the Rogue Valley and Northern Oregon," according to Mt. Ashland's new Marketing Director, Jamie Schectman.