Val d'Isere, France – American ski racer Lindsey Vonn positioned herself on the doorstep to history Saturday, winning her 61st career Audi FIS Ski World Cup with a .19-second victory in the Val d'Isere downhill. It left her just one win away from matching the all-time win record held by the legendary Austrian Annemarie Moser-Proell.
Germany's Viktoria Rebensburg and Austria's Elisabeth Goergl tied for second.
Starting 13th, Goergl set the pace to beat. Vonn, of Vail, Colo., came down 20th, skiing aggressively and making a few mistakes – but staying ahead of the Austrian the entire way down the Oreiller-Killy course. Rebensburg, coming down later, was the only one to challenge Vonn and settled for the second place tie.
It was only Vonn's fourth race back since a series of knee surgeries. She has won two of the three downhills she's skied, and moved out of a tie with Tina Maze of Slovenia to take over the Audi FIS Ski World Cup downhill lead. Maze finished in 7th on Saturday.
"I'm so happy. It's been such a nice progression back into the World Cup," Vonn said following her victory on Saturday. "It was a really wild ride today. I made some mistakes but I was skiing aggressively."
Despite slipping to second in downhill, Maze continues to dominate the overall World Cup standings. Vonn has won five career World Cup races in Val d'Isere, including three in downhill.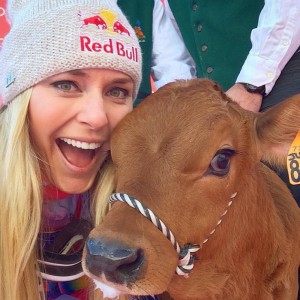 In the finish, Vonn was greeted with yet another cow – one of several she has won in Val d'Isere over the years. The baby Torine cow was named Winny, although there's no word yet if Winny will join Olympe as a part of Vonn's herd in Austria.
In other U.S. action on Saturday, Julia Mancuso (Squaw Valley, Calif.) was 15th with Alice McKennis (Glenwood Springs, Colo.) 18th.
Vonn's effort to tie Moser-Proell's World Cup win tally on Sunday was derailed when she crashed near the top of the super G course in Val d'Isere. She walked away relatively unscathed.
"I skied pretty well on the top section, but I hit some softer snow and lost a little elevation and couldn't make the gate," Vonn said following Sunday's crash. "I'm still happy with today. I skied well and aggressively. The most important thing is my knees are good.
"I must have hit my elbow on something when I was crashing. It's swollen, but I think it's just a bruise, not a big deal," Vonn added.
On Sunday, Goergl escaped the tie earned on Saturday and stood atop the super G podium. Her Austrian teammate Anna Fenninger finished second, while Maze took third.
Four other Americans netted World Cup points in Sunday's super G, with Mancuso finishing sixth,  Laurenne Ross (Bend, Ore) 13th, Stacey Cook (Mammoth Mountain, Calif.) 22nd and Jackie Wiles (Aurora, Ore.) 30th.
Vonn's shot at the record books will now have to wait until 2015 as the World Cup tour takes its holiday break. The women's speed tour resumes in January with downhill and super G stops in Bad Kleinkirchheim (Austria), Cortina (Italy) and St. Moritz (Switzerland).
OFFICIAL RESULTS
Audi FIS Alpine Ski World Cup
Val d'Isere, France – Dec. 20, 2014
Women's Downhill
| Rank | Athlete | Country | Results |
| --- | --- | --- | --- |
| 1 | VONN Lindsey | USA | 1:44.47 |
| 2 | GOERGL Elisabeth | AUT | 1:44.66 |
| 2 | REBENSBURG Viktoria | GER | 1:44.66 |
| 4 | GUT Lara | SUI | 1:44.86 |
| 5 | SUTER Fabienne | SUI | 1:44.93 |
| 5 | GISIN Dominique | SUI | 1:44.93 |
| 7 | MAZE Tina | SLO | 1:44.95 |
| 8 | ABDERHALDEN Marianne | SUI | 1:45.08 |
| 9 | MERIGHETTI Daniela | ITA | 1:45.15 |
| 10 | KLING Kajsa | SWE | 1:45.16 |
Val d'Isere,  France – Dec. 21, 2014
Women's Super G
| Rank | Athlete | Country | Results |
| --- | --- | --- | --- |
| 1 | GOERGL Elisabeth | AUT | 1:25.42 |
| 2 | FENNINGER Anna | AUT | 1:25.47 |
| 3 | MAZE Tina | SLO | 1:25.55 |
| 4 | GUT Lara | SUI | 1:25.65 |
| 5 | FANCHINI Nadia | ITA | 1:25.75 |
| 6 | MANCUSO Julia | USA | 1:25.98 |
| 7 | MERIGHETTI Daniela | ITA | 1:26.32 |
| 8 | HUETTER Cornelia | AUT | 1:26.63 |
| 9 | GISIN Dominique | SUI | 1:26.89 |
| 9 | JAY MARCHAND-ARVIER Marie | FRA | 1:26.89 |