Alta, UT – The Torchlight Parade has been a long tradition at Alta. Families and friends gather and ride the Utah ski resort's Collins lift at nightfall to begin the celebration of another year's end.
Because the number of skiers who participate in the parade has grown over the years, Alta now stages a more free-flowing event with no formal start time, intended to minimize the cold waiting time once skiers get off the lift and allow families to participate and to be at the base to watch fireworks and enjoy time by the fire.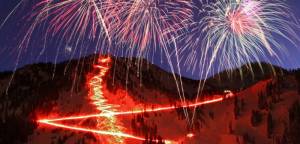 For a few years now, Alta has tried to use the Torchlight Parade as an opportunity for its skiers to donate to friends in need through the Utah Food Bank. This season Alta will be charging all who participate in the parade a minimum donation of $5. One hundred percent of the proceeds will go to the Utah Food Bank. Tickets will be on sale from 8:45 a.m. until 6 p.m. at the Wildcat Base Ticket Office on December 31st.
The parade follows the main cat track from the angle station of Collins lift to the Wildcat base area. Start loading Collins lift about 5:15 p.m. Skiers will get off at the lift's mid-mountain angle station.
Children need to be accompanied by an adult and have their own headlamps or flashlights. Adults will receive a torch or flare, as supplies permit. Having your own light is a good idea. All participants need to be intermediate level or stronger. Open containers will not be allowed on the lift.