Salt Lake City, UT – Face it: as if airline travel these days isn't enough of a hassle, traveling with skis or a snowboard has become an absolute pain.
As a result, many travelers who used to bring their own gear now rent when they arrive at their destination. That, however, can be costly, and the situation can be further complicated by skiers who use AT boots or other specialized gear.
Many of us therefore still bring our own planks along, and when doing so it's important to include the cost of ski baggage when comparing the various prices available for a seat, as the price to bring skis or a snowboard along can vary from free to $200. That budget airline seat may not end up being so economical after all, and in some instances it may be cheaper to rent! Adding to the confusion and frustration, the relevant information is often buried in an obscure location on the airline's website.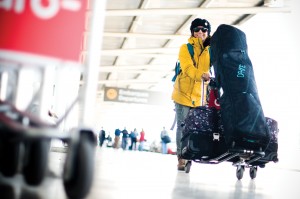 Thankfully, Matt Clark, Marketing Manager of LUEX Travel, has already done the heavy lifting and compiled a current list of ski and snowboard baggage restrictions and fees for 95 airlines across the globe. The following chart should prove an effective resource as you plan your ski and ride getaways for 2015-16.
Keep in mind that this table's "Cost" column only refers to any extra charges that an airline imposes if a piece of your luggage contains skis or a snowboard. If the cost is listed as "free," but the airline still charges a checked baggage fee for your class of ticket, that fee will still apply.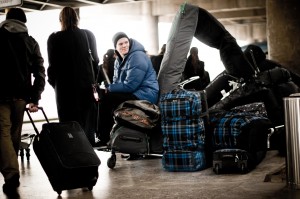 Note also that while all of this information is correct at the time of publication, airlines can change their regulations at any time. Use the information in the list as a guide, but double-check before booking your flight.
Finally, do yourself a favor and bring your boot bag in the cabin as your carry-on. Even if the airlines lose the rest of your baggage, the most important piece of gear to have on hand is your own pair of boots!
Airline

Accepts Skis or Snow-boards

Size Restrictions

Details

Cost

More Info

Aeroflot

Yes

N/A

1 ski/board + boot bag flies free of charge if within checked baggage allowance; however, you must confirm with the airline at least 36 hours before flight.

Free

Click here
Aer Lingus

Yes

N/A

For Aer Lingus flights operating to/from North America, ski equipment is carried as part of the standard free baggage allowance.




For all other flights, ski bags are subject to a fee of €40 per passenger, per direction.

Free- €40

Click here
Aero Mexico

Yes

204 or 294cms total linear dimensions, varying by plane/route

You can take ski/snowboard equipment for a fee of $40-50 USD. Size restrictions are: Narrow-Body Cabin (E-145, E-170, E-175, E-190, B 737-700/800)up to 204cm; Wide-Body Cabin (B-767-200/300, B-777, B-787) 294cm

$40-$50 USD

Click here
Air Asia

Yes

N/A

All ski and snowboard equipment is subject to a fee, which varies by route, weight, and when you book (it's cheapest to pre-book online). Charges for a 20kg ski bag from Australia to Japan are 32 AUD if pre-booked, or 59 AUD if paid at the airport (15kg limit if paid at airport).

Approx 30-70 AUD

Click here
Air Berlin

Yes

N/A

You can take a ski/board bag free of charge if within your free baggage allowance, or for the following fees depending on route/ticket: Just Fly Short and medium-haul =€15 – €35; FlyDeal, FlyClassic, FlyFlex Short and medium-haul= €70 – €90; Long-haul = €150; FlyFlex Short and medium-haul = €70; Long-haul = €150

Free – €150

Click here
Air Canada

Yes

N/A

Skis or snowboards travel free when within checked baggage limits (number of bags and weight). They must be packed in proper, rigid cases, and and multiple skis/boards are allowed in one case – though other items like clothing are not. Boot bag can be taken seperately at no extra charge.

Free

Click here
Air China

Yes

Varies

In principle, Air China do accept snowsports equipment, subject to max linear dimensions of 158cms – which excludes every adult ski on the market. However, when we called Air China, we were told that you can take a longer ski bag (up to 23kg) for '33% of the standard rate,' or approximately £15 if flying from the UK. In short, call them when booking to confirm fees for your flight!

Varies – £15+

Click here
Air France

Yes

300cms

Ski equipment is considered as a standard checked baggage item and is included at no extra charge in your baggage allowance (except for Economy Mini and Basic fare tickets).

Free

Click here
Air India

Yes

N/A

Skiing equipment may contain 1 pair of skis or 1 board, and one pair of boots. Such skiing kit may be pooled in the free baggage allowance but if in excess, it will be charged at the applicable rate for 3 Kilos of excess baggage.

Free-Varies

Click here
Air Malta

Yes

N/A

€30 per piece per flight, but if the total weight of your baggage is less than your checked-in baggage allowance, sports equipment will be completely free of charge.

Free – €30

Click here
Air New Zealand

Yes

200cms and 23kg

You can take a ski bag under 200cm long and 23kg for free as part of your standard checked baggage allowance.

Free

Click here
Air Vanuatu

No

N/A

N/A

N/A

Click here
Alaska Air

Yes

292cm total linear dimensions

Ski bags under 292 total linear dimensions fly for free if within your checked baggage allowance.

Free

Click here
Alitalia

Yes

23kg

Ski and snowbaord bags under 23kgs are free if within your checked baggage allowance.

Free

Click here
American Airlines

Yes

320cm total linear dimensions

One pair of skis/snowboard and one boot bag containing only boots/bindings can be taken at the applicable checked bag charge, which varies by route

$25-200 USD

Click here
Ana

Yes

292cm total linear dimensions

Skis can be taken, but costs vary by size and route. Bags under 203cm linear dimensions should fly for free, depending on route, if within your checked baggage allowance.

Varies

Click here
Asiana

Yes

23kg

Ski bags weighing less than 23kg can be taken for free if within checked baggage limits.

Free

Click here
Austrian Air

Yes

23kg

1 ski- or snowboard equipment per passenger is transported free of charge – except in Europe fare 'Economy Light' and not on routes to/from/via USA.Sports equipment MUST be confirmed with the airline at least 24 hours before flying!

Free – €100

Click here
Avianca El Salvador

Yes

230cm total linear dimensions

In principle, a ski bag under 230cms linear dimensions and 23kg should fly for free, however this is subject to space so you MUST confirm with the airline when booking!

Free – Varies

Click here
Azul

Yes

N/A

Flat fee of $150 USD per flight for sports equipment

$150 USD

Click here
Bel Avia

Yes

210cm long

Flat fee of €50 for ski/snowboard equipment

€50

Click here
BMI Regional

Yes

20kg

Depending on ticket class, you can take a ski bag up to 20kg in weight free as part of your checked baggage allowance, or for a fee of £30/€45 per sector.

 

Click here
British Airways

Yes

23kg

Ski/snowboards up to 190cm long can be taken for free as part of your checked baggage allowance.

Free

Click here
Brunei Air

Yes

N/A

In principle ski equipment can be taken as part of your free checked baggage allowance, depending on ticket class on route. You should confirm any fees with the airline when booking.

Free – Varies

Click here
Brussels Airlines

Yes

N/A

1 set of ski or snowboard equipment may be transported free of charge, except on routes to/from/via US/Canada and for Check&Go tickets. Following rates apply: for Check&Go €45 per one-way if booked in advance (€50 at the airport), and €100 per one-way on intercontinental flights.

Free – €100

Click here
Cape Air

Yes

N/A

Varies by route, ticket class and plane. Confirm fees with the airline when booking.

Varies

Click here
Carpat Air

Yes

N/A

Depends on route and ticket class. Confirm fees with the airline when booking.

Varies

Click here
Cathay Pacific

Yes

N/A

In principle ski equipment can be taken as part of your free checked baggage allowance, depending on ticket class and route. You should confirm any fees with the airline when booking.

Varies

Click here
Cayman Airways

Yes

N/A

You can take ski equipment for a flat fee of $40 USD. We recommend to confirm space and availability with the airline when booking.

$40 USD

Click here
China Airlines

Yes

N/A

In principle ski equipment can be taken as part of your free checked baggage allowance, depending on ticket class and route. You should confirm any fees with the airline when booking.

Free – Varies

Click here
China Eastern

N/A

N/A

Varies by route, ticket class and plane. Confirm fees with the airline when booking.

Varies

Click here
China Southern

N/A

N/A

Varies by route, ticket class and plane. Confirm fees with the airline when booking.

Varies

Click here
Condor

Yes

400cm long

Ski bags up to 400cm long and 30kg can be taken for a fee, which varies by route. Fee is discounted when paid at least 30 days before flying, and ranges from $65 to $111 USD.

$65-111 USD

Click here
Copa Air

Yes

272cm linear dimensions

Flat for of $100 USD to take ski/snowboard equipment.

$100 USD

Click here
Corsairfly

Yes

N/A

You can take ski/board equipment for free within your checked baggage allowance, which varies by route. Confirm fees with the airline when booking.

Varies

Click here
Croatia Airlines

Yes

N/A

One set of ski- or snowboard equipment per person is free of charge on all flights operated by Croatia Airlines, but you most notify the airline when booking.

Free

Click here
Czech Airlines

Yes

N/A

One ski/board bag up to 15kg can be taken for free IN ADDITION to your checked baggage allowance.

Free

Click here
Delta

Yes

N/A

One ski/board bag can be taken for free if within checked baggage allowance.

Free

Click here
Easyjet

Yes

N/A

One ski bag up to 20kg can be taken for £30 per flight.

£30

Click here
Egypt Air

Yes

23kg

One ski bag up to 23kg can be taken as part of your checked baggage allowance.

Free

Click here
Emirates

Yes

N/A

Ski equipment can be carried as part of your normal baggage allowance. However, in some situations additional charges may apply when checking in ski equipment – confirm with the airline when booking.

Free – Varies

Click here
Etihad

Yes

N/A

Free if within checked baggage allowance, which varies by ticket class and route.

Free – Varies

Click here
Ethiopian Airways

Yes

N/A

One set of skiing equipment consisting of one pair of skis, one pair of ski poles, one pair of boots, and one snow board, one pair of standard water skis or one slalom water ski shall be charged as: €20 on European flights, €40 on intercontinental flights.

€20-40

Click here
Finnair

Yes

220cm long

On most ticket classes you can take a ski bag up to 220cm long and 23kg in weight for free as part of your checked baggage allowance.

Free – Varies

Click here
First Air

Yes

292cm linear dimensions

Sporting items will be accepted as checked baggage, and when in excess, each item will be subject to the excess baggage charge for a single piece. Please ensure that the items do not exceed the maximum weight of 45kg (100lbs) or size of 292cm to be accepted as checked baggage.

Free – Varies

Click here
Flybe

Yes

N/A

You can take a ski/snowboard bag for £30 per sector, but you must notify the airline when booking.

£30

Click here
Frontier Airlines

Yes

N/A

Varies by route, ticket class and plane. Confirm fees with the airline when booking.

Varies

Click here
Garuda Indonesia

Yes

N/A

Varies by route, ticket class and plane. Confirm fees with the airline when booking.

Varies

Click here
Georgian Airways

Yes

N/A

Free within your checked baggage allowance, but you MUST confirm with the airline when booking.

Free

Click here
German Wings

Yes

N/A

You can take one ski bag weighing up to 30kg for free, but you must confirm with the airline when booking.

Free

Click here
Gulf Air

Yes

190cm long

One ski/board bag up to 190cm long can be taken free if within your checked baggage allowance.

Free

Click here
Hawaiian Airlines

Yes

206cm linear dimensions

In principle you can take ski/board bags up to 206cm total linear dimensions, but not many skis fit within this limit.

Varies

Click here
Iberia

Yes

N/A

Ski equipment is considered an item that can be carried within the passenger's baggage allowance. If you add other items, exceeding the permitted number of free items, it will be considered excess baggage. However, on return flights originating in Brazil, a charge of $81 USD applies.

Free – $81 USD

Click here
Iceland Air

Yes

N/A

One ski/board bag can be taken for free if within checked baggage allowance.

Free

Click here
Interjet

Yes

N/A

50kg baggage allowance! You can take sports equipment in addition to one other hold baggage item for free.

Free

Click here
Japan Airlines

Yes

N/A

While you can take ski/board equipment, it will almost certainly incur an oversize charge, which varies by route and ticket class.

Varies

Click here
Jet2

Yes

182cm long

You can take a ski/board bag up to 182cm long for £25 if paid online in advance.

£25

Click here
Jetblue

Yes

N/A

Ski and snowboard equipment are accepted on flights EXCEPT flights to/from the Dominican Republic.




There is no additional charge for ski and snowboard equipment; however, one item of equipment will count as one of your checked bags. Skis and snowboards are exempt from the standard size requirements (62″) but should still follow weight and other equipment guidelines.

Free

Click here
Jetstar

Yes

190cm/277cm

Ski/board equipment flies free if within your checked baggage allowance, but must not exceed 1.9 metres for Jetstar flights operated by an A320, A321 or Q300 aircraft, and 2.77 meters for Jetstar flights operated by an A330 or 787 aircraft.

Free

Click here
Kenya Airways

Yes

N/A

In principle ski/board equipment can be taken free of charge, however you must confirm this (and space in the hold) with the airline when booking.

Free

Click here
KLM

Yes

300cm long

You can take a ski/board bag up to 300cm long for free if within your checked baggage allowance.

Free

Click here
LAN Airlines

Yes

N/A

Ski/board equipment is accepted, but will incur a charge if over 203cm linear dimensions. Charge varies by route and ticket class.

Varies

Click here
LOT Polish Airlines

Yes

N/A

Ski/board equipment can be taken for free if within your checked baggage allowance. Size restrictions are waived.

Free

Click here
Lufthansa

Yes

N/A

Ski/board equipment can be taken for free if within your checked baggage allowance, but you most notify the airline at least 24 hours before flying to guarantee hold space.

Free

Click here
Luxair

Yes

N/A

€35 per piece of equipment each way) up to 30kg.

€30

Click here
Malaysia Airlines

Yes

N/A

One ski/board bag can be taken free if within the checked baggage allowance, which varies by route and ticket class.

Free

Click here
MEA

Yes

N/A

1 ski or board bag weighing up to 23kg can be taken for free if within your checked baggage allowance.

Free

Click here
Meridiana

Yes

N/A

You can take ski/board equipment for a fee of €30-60 depending on route.

€30-60

Click here
Monarch

Yes

N/A

You can take ski/board equipment for a fee of £24.99, which entitles you to an additional 20kg checked baggage allowance.

£24.99

Click here
Oman Air

Yes

N/A

Ski/board equipment is accepted but will exceed the permissable size restrictions. You must call the airline when booking to reserve space in the hold and confirm any fees.

Varies

Click here
Penair

Yes

N/A

Ski/board equipment can be taken for free if within your checked baggage allowance.

Free

Click here
Philippine Airlines

Maybe

N/A

Ski/board equipment may be taken at the discretion of the airline; you must call them to confirm fees when booking.

$25 USD – Varies

Click here
Qantas

Yes

N/A

Free if within checked baggage allowance.

Free

Click here
Qatar Airways

Yes

N/A

Free if within checked baggage allowance, which varies by ticket class and route.

Free

Click here
Royal Jordanian

Yes

N/A

Sports equipment and musical instruments can be carried as part of the free baggage allowance and excess rates will be applied when the free baggage allowance is exceeded.

Free

Click here
Ryanair

Yes

N/A

Ski/board bags up to 20kg can be taken for €40/£40 per item per flight if booked in advance, or €45/£45

€40/£40 – €45/£45

Click here
Saudi Airlines

Yes

157-205cm linear dimensions

In principle ski equipment can be taken, but it will exceed the permissable size dimensions, resulting in substantial fees, which depend on route.

$130-440 USD

Click here
Singapore Air

Yes

N/A

Free if within checked baggage allowance, which varies by ticket class and route.

Free

Click here
South African Airways

Yes

158cm

In principle ski/board equipment up to 158cms can be taken for free, which rules out most skis on the market. Fees for longer skis vary by route/ticket; call the airline when booking to confirm availability and space.

Varies

Click here
SouthWest

Yes

N/A

When substituting ski equipment for your free checked baggage allowance, Southwest allow you to take up to two bags (containing one set of snow skis, ski poles, and ski boots), which count as one item (even if they are packed and tagged separately). Size restrictions are waived, though weight limits still apply.

Free

Click here
Suncountry

Yes

182cm long

Skis up to 182 cm long can be taken for free as your checked baggage allowance. Longer skis incur a charge of $75 USD per flight.

Free – $75 USD

Click here
Sunwing Airlines

Yes

N/A

Ski/board bags up to 20kg can be taken for free.

Free

Click here
Swiss

Yes

N/A

Free if within checked baggage allowance.

Free

Click here
TAP Portugal

Yes

N/A

Ski/board equipment can be taken for €50 per flight.

€50

Click here
Thai Airways

Yes

N/A

Free if within checked baggage allowance, which varies by ticket class and route.

Free

Click here
Transavia

Yes

N/A

Ski/board equipment can be taken for €25 per flight, but you must notify the airline beforehand.

€25

Click here
Turkish Airlines

Yes

N/A

Free if within checked baggage allowance.

Free

Click here
United

Yes

N/A

Free if within checked baggage allowance, which varies by ticket class and route.

Free

Click here
US Airways

Yes

N/A

Ski equipment may be accepted in the normal baggage allowance in lieu of a piece of baggage.

Free

Click here
Virgin America

Yes

N/A

Free if within checked baggage allowance, which varies by ticket class and route.

Free

Click here
Virgin Atlantic

Yes

N/A

Free – in addition to standard checked baggage allowance.

Free

Click here
Virgin Australia

Yes

Varies

Free if within checked baggage allowance, which varies by ticket class and route.

Free

Click here
Vueling

Yes

N/A

€45 per item per flight.

€45

Click here
Westjet

Yes

N/A

Ski/board bags can be taken for free if within checked baggage allowance. Oversize fee is waived.

Free

Click here
Wizz Air

Yes

N/A

Ski/board equipment can be taken for €30 per bag per flight if paid in advnace, or €60 if paid at the airport.

€30-60

Click here