Bretton Woods, NH – After operating the properties since 2009, Omni Hotels & Resorts announced on Wednesday that it has acquired Bretton Woods ski area and the Omni Mount Washington Hotel from CNL Lifestyle Properties, a real estate investment trust. Terms of the deal were not disclosed.
The purchase also includes the Bretton Woods cross-country ski center, the resort's Mount Washington and Mount Pleasant golf courses, the Omni Bretton Arms Inn, the Lodge at Bretton Woods, and 500 acres for future expansion and development.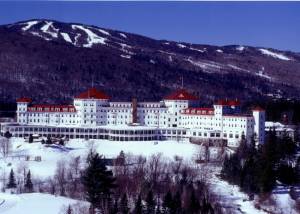 "Omni Hotels & Resorts' acquisition of The Omni Mount Washington Resort demonstrates the company's commitment to actively seeking long-term ownership with an opportunistic mindset," said Mike Deitemeyer, president of Omni Hotels & Resorts. "The property is among the most storied landmarks in the country and fits perfectly into our growing resort portfolio. We look forward to preserving The Omni Mount Washington Resort's rich history and enhancing its legacy as the originator of the great American destination vacation."
The Omni Mount Washington Resort is located at the western base of New Hampshire's stunning Mount Washington, which at 6,288 feet is the highest peak in the Northeast. The resort is surrounded by nearly 800,000 acres of the White Mountain National Forest and has benefited from over $90 million of expansion and renovation, encompassing updated guest rooms and public spaces, a 25,000-square-foot spa, a 20,000 square-foot conference center, enhancements to the ski area, and acquisition of the golf courses and development land.
"Serving as The Omni Mount Washington Resort's management company for the past six years, Omni Hotels & Resorts has been an excellent partner in providing our guests with first-class experiences," said Craig Clemmer, director of sales and marketing of The Omni Mount Washington Resort. "We look forward to building upon the foundations we have laid together and continue to deliver positive results for our guests and stakeholders. The resort's change in ownership will be seamless."