Walnut Creek, CA – While we're all setting our New Year's resolutions today, think about what Corrinne Hindes is doing.
Hindes, age 15, of Walnut Creek, California, has been named a 2015 honoree by the Gloria Barron Prize for Young Heroes. Each year, the Barron Prize celebrates 25 inspiring, public-spirited young people – 15 winners and 10 honorees – who have made a significant positive difference to people and our planet. This year's Barron Prize honorees are a diverse group of outstanding young leaders, chosen from nearly four hundred applicants across North America.
Corinne founded Warm Winters to collect jackets, gloves, and hats from the unclaimed lost-and-found at ski resorts and distribute them to the homeless. So far, her non-profit has collected 10,000 items of warm clothing and delivered them to 6,500 homeless community members. She has created a formal partnership with the National Ski Areas Association and her group is currently working with 17 ski resorts in eight states.
Hindes organizes and trains ski team members at the resorts to lead local efforts. She also involves younger students and Scout troops in sorting and delivering the clothing.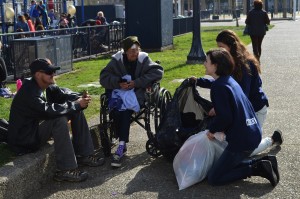 An avid ski racer, Corinne began her work as an 11-year-old after losing a hat at her local ski resort. Directed to a heap of lost-and-found items and told they'd all soon be discarded, she begged the resort to instead allow her to take the clothing to the homeless in her community. Her first recipient? The homeless gentleman near her own neighborhood who didn't have a coat.
"I've learned that every person is important and powerful in their own way," says Corinne. "And I've learned that simple ideas can make a huge difference."
The Barron Prize was founded in 2001 by author T.A. Barron and was named for his mother, Gloria Barron. Each year's 25 Barron Prize young heroes are as diverse as their service projects. They are female and male, urban and rural, and from many races and backgrounds. Half of them have focused on helping their communities and fellow human beings; half have focused on protecting the environment.
"Nothing is more inspiring than stories about heroic people who have truly made a difference to the world," says Barron. "And we need our heroes today more than ever. Not celebrities, but heroes – people whose character can inspire us all. That is the purpose of the Gloria Barron Prize: to shine the spotlight on these amazing young people so that their stories will inspire others."