Westford, MA – They came to witness the best freestylers at the Polartec Big Air at Fenway Park in Boston last week, but those who would rather do than watch headed 22 miles northwest (as the baseball flies) to ski and ride with freestyle ski pioneer Wayne Wong at the Nashoba Valley Ski Area.
The 65-year-old Wong, a member both the Canadian Ski Hall of Fame and the U.S. Ski and Snowboard Hall of Fame, was on hand for three days at the 240-foot vertical drop hill for his 42nd annual appearance.
Wong was also one of the thousands of watchers at the 140-foot vertical drop hill inside Fenway Park, and while Nashoba Valley had the height advantage he noted the structure built upon the Red Sox home field was intimidating.
Nashoba Valley founder Alan Fletcher, Sr. met Wong at a freestyle event at New Hampshire's Waterville Valley in the early 1970s and invited Wong to his hill to ski with the public and promote skiing. Wong has been coming back ever since for visits that he claims are highlights of his years.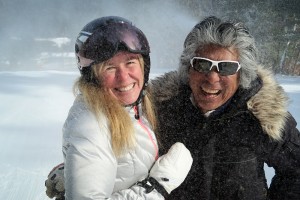 "Everyone that works at Nashoba Valley Ski Resort is like a big family and I feel like a part of that family," Wong said last Friday.
Fletcher's family also includes his daughter Pam, a 1988 Olympian with six national titles and a gold medal at the 1986 World Cup downhill in her portfolio. Pam Fletcher works at Nashoba Valley and often joins Wong on the snow when he gives tips, rides lifts and poses for photos with members of the public.
After skiing a few runs with Wong on Friday, and before he headed to Beantown for the Big Air event, Wong and I sat down on the second floor of the Nashoba Valley base lodge to talk about freestyle skiing now and in the 1970s when he created the "Wong Banger" and starred in countless ski films.
"Back in the early 70s when we started freestyle skiing, people looked at us and said 'man, you guys are crazy, how do you do what you're doing?' And now some 40 years later I'm looking at all these young park skiers and these big air kids and I go, 'God you guys are crazy. How the heck do you guys do what you're doing?,'" said Wong, who in 1999 was recognized in Skiing Magazine's 50th Anniversary Issue as one of the 25 Most Influential Skiers Of All time.
"When you think about the evolution of our sport, we were at an infancy as far as tricks would go and maneuvers that could be done on skis. Equipment has changed and evolved which allows the athletes to perform more difficult, more intricate tricks and they're taking it to the limits," Wong continued.
Wong, who was born and raised in Vancouver, B.C., Canada and now lives in Squaw Valley, Calif., plans to be back a Nashoba Valley next year for his 43rd annual visit which is traditionally held Friday through Sunday of President's Day weekend, so circle those 2017 calendars.
I also skied with Wong and Pam Fletcher during Wong's 2012 visit to Nashoba Valley. Both became victims of my video camera.