Kvitfjell, Norway – Over 20 years later, the 1994 Olympic Winter Games in Lillehammer are still remembered among the greatest in history. In the birthplace of the sport, the tiny Norwegian mountain village put on a spectacular show over two frigid weeks, with seemingly every single Norwegian making the pilgrimage to see their heroes perform. And it all began on opening morning in Kvitfjell when American Tommy Moe became the Golden Boy.
All the way back to 1924, the Summer and Winter Olympics were held in the same year. That all changed in 1994, and skiers had the opportunity to compete in two Olympics spaced two years apart as the International Olympic Committee split Summer and Winter into different cycles. The 1992 Olympics had been a breakthrough for the U.S. Ski Team. But the 1994 Games set a new standard – one many weren't expecting.
Despite promising alpine results in the World Championships a year earlier in Japan and in World Cups leading up to Lillehammer, Sports Illustrated called the U.S. Alpine Ski Team "Uncle Sam's lead-footed snowplow brigade."
The preview article could have dealt the Team a crippling blow to morale. Instead, coaches and athletes turned it into a motivator, especially Montana-born-turned-Alaskan Tommy Moe, who would later remark, "We work very hard. We don't deserve to be ridiculed." But it was his skis that ultimately did the talking.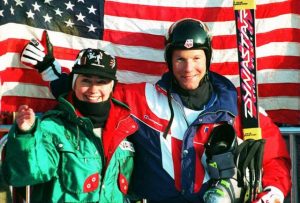 On a crisp, clear, bitter cold Norwegian day, Tommy Moe rewrote history – winning the twisting, turning downhill in Kvitfjell, a half-hour north of Lillehammer. It was as if he were in a daze – wandering around the finish pinching himself. Mom and dad had just arrived, sans tickets. That didn't keep them out of the venue, jumping fences to get to their son. Even Hillary Clinton got into the act, congratulating Moe on his win – coming 10 years after Bill Johnson set the standard in Sarajevo.
Another "friendlier" Sports Illustrated writer, William Oscar Johnson, was there to absorb the win. The veteran writer piled into the car with Moe on the way to get his gold medal, quickly grabbing a story on deadline.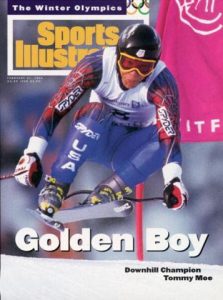 Day one, and Tommy Moe was on the cover of Sports Illustrated labeled simply: Golden Boy.
It wouldn't be the last medal. Moe would take silver in the super G on his birthday a few days later.
For Tommy Moe, his opening weekend gold was the only major downhill he would win. A year later, he suffered a serious knee injury, ironically on the same course. He came back for the 1998 Olympics in Nagano where he finished 12th in downhill and eighth in super G before retiring. Today, he and wife Megan Gerety are raising their family in Jackson Hole where he serves as a ski ambassador and is frequently seen in Warren Miller ski films at his Tordrillo Mountain Lodge in Alaska. In 2003 he was inducted into the U.S. Ski and Snowboard Hall of Fame.
Amidst it all, great memories remain of the day in 1994 when Tommy Moe became the Golden Boy.