Santa Caterina, Italy – The Audi FIS Ski World Cup circuit resumed Tuesday with a make-up super G on a steep, dark and challenging course in Santa Caterina. Originally scheduled for rolling slopes of Lake Louise, Canada, Santa Caterina picked up the event ahead of Wednesday's downhill and Thursday's alpine combined, challenging the field with the most technical track of the season so far.
Norway's Kjetil Jansrud won his 18th World Cup race by more than a half second over Austria's Hannes Reichelt, who finished second. It was Jansrud's third-straight super G victory this season.
"I'm feeling awesome," Jansrud said. "There's not much to say. You never expect the wins. In some ways, I'm skiing very confidently this whole season, but also these last races…I'm just enjoying the flow for the moment and hopefully, it'll continue."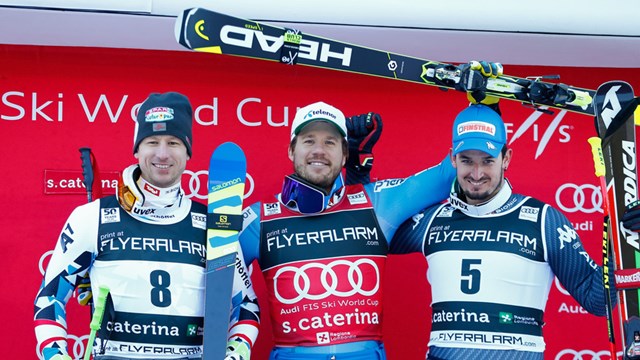 Starting with bib number 5, Italy's Dominik Paris was the first to lay down a strong run and set a reference time of 1:31.53. After his third place in the super G in Val d'Isère, Paris was a serious contender and the pressure from the Italian crowd was palpable. In the end, Paris finished third for his second podium result.
"It's feeling very good," the Italian said. "It's so good to stand on the podium at home…a lot of emotions."
Tommy Biesemeyer, of Keene, N.Y., posted a career-best eighth-place finish to lead five Americans into the top 30.
"Everybody here is a good skier, but I actually believe that I'm a great skier!" Biesemeyer said. "I don't mean to sound arrogant, but I'm just really trying to focus on my abilities, my skiing characteristics, and a hill like this I think plays to my advantage where I can channel my innate skiing ability into a technical, steep, dark and intimidating hill."
American Bryce Bennett, of Squaw Valley, Calif., scored the first World Cup super G points of his career in 20th place, from the 60th start position.
Other American finishers included Andrew Weibrecht (Lake Placid, N.Y.) in 12th; Travis Ganong (Squaw Valley, Calif.) 24th; Jared Goldberg (Holladay, Utah) 30th; and Ryan Cochran-Siegle (Starksboro, Vt.) 33rd.
"The course is just dark from top to bottom. There is a little bit of light in the middle on the flat parts … it's tough, it's all there. It's actually our toughest course on the tour just because of the way they prepare the snow and the darkness," said Weibrecht, who was stoked with his finish following last week's disappointing results and a sprained ankle a few days ago.
"I just relaxed and let it go and tried to make good turns," Weibrecht added. "I skied really well on top, but down toward the bottom I made a couple of mistakes. But it's a solid result, so I'm happy."
Up next, the men race downhill Wednesday in Santa Caterina, where windy weather is in the forecast.
OFFICIAL RESULTS
Audi FIS Alpine Ski World Cup
Santa Caterina, Italy – Dec. 27, 2016
Men's Super G
| Rank | NATION | Name | Tot. Time | Diff. Time | WC Points |
| --- | --- | --- | --- | --- | --- |
| 1 | NOR | JANSRUD Kjetil | 1:30.88 | | 100 |
| 2 | AUT | REICHELT Hannes | 1:31.48 | +0.60 | 80 |
| 3 | ITA | PARIS Dominik | 1:31.53 | +0.65 | 60 |
| 4 | NOR | KILDE Aleksander Aamodt | 1:31.87 | +0.99 | 50 |
| 5 | GER | FERSTL Josef | 1:32.12 | +1.24 | 45 |
| 5 | AUT | FRANZ Max | 1:32.12 | +1.24 | 45 |
| 7 | SUI | CAVIEZEL Mauro | 1:32.29 | +1.41 | 36 |
| 8 | USA | BIESEMEYER Thomas | 1:32.31 | +1.43 | 32 |
| 9 | NOR | SEJERSTED Adrian Smiseth | 1:32.32 | +1.44 | 29 |
| 10 | AUT | KRIECHMAYR Vincent | 1:32.33 | +1.45 | 26 |