Teton Village, WY – Three men spent the night in a snow cave after venturing out of bounds at Jackson Hole Mountain Resort this past weekend.
Rangers with Grand Teton National Park have identified the three as Drew McCord,32, of Houston, Tex.; Kevin Livingston, 37, of Afton, Wyo.; and Patrick Callihan, 24, of Jackson, Wyo. All three left Jackson Hole in near-whiteout conditions and "Considerable" avalanche danger on Christmas Eve via the Upper Rock Springs Canyon backcountry gate, intending to ski the sidecountry Rock Springs Bowl. Instead, they lost their way in the low visibility, turning right from the ridgeline into the National Park instead of left into Rock Springs Bowl.
Teton County Search and Rescue received a call from McCord's girlfriend about the overdue trio at around 6:30 p.m. Saturday, reporting a text from the men indicating that they needed help. Park Rangers were able to reach the men via text message at around 10 p.m. after they hiked approximately 500 feet back uphill to an area with better cell phone reception. They built a snow cave for shelter and lit a fire to survive the night.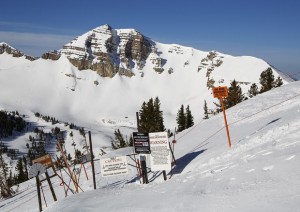 Search efforts began at first light on Sunday morning after Jackson Hole Ski Patrol closed the backcountry access gates to Rock Springs Bowl as a precaution. Park Rangers and ski patrollers located the victims' tracks in the Targhee Woods area, before the three men were located in the vicinity of a backcountry route known as Cam's Run,. They were led back to the ski resort's base area via Granite Canyon at around 1:30 p.m. on Sunday.
"Park rangers commend the men for remaining calm during the incident, staying together, initially attempting to return the way they had come, and their ability to light a fire and build shelter," the National Park Service said in a prepared statement. "The men were equipped with basic back country ski gear including avalanche beacons, probes, and shovels. However, the men had very little food, water, extra clothing layers, or other emergency equipment."