Klosters, Switzerland – The Swiss Alps offer breath-taking panoramic views and year-round adventure. Yet, the challenges of making the mountains accessible require monumental feats of engineering expertise.
A new ski lift for children and handicapped persons will enable them to enjoy remarkable mountain scenery and activity.  ABB is powering the new six-seater chairlift in the Klosters-Madrisa mountain resort, one of the most popular ski and mountain regions in the Swiss Alps.
"I am a person like everyone," said eight-time Paralympic medalist Edith Wolf-Hunkeler.  "I want to be free. I don't feel handicapped. If you can go skiing with your family and you are together all of the time, that's what makes it an experience."
This special chairlift is designed to provide more safety, security and comfort using an adaptive monoski.  A size recognition control system lifts small children and monoskiers to the correct seat height to easily load onto the chair. An automatic locking clip allows the special skiers to use the chair lift by themselves.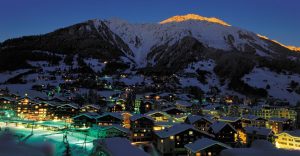 ABB's CEO Ulrich Spiesshofer took the first ride with Wolf-Hunkeler earlier this month. The new ski lift is over a mile long and uses ABB's AC motor and frequency converter for reliability and energy efficiency.
"We care about people," said Spiesshofer. "If you bring disabled people to the mountains, our technology enables them to go skiing. In terms of energy efficiency, the motor on this ski lift is one of the most energy efficient in the world."
Klosters-Madrisa mountain resort aims to become a mecca in Switzerland for physically restricted snow sports.