Squaw Valley, CA – A ski patroller was killed this morning while conducting avalanche control work at Squaw Valley, in California near Lake Tahoe.
Joe Zuiches, 42, died at 8:35 a.m. Tuesday on the Gold Coast Ridge at Squaw Valley, according to a statement released by the resort. A resident of Olympic Valley and a member of Squaw Valley's pro patrol since 2012,  Zuiches died of injuries from the apparent detonation of a "hand charge," an explosive device containing ammonium nitrate that is placed by hand by ski patrollers intending to trigger an avalanche.
"An investigation is underway, and additional updates will be provided as they become available," the statement continues. "The team at Squaw Valley Alpine Meadows is deeply saddened by this tragic event and would like to express our deepest sympathies to the family and friends affected."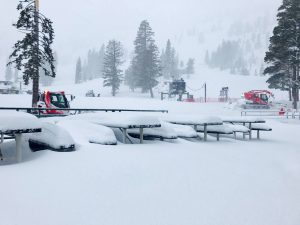 January snowfall has shattered records at the resort, with some 18 feet falling this month and 97 inches in the past week alone. The Sierra Avalanche Center forecasted a moderate avalanche danger in the area today, and Zuiches was likely on a control route to prepare the mountain for today's opening when the incident occurred.
In the wake of the fatal accident, Squaw Valley remained closed today, while most lifts were scheduled to operate at the company's adjacent Alpine Meadows ski area. At the time of a 2 p.m. PST news conference, Zuiches' body had not yet been recovered.
The Placer County Sheriff's Office is conducting the death investigation, and is working with the Bureau of Alcohol, Tobacco and Firearms (ATF), the FBI, and CalOSHA.
A GoFundMe page established to assist with funeral-related expenses indicates that Zuiches leaves behind a wife and child.
The last ski patrol death at Squaw Valley occurred in March 2009, when 16-year patrol veteran Andrew Entin was swept up in an avalanche while he, too, was conducting avalanche control.
The next time you're waiting for your favorite mountain to open following the latest snowstorm, it's worth remembering the men and women who are up before dawn each day, putting it all on the line to make the mountains safer for the rest of us.
This story will be updated as new information becomes available. Refresh your browser to view any updates.