Aspen, CO – European skiers dominated the X Games big air events on Saturday night in Aspen. British skier James Woods won gold in a tiebreaker over Sweden's Henrik Harlaut, and Kai Mahler of Switzerland took bronze in the two-scores-count format.
Breckenridge, Colo.'s Bobby Brown had the best finish for the Americans, finishing just outside the medals in fourth. Brown put down a left triple cork 1620 mute and a left triple cork 1440 high mute.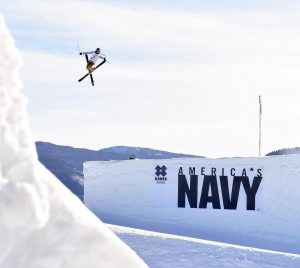 The women's ski big air featured an all-Euro podium as well, as German skier Lisa Zimmermann won gold, X Games slopestyle winner Kelly Sildaru of Estonia took silver and Giulia Tanno of Switzerland earned bronze.
Maggie Voisin, of Whitefish, Mont. and Devin Logan, of West Dover, Vt., were the top American finishers for the ladies, taking fifth and sixth, respectively.
OFFICIAL RESULTS
X Games Aspen
Aspen, CO – Jan. 28, 2017
Men's Ski Big Air
| Rank | Name | Top 1 | Top 2 | Top 3 | Top 4 | Best 2 |
| --- | --- | --- | --- | --- | --- | --- |
| 1 | James Woods | 46.00 | 42.00 | 41.00 | 37.00 | 88.00 |
| 2 | Henrik Harlaut | 46.00 | 42.00 | 41.00 | 27.00 | 88.00 |
| 3 | Kai Mahler | 42.00 | 39.00 | 31.00 | 27.00 | 81.00 |
| 4 | Bobby Brown | 40.00 | 36.00 | 29.00 | 26.00 | 76.00 |
| 5 | Elias Ambühl | 38.00 | 36.00 | 30.00 | 24.00 | 74.00 |
| 6 | Klaus Finne | 35.00 | 32.00 | 28.00 | 25.00 | 67.00 |
| 7 | Luca Schuler | 12.00 | | | | 12.00 |
Women's Ski Big Air
| Rank | Name | Top 1 | Top 2 | Top 3 | Top 4 | Best 2 |
| --- | --- | --- | --- | --- | --- | --- |
| 1 | Lisa Zimmermann | 47.00 | 38.00 | 34.00 | 31.00 | 85.00 |
| 2 | Kelly Sildaru | 42.00 | 42.00 | 41.00 | 35.00 | 84.00 |
| 3 | Giulia Tanno | 41.00 | 41.00 | 35.00 | 32.00 | 82.00 |
| 4 | Kaya Turski | 47.00 | 29.00 | 18.00 | 14.00 | 76.00 |
| 5 | Johanne Killi | 39.00 | 35.00 | 32.00 | 13.00 | 74.00 |
| 6 | Emma Dahlström | 35.00 | 34.00 | 29.00 | 28.00 | 69.00 |
| 7 | Maggie Voisin | 32.00 | 26.00 | 20.00 | 16.00 | 58.00 |
| 8 | Devin Logan | 32.00 | 23.00 | 21.00 | 20.00 | 55.00 |