Cortina d'Ampezzo, Italy – Speed events aren't Mikaela Shiffrin's forté. In fact, she's only recently begun racing in World Cup downhill and super G races.
However, the Eagle, Colo. resident showed off her speed skills in Cortina on Sunday, coming from bib 31 to steal fourth place in an Audi FIS Ski World Cup super G in Cortina won by Ilka Stuhec of Slovenia. It was Shiffrin's best ever finish in a speed event.
It was a bright and sunny day in Cortina with 60 women racing the straighter than normal super G course set by U.S. Ski Team coach Chris Knight. Lara Gut of Switzerland came into the race heavily favored, trying to take the overall lead from Shiffrin, but a crash at a tough blind gate caused her to DNF. The race was assumed over after the first 30, but Shiffrin, running 31st, put down a crazy fast run, even leading a few of the splits, to finish just off the podium in fourth.
Staring at the board after skiing through the lights, Shiffrin let out a yell, surprising even herself by the fast result.
"I felt like I was charging and super smooth," said Shiffrin, who was just .03 seconds off of the podium. "I really wanted the speed to come to me, instead of backing away from it. That was really fun—it's a good feeling."
Stuhec ran bullet and never gave up first place, taking her first super G win of the year. Sofia Goggia of Italy was second in front of her home crowd despite nearly losing her line on the lower part of the course, while Anna Veith of Austria returned to the super G podium for the first time in two years in third.
"I feel great," said Stuhec. "It was a great course and felt really, really good to ski so I'm definitely happy with the outcome. It was definitely stressful to stand here and watch everyone coming down, but it's part of the game. At the end, we need to ski fast and show our best no matter what course is set."
Laurenne Ross, of Bend, Ore., also skied into the top 10, taking 10th overall—her best finish of the season. She saw the race as a turning point. "It's definitely a step in the right direction for me," said Ross. "I've had a bit of a tough season so far, but I'm skiing well and I'm going to start trusting myself. It wasn't perfect—I didn't have full trust—but it's definitely a step in the right direction."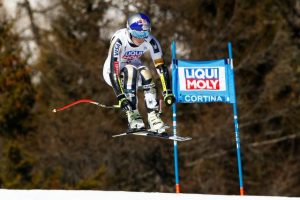 Dusting off her crashes in Friday's downhill training run and Saturday's downhill, Lindsey Vonn (Vail, Colo.) skied a solid run to finish 12th overall. "In downhill, especially, I'm skiing well," relayed Vonn. "Because of the training runs, I have more time to get adjusted to the speed. In super G, I wasn't very confident today after two crashes and not having as much training. It's difficult to be confident and really pushing 100 percent. I'm happy I got in the finish today—that gave me some confidence.
Also present at the race was Julia Mancuso, of Squaw Valley, Calif., who was forerunning the super G. She is still working on coming back to the World Cup after missing the last two seasons due to injury, but she plans on racing at the Olympic test event in Jeongseon after World Championships.
"I'll definitely go to the test event in Korea," said Mancuso. "This is really only my fifth day—I have less than a handful of days on snow—for speed. I want to be competitive. I don't just want to start trying to get the points again because I know I'm good enough to win when I'm 100 percent healthy."
Shiffrin's result and Gut's crash meant that Shiffrin added to her overall World Cup lead. She came in with just a 30-point margin over Gut, but put on another 50 points with her fourth-place finish, bringing her total score to 1103 points to Gut's 1023. The women head to Stockholm, Sweden for a city event on Tuesday evening before the FIS World Championships kicks off in St. Moritz.
OFFICIAL RESULTS
Audi FIS Alpine Ski World Cup
Cortina d'Ampezzo, Italy – Jan. 29, 2017
Women's Super G
| Rank | NATION | Name | Tot. Time | Diff. Time | WC Points |
| --- | --- | --- | --- | --- | --- |
| 1 | SLO | STUHEC Ilka | 1:19.81 | | 100 |
| 2 | ITA | GOGGIA Sofia | 1:20.12 | +0.31 | 80 |
| 3 | AUT | VEITH Anna | 1:20.51 | +0.70 | 60 |
| 4 | USA | SHIFFRIN Mikaela | 1:20.54 | +0.73 | 50 |
| 5 | GER | REBENSBURG Viktoria | 1:20.62 | +0.81 | 45 |
| 6 | AUT | VENIER Stephanie | 1:20.71 | +0.90 | 40 |
| 7 | LIE | WEIRATHER Tina | 1:20.79 | +0.98 | 36 |
| 8 | ITA | CURTONI Elena | 1:20.99 | +1.18 | 32 |
| 9 | SWE | KLING Kajsa | 1:21.04 | +1.23 | 29 |
| 10 | USA | ROSS Laurenne | 1:21.13 | +1.32 | 26 |