Loveland, CO – Guys, don't let it slip your mind that Valentine's Day is coming up right around the corner this Tuesday. In honor of the holiday, ski resorts near and far are hosting special events to get love birds in the mood.
At the appropriately named Loveland Ski Area in Colorado, LuvByrd is hosting their final round of Chairlift Speed Dating tomorrow, just in time for Valentines Day. Discounted lift tickets will be available for everyone who purchases them here for $50. Other purchase options include free beer for Upslope, and raffle tickets for sweet gear from Phunkshun Wear, Candy Grind, Grass Sticks Poles, Zeal Optics, and camping meals from Paleo Meals To Go. Organizers have music planned and, of course, the slopes will be filled with like-minded singles who enjoy the outdoors. If you already have a pass or ticket the event is free, but you still have the option to purchase the lunch and beer package.
Other ski areas are holding chairlift speed dating events surrounding Valentine's Day. At Hogadon Basin near Casper, Wyo., you can try chairlift speed dating beginning at 10 a.m. tomorrow for $5 plus a lift ticket or season pass. In Virginia, Wintergreen Resort will hold its "Powder of Love" chairlift speed dating on Tuesday. There, from 1 to 4 p.m. a special speed dating liftline on the Blue Ridge Express will be open to skiers and snowboarders. Parka-clad participants will be paired and expressed to the top of the mountain, armed with a card of conversation starters. If the two skiers don't fit hand-in-mitten, they simply part ways at the top of the mountain and try to find a downhill date again after the next run. After that, any future binding and un-binding is up to them.
In the Midwest, Minnesota's Afton Alps is waiting until Feb. 19 to hold its chairlift speed dating, which may be the perfect antidote for the post-Valentine's Day blues. Organizers will match compatible love-seekers with others in their preferred age category, and the two will jump on a chairlift and get acquainted on the ride up the mountain. Participants can ski down together—or leave a lousy match behind on the mogul field. Each ride up the chairlift also earns a raffle ticket for the après-ski raffle. Details are available here.
Love is also in the air in the Green Mountains of Vermont. At Bromley, take a selfie of you and your honey skiing at Bromley and post it to Instagram on Tuesday, tagged with #mysunmountain, to be entered to win two free lift tickets. Mount Snow will host Cloud Nine Nuptials on Tuesday to renew your vows (or get legally married) on the slopes in southern Vermont. Their special lift ticket deal of two for $59 will be available in advance, online only. Okemo celebrates romance with an on-snow scavenger hunt for large red hearts "hidden" along trail edges for skiers and riders to find. Return a heart to Okemo's resort services staff and receive a prize. Or grab your sweetheart and ski or ride for just $14 at Sugarbush's Mt. Ellen on Tuesday. Tickets are available at the ticket window or online in advance.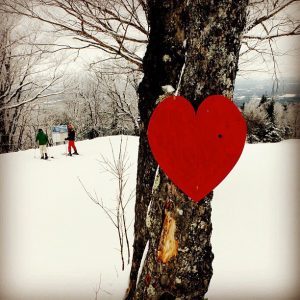 Up north in Canada, cupid has special activities planned at Quebec's Mont Sutton today through Tuesday. Friday's live music après-ski with Mannix will kick off the weekend properly on February 10th. The mountain's famous Love Seats will be back again this year, and those lucky enough to have a seat in them will be rewarded with a caramel treat sponsored by Freddo. The "Win a Unique Tucker Sno-Cat Ride" contest is also back. This year, four lucky couples will have the chance to ride up to Chalet Alt. 840 m, much appreciated for its splendid view, for a private cocktail with appetizers and sparkling wine by the fire on Saturday. Then on Sunday, families will have the opportunity to participate in the Heart Hunt from 10 a.m. to 2 :30 p.m., looking for the hearts hidden in the slopes at Mont Sutton. Those who successfully find all of the big red hearts will be entered in a draw to win gifts at the end of the day.