Park City, UT – The U.S. Ski and Snowboard Association (USSA) defines its core value of grit as "courage, tenacity and perseverance on the path to excellence." Over the past few seasons, Brad Wilson has demonstrated he's one of the grittiest U.S. Ski Team athletes out there, overcoming inexperience, distraction and injury to become one of the top U.S. mogul skiers.
Beginnings were humble for Brad and his brother Bryon, who won the Olympic bronze medal at the 2010 Olympic Winter Games. They grew up in Butte, Mont. as multi-sport athletes, participating in basketball, baseball and heading up to their local hill on the weekend to ski in the mogul program. When Brad and Bryon made the decision to commit themselves to mogul skiing, their parents packed up their life in Butte and headed for Park City, Utah so the boys could pursue their dreams.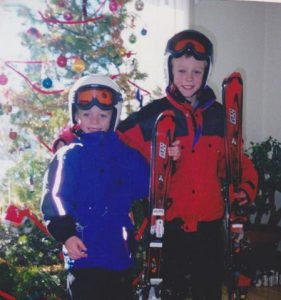 "My parents did everything they possibly could to get us where we are," said Wilson. "If we really wanted to do it we would figure out a way. As a family, we went all in. We've always worked as a family, and it's like we're one unit. Family for us is enormous, I'm really lucky to have that."
Fast forward to January 2014 – Wilson has landed himself on the Olympic team headed to Sochi, Russia.
"Qualifying for the Olympics is still one of my favorite athletic accomplishments," said Wilson. "It's a really big deal. But I was kind of naïve about it. I didn't really expect anything – I was just going to ski. That's kind of how I was up until that point. I would just go, ski and the results would come."
Unfortunately, the results didn't come. After making it into finals, Wilson fell on the top air, falling victim to the immense pressure that comes with competing at an Olympic-level event.
"When I got to Sochi, it was like 'Holy crap, Brad, this is a once in a lifetime opportunity,' and it affected me a lot. I wasn't really ready for it, so I collapsed."
Putting the disappointment of Sochi behind him, Wilson finished out the 2014 season with two more podiums, including a win, and a spot in the top five in the World Cup rankings. Everything was on track for a successful post-Olympic season. But Wilson's season was over before it even began when he suffered a knee injury training for the World Cup opener in Ruka, Finland.
"It was kind of a blessing," reflects Wilson. "After the Olympics, I just wasn't as driven as I was before. Rehab gave me something to do."
Wilson returned to Park City and spent day-in and day-out at the USSA's Center of Excellence, working with the team's sport science and medical staff to prepare himself to get back in the bumps.
"There was no one here [at the Center of Excellence], there were no distractions. I could just get my rehab done and make my knee as healthy as it could be. It was a really good learning experience. It was hard at first, but things happen for a reason and I'm a firm believer in that. I got a lot of positive out of it and I became stronger than I ever was."
On Feb. 27, 2016, almost 15 months post injury, Wilson was back in the World Cup start gate in Tazawako, Japan.
"Training that day didn't go very well. I was struggling because of nerves. I qualified really low in finals and didn't really have anything to lose, so I could just go for it."
And go for it he did, skiing a clean, fast run to land himself on top of the podium – making a triumphant return to the sport he loves.
"My finals run was the best skiing I've ever done in my life. That confidence led into the super finals run where I just did the same thing. It's a really cool feeling to know you've just skied your best. We're always fighting to do that, and it doesn't always happen, but it happened in Japan."
Wilson's goal for the 2016-17 season was simple: have his run at every event and ski well. His most recent podium was on home turf in Lake Placid, a third place finish. But the podiums aren't necessarily the focus for Wilson, who says that finding enjoyment while skiing can be a challenge, but is also key to his success.
"You learn the hard way. You get really into the numbers – you calculate that you need to go this fast, get this finish, all these things – and then you don't perform well. But when you take a step back and just have fun, the results start to come."
So, will we see Wilson make his second Olympic debut in 2018?
"I think going into 2018 will be a lot easier because I know what to expect. It's one of those things that if I put in the work, put in the training and ski my run, it will come. My biggest motivating factor is enjoyment. I'm here to do what I love – competing, having fun winning, having fun skiing. When I tell myself that, it's a turning point. I'm doing this because I love it and, as long as that's the case, I'll keep doing it."