Sierra Nevada, Spain – China's Xuetong Cai and Australian Scotty James successfully defended their halfpipe world championships titles on Saturday night at the Sierra Nevada 2017 FIS Freestyle Ski and Snowboard World Championships.
Having already paved the road for back-to-back wins after the first of three runs, James finally upped his score from 95.75 to a 97.50 in the best-run-counts final to finish ahead of Olympic champion Iouri Podladtchikov (SUI; 93.25) and Pat Burgener (SUI; 90.50).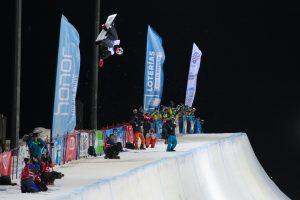 "I did it again, I'm super stoked," commented James. "It's been such an awesome event here, such different conditions for us to ride, and I think all of us have been really liking it. I came out with a plan just to work really hard this week and finish off well, and I'm very happy to come home with the gold."
James, who thanked crowd with a special victory lap high-fiving fans lining the pipe, became the first rider in history to successfully keep his halfpipe title in successive World Championships.
"You know, it's one of those things you always think about but you don't know what you do when the time comes," James explained. "And I remembered my victory lap from Kreischberg, and I appreciate the fans coming out here and watching us and getting pretty cold. So, I do whatever I can do to say thank you to all this people who come out to watch."
Among the U.S. men, Ohio's Louie Vito and Ryan Wachendorfer, of Edwards, Colo., made the final. Vito was the top American finisher for the men with an eighth-place performance. Wachendorfer finished just behind him in ninth.
In the women's event, Cai tried to raise the bar for her rivals despite attempting even harder tricks in her second and third runs. In the end, she claimed the precious gold with a score of 90.75 with Haruna Matsumoto (JPN; 84.75) and 2015 bronze medalist Clemence Grimal (FRA; 79.00) rounding out the podium in a respective second and third.
"I'm so excited. There are no other words," said Cai. "I'm just so happy. I had one run in mind, and I put it down. That was the goal for the day."
Celebrating her second consecutive title, Cai became history's second female rider to repeat a halfpipe title, after Doriane Vidal of France won in 2001, 2003 and 2005.
Arielle Gold, of Steamboat Springs, Colo., and Wrightwood, Calif.'s Maddie Mastro represented the U.S. women in the final. Gold was the top finisher for the American ladies, finishing fifth despite struggling with shoulder pain.
"The pipe was better than I expected," she said after the comp. "It's a little scary just because it's so warm and it has some mystical bumps in there that are a bit hard to see but it's a good pipe."
Mastro finished just behind Gold in fifth.
OFFICIAL RESULTS
2017 FIS Freestyle Ski and Snowboard World Championships
Sierra Nevada, Spain – Mar. 11, 2017
Men's Snowboard Halfpipe
Rank
Name
Nation
Result
FIS Points
 1
JAMES Scotty
AUS
 97.50
 1000.00
 2
PODLADTCHIKOV Iouri
SUI
 93.25
 800.00
 3
BURGENER Patrick
SUI
 90.50
 600.00
 4
HIRAOKA Taku
JPN
 90.00
 500.00
 5
ZHANG Yiwei
CHN
 85.00
 450.00
 6
MALIN Markus
FIN
 82.00
 400.00
 7
HABLUETZEL David
SUI
 79.50
 360.00
 8
VITO Louie
USA
 78.75
 320.00
 9
WACHENDORFER Ryan
USA
 57.50
 290.00
 10
SCHERRER Jan
SUI
 41.75
 260.00
Women's Snowboard Halfpipe
Rank
Name
Nation
Result
FIS Points
 1
CAI Xuetong
CHN
 90.75
 1000.00
 2
MATSUMOTO Haruna
JPN
 84.75
 800.00
 3
GRIMAL Clemence
FRA
 79.00
 600.00
 4
OE Hikaru
JPN
 77.00
 500.00
 5
GOLD Arielle
USA
 74.25
 450.00
 6
MASTRO Maddie
USA
 70.00
 400.00
 7
LIU Jiayu
CHN
 83.00
 360.00
 8
RODRIGUEZ Sophie
FRA
 81.75
 320.00
 9
THOVEX Mirabelle
FRA
 78.75
 290.00
 10
CRAWFORD Holly
AUS
 78.25
 260.00