Pinkham Notch, NH – As of today, New Hampshire's Wildcat Mountain has opened 43 of its 48 trails, which constitutes 212 acres of terrain or 90% of its mountain. According to Wildcat officials, this is the most skiable terrain available today on the East Coast.
To date, Wildcat Mountain has received 35 inches of natural snow this season, or 19 inches within the past week, and snowmaking crews have jumped at every chance to make snow, which they began doing on October 17. Six of those inches fell from the sky early Friday and piled up on the firm base that is needed to open natural terrain.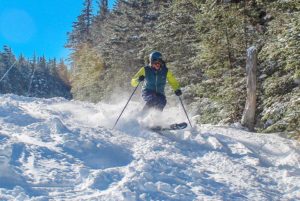 "It's been an incredible start to this season, and we couldn't be happier," said Brian Heon, general manager and vice president of Wildcat. "Going into the weekend, we knew we would be able to open a lot of natural terrain and give our guests the most open terrain on the East coast."
With cold temperatures ahead, snowmaking crews will resume making snow at Wildcat on Tuesday.  After Sunday, Wildcat's daily operations for the season begin on Thanksgiving Day, Thursday, November 22.