Pincher Creek (AB), Canada – Prior to 1998-99, only local skiers from the southern Alberta towns of Lethbridge and Pincher Creek patronized Castle Mountain, formerly known as Westcastle Park with its 1,700 vertical feet and 400 acres. In the summer of 1998 Castle purchased a double chair from Sunshine Village and expanded the mountain upward to 2,800 vertical feet and 1,440 acres. First Tracks!! Online Editor Marc Guido and I each independently visited Castle during that 1998-99 season, and both of us came away with same reaction that it was "The Best Ski Hill You've Never Heard Of."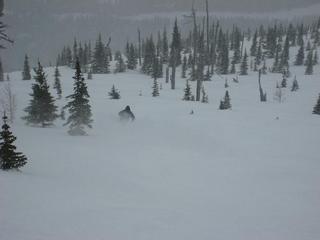 Castle Mountain's Drifter steepens as it descends.(photo: FTO/Tony Crocker)
I was sufficiently impressed to return in 2004 and 2008, collect some snow data and observe what had changed since 1999. The most noteworthy addition was the 1,084 vertical-foot Huckleberry chair, which opened a beginner/intermediate terrain pod on Haig Ridge for 2006-07.
Snow Conditions
Castle Mountain is located directly across the Continental Divide from Fernie, with both areas located less than 50 air miles from the U.S. border. Crowsnest Pass is low and broad compared to most mountain passes, so most Pacific Northwest storms from Fernie reach Castle with only moderately decreased intensity. Ski patroller Darrel Luco describes Castle's weather as "a constant battle between the Pacific Northwest/Fernie influence and the cold continental climate of the Alberta plains." I observed this firsthand about 2 p.m. on a Friday in 2008, as the wind shifted abruptly from the usual southwest to northeast, accompanied by a plunge in temperatures from +20 ºF to single digits in just a few minutes. It snowed eight inches of light and dry that night, and Saturday's temps hovered around zero, but with a much warmer inversion layer on the top quarter of the mountain.
Castle Mountain Snow Conditions


at el.5,700 ft.

Lift-serviced
Altitude Range 4,630-
7,463 ft.
Season Avg. Snowfall 299 in.
Season Standard Deviation
74
Percent high months with snowfall 90″ or more
9%
Percent low months with snowfall less than 30″
14%
Average maximum base depth
N/A
Direction of Exposure
North: 16%
East: 60%
West: 0%
South: 24%
Castle Mountain's snow statistics show an average of less than 200 inches annually measured at the base, and over 400 inches near the top. Taking the upper mountain measurements must be difficult in an area with chronic wind, and Darrel told me that the low numbers at the base are only representative the lowest 500 vertical feet. Coverage at Castle has been much more wind exposure dependent than altitude dependent in the good seasons that I have visited. The blended average of 299 inches is about what one would expect vs. the 368 at Fernie, and both numbers are closely correlated to Washington State, which is the source of most storms along the western U.S./Canada border. Castle does have a key altitude advantage over Fernie, in that the base and summit are each 1,100 feet higher, and Castle has a higher proportion of terrain at its upper elevations than Fernie does. So when those Pacific Northwest snowstorms are warm and half or more of Fernie is rained upon, usually at least three-quarters of Castle Mountain will still get snow.
There is a prevailing southwesterly wind that tends to strip the snow from some exposed aspects of the terrain and accumulate 10-15 feet deep on other aspects. The top of Tamarack is situated in a sheltered location so that it can remain open on most windy days, even though a knoll just 50 feet below the summit is nearly always bare of snow. The east-facing bowls of Sheriff, Outlaw and Drifter are often replenished with wind-sifted powder overnight, as was the case when both Marc and I visited in 1999. Wind effect is not always predictable, and on my 2004 visit it had snowed five feet in the previous week but nearly all of the new snow had been buffed smooth by the wind. It still made for some enjoyable skiing, though others have reported that the wind can produce thick sastrugi on occasion.
One reason that I analyze snow statistics and contemporary reports online is to assess whether the conditions I ski are representative of a typical experience at a given ski area. My four personal days at Castle Mt. have been so outstanding that I've had to research the downside. The major red flag is that in low snowfall seasons such as 2000-01 and 2004-05, Castle has had delayed openings or very limited operation at Christmas, and has also closed before the end of March on a couple of occasions. This is partly due to the low snowfall near the base, and management intends to install limited snowmaking to help out the early season. The other issue is that easterly exposure, and particularly the south facing steeps may not hold up well if the spring is warm. While late March at Castle was still great in the huge 1999 season, I've seen the devastating effect on similar terrain/exposure at Jackson Hole. So, in general I'd advise visiting Castle during the mid-January to mid-March core of the ski season.
Terrain Type:
Click image to open a full-size Castle Mountain trail map in a new browser window.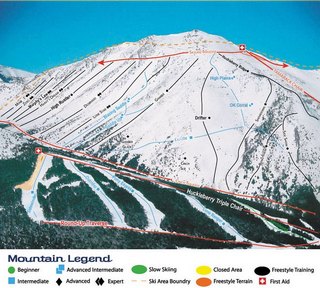 Cruising: Most of the main mountain has a consistent upper intermediate to advanced fall line. However, only North Run, South Run and Sundown on the lower half of the mountain are consistently groomed. With the open terrain and low skier density, you can cruise at relatively high speed in ungroomed snow over expansive upper mountain bowls, such as Sheriff and Outlaw on the north side of Tamarack chair, or Drifter, a broad east-facing fall line starting a few hundred feet south of the lift.
The new Huckleberry chair on Haig Ridge has more conventional groomed runs that many intermediates and beginners will find comforting.
Moguls: Some of the steeper areas near the lower lifts, such as Shotgun and The Burn, can have good bumps. Most of the terrain does not see enough traffic to develop moguls, however.
Steeps: The steepest runs are the numerous chutes on the south side of the upper mountain. Stay high on the Skyline Traverse heading southwest (usually into the wind) to get there. While wind stripping may be evident on the traverse, once you drop in the runs will usually have plenty of blown-in snow. This entire area is reminiscent of the Hobacks/Lower Faces at Jackson Hole. The first runs, Lone Star and Desperado, have a continuous 30-degree-plus fall line for about 1,500 vertical feet. If you persist on the traverse to Murphy's Law, Zero or Minus One the fall line reaches only about 1,000 vertical feet but the upper half inclines at about 40 degrees.
Wide Open Spaces: About 75% of Castle's terrain, including nearly everything served by the Tamarack upper chair, is mostly subalpine with occasional stunted and widely spaced trees. Huckleberry Ridge has a few more trees and will have the best upper mountain visibility in cloudy or stormy weather.
Trees: Only the lower quarter of the mountain is forested. Most of the glade skiing drops to skier's right off the North Run trail. On the upper mountain, there are more scattered trees along Huckleberry Ridge and fall lines dropping from it. The trees also extend higher at the northern edge of the ski area past North Bowl. Darrel showed us North Star, a recently cut run in this area.
Castle Mountain
Terrain Difficulty
Yellow: 5%
Black: 33%
Red: 35%
Blue: 22%
Green: 5%
Powder: With the wind deposits, frequent snow flurries and extremely low skier density, there is usually a powder surface somewhere if you know your way around. Snow host tours are offered at 1 p.m. midweek and three times a day on weekends. With the wide open terrain, it is not very difficult for visiting skiers to observe where the deepest snow is located after just a few runs. February 8, 2008 was a Friday when it had snowed 40 inches over the previous week. Midweek, Castle is so empty that you can still make fresh tracks on obvious runs like Sheriff within sight of the lifts all day. Moving south to the longer fall lines like Drifter and Lone Star we might have seen two or three other skiers while skiing more than 1,500 vertical feet of powder. The total 30,300 vertical feet I skied that day were comparable to some of my better heliskiing days in terms of both fall line skiing and lack of competition for the powder, and was a top-three lifetime powder day for lift serviced terrain.
Hiking and Backcountry: Skiers can traverse and hike a short distance north from Tamarack and ski nearly 3,000 vertical feet into an adjoining canyon, if you can find a local guide to navigate and arrange shuttle pickup. While skiing the south expert runs, you can observe a few steep north facing chutes (labeled Back Country X-treme on the trail map) across the intervening canyon. The ridgeline above these cliffs can now be hiked above the new Huckleberry chair. This is very technical terrain and should only be done with partner, avalanche gear, snow safety knowledge and patrol checkout.
Crowds: The main mountain of more than 1,500 acres is served by just two fixed grip chairs, plus one T-bar. Most visiting skiers will never have seen an area with skier density this low. On weekends Castle has now been discovered from two and a half hours away by day skiers from Calgary, who now comprise about 40% of the average 65,000 annual skier visits. In 2004 the upper Tamarack chair had 10-15 minute liftlines. Lines were shorter on the Saturday in 2008 because an overnight storm made the drive from Calgary tougher to navigate.
Intermediates: Castle's main mountain has a continuous and consistent fall line similar to Sun Valley, Idaho's. Since much less of the mountain is groomed, upper intermediates will benefit greatly from mid-fat skis to handle the variable snow conditions. Lower intermediates will be much more comfortable on the new Haig Ridge runs.
Novices: The main mountain has only a tiny bunny slope with a 165 vertical-foot chairlift, but there are now a couple of longer green runs on Haig Ridge.
Children: This is entirely dependent on their ability. My general advice to most skiers wanting to get the most out of the Castle experience is that they should be comfortable on red-rated runs and be willing to ski ungroomed snow.
Dining: There is a day lodge and rental shop at the base of the mountain. For lunch, don't miss the homemade crisp crust pizza at the Pub 'n Grub restaurant. The day lodge has recently added a steakhouse for dinner.
Castle Mountain's Red Chair. (photo: FTO/Tony Crocker)
Lodging: There were several private cabins at the base of Castle Mt. when I first visited in 1999, but most lodging for visiting skiers was in Pincher Creek, half an hour away. In 2008 we were able to stay at the mountain in Castle Mountain Ski Lodge & Hostel. Double rooms are priced at CDN $99 and the hostel is CDN $25 per night.
Development plans at Castle Mt. are modest and unlikely to change the basic character of the ski area. They project increasing skier visits to 100,000 per year, but much of that will come from the Huckleberry chair because Castle had almost no beginner/low intermediate terrain before that lift. On-site lodging will increase from the current 88 to 225 units. When Castle blows snow for four to six weeks of early season snowmaking near the base area, Christmas holiday skiing should become more consistent, and premature closures more rare.
I now believe that in the purest sense, Castle Mountain is a better ski area than its more famous neighbor across Crowsnest Pass. Castle has about three-quarters of Fernie's usable ski acreage, but with the same vertical drop and longer continuous fall lines. Fernie's snowfall advantage is offset by higher risk of rain and greater proportion of low altitude terrain that's subject to variable conditions. Finally, on big powder days Fernie is more likely to be delayed in opening terrain due to avalanche risk from peaks well above the ski area. This adds to Castle's already considerable advantage in lower skier density and less competition for first tracks.
Other Alberta Skiing
Calgary is the gateway airport to numerous ski areas. I've now visited Alberta ski areas in five different ski seasons and have formed a few opinions over that time.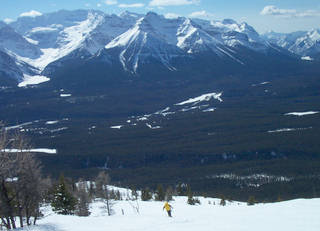 Lake Louise(photo: FTO/James Michaud)
Lake Louise is the big dog of the region. At 4,200 acres it's among the top 10 areas in North America in scale, and many would also argue in terrain quality. The reported snowfall average of 161 inches is very low by North American standards, but each time I've visited I've found good quality skiing. January 2005 was particularly noteworthy, as Lake Louise had some new snow and good off-trail skiing, while nearly every ski area farther west in Canada had been drenched in rain and skiing was confined to hard-packed groomed runs.
The modest amount of snow goes a long way because:
Latitude, altitude and cold temperatures result in very good snow preservation, and
Lake Louise receives about 500,000 annual skier visits, while most areas of its size see twice as many. Much of the terrain thus has very low skier traffic.
I analyzed Lake Louise in some detail after my first visit in 1999, and most of that information is still accurate due to minimal changes in lifts/terrain. Also check out James Michaud's First Tracks!! Online feature, describing a midwinter experience at Lake Louise in late April of 2007.
In 2008 the exchange rate is not as favorable for Americans as it was in 1999, so Banff/Lake Louise is no longer a screaming bargain. But the area sees far more summer than winter tourism, and thus price and availability relative to other North American ski destinations are both still attractive. For those who enjoy a more upscale experience, I continue to recommend the Post Hotel in Lake Louise. I was fortunate enough to spend a night there in 2008, and its gourmet dining room is probably the best in Alberta, and has one of the most extensive and fairly priced wine lists anywhere.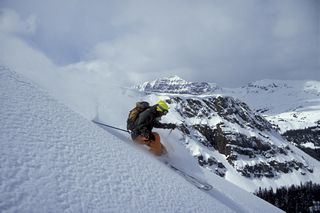 (photo: Sunshine Village)
Sunshine Village on the Continental Divide is the highest and coldest of the Alberta ski areas, and the snowiest of the three in the Banff group. After four visits I'm convinced that Sunshine is the Canadian counterpart to Colorado's Continental Divide areas of Loveland and Arapahoe Basin. All of these areas are wind exposed and take some time to get covered and snow-stable despite decent snowfall. And all of them are noted for preserving winter snow conditions deep into April. Sunshine typically stays open through Canada's Victoria Day holiday, the third weekend in May.
Sunshine has been historically known as an intermediate mountain, but the opening of Delirium Dive in 1998 and Wild West in 2003 has added terrain that will challenge the best of experts. These areas require a partner and avalanche gear. I skied Delirium Dive in April 1999 and March 2002 but it was not open during my early February visits in 2004 or 2008, yet another reason that March and April are the best months to ski Sunshine.
(photo: Mt. Norquay)
Mt. Norquay is located just outside the town of Banff, and I skied there only in March during the excellent 2002 ski season. Norquay tends to be overlooked due to its smaller size and lower natural snowfall vs. Sunshine and Lake Louise. The original North American chair is 1,300 vertical feet tall and usually quite challenging in terms of both pitch and moguls. In the 1990s the Mystic Express chair was built to serve more intermediate and groomed runs.
Marmot Basin(photo: FTO/Tony Crocker)
Marmot Basin is located in Jasper National Park, about four hours from Edmonton or 2 ½ hours from Lake Louise along the incredibly scenic Columbia Icefields Parkway. Marmot skis like a scaled down Lake Louise, encompassing great terrain diversity over its 1,675 acres. Marmot has about 2,000 vertical feet of groomed trails, plus alpine bowls of both intermediate and expert pitch. There are advanced bumps and glades along the Eagle Ridge chair, and numerous steep shots dropping off Eagle Ridge toward the base area. Snow was excellent during my February 2007 visit, although I could see that exposed ridges above the ski area were rocky. Snowfall is similar to Lake Louise, but Marmot gets about 200,000 annual skier visits due to its more remote location.
My snow condition recommendations for Lake Louise in 1999 are still applicable, and also apply to Banff and Marmot:
February and later months are preferred for maximum coverage and excellent snow preservation.
Wait until January to book to see how the season is developing, to avoid low snow years. Doing so is usually safe as each of these areas draw more tourism in summer than winter.
For advance planners, all Alberta ski areas (including Castle Mountain) tend to have above average snow in La Niña years and below average with El Niño weather conditions.
Nakiska(photo: FTO/Tony Crocker)
Alberta's best known ski areas are located in National Parks, where further development is quite restricted. So when the Winter Olympics came to Calgary in 1988 the new Nakiska area was built closer to the city in Kananaskis Country to host the alpine skiing events. Nakiska has two main chairlifts that climb 2,400 vertical feet and serve several trails of groomed runs and race training. Nakiska has snowmaking on 85% of terrain. The lifts stop near timberline and the mountains above receive little natural snow, somewhat startling as I had skied Nakiska the day before the huge powder day at Castle Mountain. Kananaskis Village is a nice resort area just 10 minutes from Nakiska, and like Banff is most popular in summer. Beyond the village and deeper into the mountains is the currently closed Fortress Mountain Ski Area. I would have liked to have skied there too, but from what I understand it will require considerable renovation before it could reopen.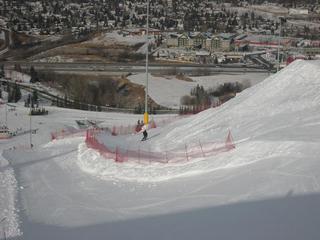 Canada Olympic Park(photo: FTO/Tony Crocker)
Canada Olympic Park was built in Calgary's western suburbs to host the ski jumping and bobsleigh/luge events in 1988. It now includes a 410 vertical-foot ski area, with primary emphasis applied to terrain parks. But C.O.P. is a worthwhile half day visit on the way to or from Calgary airport. There is an Olympic museum, and the bobsleigh/luge track is still in use for training. With advance reservations you can ride the Olympic bobsleigh with a guide for CDN $149, or ride a zipline from one of the ski jump towers for CDN $49.
Snow Conditions
Lake Louise
@6,700′
Sunshine Village
@7,028′
Mt. Norquay
@5,350′
Lift-serviced
Altitude
5,393-
8,650′
5,440-
8,954′
5,350-
7,000′
Season Avg. Snowfall
161″
248″
107″
Season Std. Deviation
38
52
36
% high months over 90″
0%
3%
0%
% low months below 30″
65%
31%
82%
Avg. max. base depth
N/A
N/A
N/A
Direction of Exposure
N
27%
40%
30%
E
19%
5%
50%
W
36%
35%
0%
S
18%
20%
20%