Bromont (QC), Canada – I've gone on record many times to practically anyone who will listen that one of the most interesting winter vacation regions in the Northeast is Québec's Eastern Townships. While the majority of skiers from this part of the continent – even those living a very short drive away in Vermont or New York State – would just as soon fly to Timbuktu before crossing our northern border with their skis, I'm going to continue to spread the word about this truly unique part of North America.
Located an hour east of Montréal, the Townships mix quaint, picturesque, well-maintained villages that look like they were teleported straight out of New England with rolling agrarian landscapes, scenic lakes and mountains, and French Canadian culture and cuisine. All of these elements combine into an alluring destination featuring four worthwhile ski areas, each with its own distinct selling points. Over the past 12 years, I've floated through untracked powder in Sutton's incredible glades, made like a bread truck on the long, high-speed cruisers at Owl's Head, done laps on Mont Orford's best-in the-region terrain, and even time-traveled back to the 70s at a couple of fun smaller hills that are unfortunately no longer in operation: Mont Glen and Mont Shefford.
Oddly enough, the mountain that I was least familiar with happens to be the Townships' largest (in terms of skiable acreage) and, by a vast margin, most frequented resort: Bromont. The reason for this oversight is easy enough to explain – my personal skiing sweet spot has always been off-the-beaten-path areas that, for better or worse, are caught in a slight time warp and rarely have any superlative descriptors attached to them. Bromont outgrew that category a while back.
Over the past 15 years, this ski area at the western edge of the Townships has grown from a small hill with big aspirations (in 2001, First Tracks!! Online's Marc Guido referred to it as "The Chihuahua") into a highly successful mass-market resort in a location offering unbeatable convenience for large numbers of customers, both from southern Québec and the sprawling metropolis of Montréal, only 45 minutes away.  How successful? Last season, Bromont reported more than 800,000 ski-day visits, putting it in the rarified air of Laurentian mega-resorts like Tremblant and Mont Saint-Sauveur, both of which routinely rack up numbers in the upper six figures.
So how does a mountain with comparatively modest natural attributes (a little more than 1,200 vertical feet and only 140 inches of average annual snowfall) transform itself from a bit player in the French Canadian ski world to, staying with the canine metaphor, the top dog on the block and one of the very few ski areas in the province that operates profitably? The answer is deceptively simple: give the people what they want – easy to say, but tough to do consistently. Yet, Bromont has done exactly that.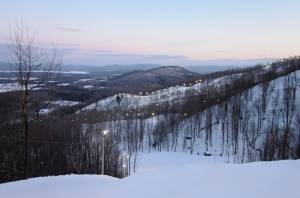 Almost every year over the past decade, Bromont has implemented significant additions to its ski experience, including new  trails and glades (currently 450 skiable acres that stretch across seven separate terrain pods), expanded night skiing (the largest amount of lit terrain in North America), extensive snowmaking (more than 1,000 snowguns covering 90% of its terrain), a new on-mountain restaurant (no need to go back to the busy base area for a lunch or dinner break), and continuous grooming (giving night skiers the opportunity to ski fresh corduroy, just like first thing in the morning).
The Bromont experience begins on its bilingual website, which offers an array of reasonably-priced day tickets and season-pass options; however, if you purchase online before mid-October, the rates are borderline unbelievable – and these are for everyone, not just kids and/or college students:
Night skiing seven days a week from 5 p.m. to close: $99
All day and night on Tuesdays, Wednesdays, and Thursdays: $70
Weekdays all day and night, and weekends from 3 p.m. to close: $150
After exiting the Highway 10 from Montréal, driving through the bustling village filled with shops and restaurants, and pulling into Bromont's mammoth main parking lot, the front-side terrain is clearly visible. However, it's only after making your way through the brightly painted (lots of primary colors) base area and zipping to the top on the Village high-speed quad that you can see how much there is to ski. At the summit of this monadnock, 360-degree views encompassing the Eastern Townships to the east, the plains of Montéregie to the west, the Adirondacks to the southwest and the northernmost Green Mountains directly to the south are accompanied by 360-degree skiing across the entire mountain: a rarity in the northeast.
Following a couple warm-up runs, my wife and I met up with Maintenance and Development Manager Benjamin Désourdy, who took us on a complete tour of Bromont's new terrain and infrastructure, clarified the vision behind its expansion, and provided insights about the many operations decisions needed to create a smooth ski experience for this many customers. He explained that the area was founded in 1964 by his grandfather Roland and integrated into the family construction business. Even back then, Roland could see that Bromont, while small to medium-size in stature, had, with the right development plan and execution, the potential to become a major ski industry player.
After the company ran into financial difficulties in the 1990s, all six of Roland's children, including future CEO Charles Désourdy (Benjamin's father), bought the ski area back from the bank in 1998. At the time, Bromont only had 170,000 ski-day visits per year and a little more than 100 skiable acres; however, Charles quickly put together an expansion strategy in which on-mountain development was financed primarily by selling land all across the ski area.
Like his father, Benjamin graduated with a degree in civil engineering and after putting his knowledge of concrete, welding, structural backfill, and steel coating to use on hydro-electricity projects in British Columbia, he returned to Québec and applied his field construction skills to Bromont.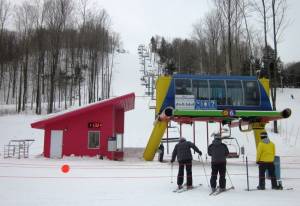 Désourdy explained that French Canadians are generally divided into two distinct groups during winter: skiers (downhill and/or cross-country) and hockey players. Even though he's an accomplished skier, his true passion is hockey, which, he joked, helps him make thoroughly pragmatic ski-ops decisions. Oddly enough, one of his most publicized infrastructure accomplishments was to combine parts from lifts at two beloved smaller hills, Mont Joye in the Townships and Gray Rocks in the Laurentians, into a single "new" lift at Bromont. While creating a "Frankenstein" Poma chairlift was done primarily as a cost-cutting move, it also scored warm-and-fuzzy points for veteran skiers from the region who can now bask in the memories of those lost ski areas every time they ride the "Épinette" ("Spruce") chair.
My next question: how can the resort afford to offer these kinds of season-pass deals? Without hesitation, he gave a one-word answer: volume. Paradoxically, he explained that the biggest "misperception" Bromont's marketing department labors to correct is that the ski terrain is as crowded as the main parking lot. He pointed out that with the mountain now more or less built out, skiers and riders are spread evenly across the terrain, even on busy days, and provided with ample uphill capacity. Although a two-day, mid-winter visit (Sunday and Monday) is an admittedly small sample size; I can confirm that we ran into very few other people on the trails, which was a very pleasant surprise.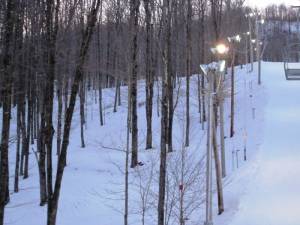 While families are without question Bromont's bread and butter during the daylight hours, once the sun goes down and the lights turn on, the dominant demographic is the under-25 set. The energy level increases and the mountain takes on a bracing "nightclub on snow" vibe. It's therefore no surprise that the ski area's signature event is its hugely popular series of nine "Nuits Blanches" ("Sleepless Nights"), during which the lifts stay open on Saturday night until 2 a.m. I've only attended one of these four years ago, but it was pretty memorable making turns with hundreds of other skiers an hour or two after I've usually gone to bed. On that note, Bromont deserves kudos for aiming lights directly on several glade areas, giving skiers the opportunity to hit the trees even in the middle of the night.
While four-season attractions, including lift-served mountain biking and an aquapark, keep the resort busy during the warm-weather months, Désourdy emphasized repeatedly that skiing is the dog wagging Bromont's tail, not the other way around, and that his goal is to continuously improve all parts of the mountain's on-snow experience. While most ski areas have a suggestion box in the main lodge, he explained that it's his responsibility not only to read the comments, but also to act on as many of them as possible.
As we pulled onto the westbound highway to Montréal for dinner, I thought back to my initial expectations while arriving two days earlier. Being a quainter-is-better snob, I was ready to dismiss Bromont as "not my cup of tea" – a snowmaking-dependent, all-things-to-all-people kind of place. While it's unquestionably a big, busy resort with all of the attendant trappings, I was surprised by how much Bromont has to offer purely from a skiing perspective. There's a lot of wide-ranging terrain for all levels of skiers (most of which is consistently pitched top to bottom), a varied network of glades (several with challenging fall lines), great uphill capacity, and a proven desire (wall-to-wall snowmaking and nonstop grooming) to give customers the best conditions possible in a challenging weather region, to say nothing of its extensive after-dark skiing.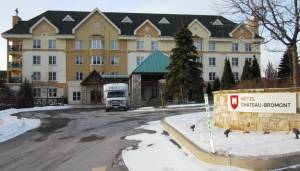 Where to Stay
Like any major ski resort, you can find all sorts of lodging within a very short drive of Bromont's base area: B&Bs, inns, hotels, studios, condos, etc. But if you're ready for a bit of four-star comfort, elegant dining, and the next best thing to ski-in/ski-out convenience (a 30-second shuttle ride), you can't go wrong with the fashionable, full-service Chateau Bromont. This being Québec, it's a given that you'll be sampling sumptuous French Canadian cuisine, available at Les Quatre Canards, along with an incredible breakfast buffet every morning. If you feel like going informal, head down to the hotel's lower level for Le Bistro's hearty pub food, wide beer selection, and big-screen TVs (it's Canada, so chances are you'll be watching hockey or curling).
As much as we enjoyed the food and accommodations, the high point of our stay there was a post-skiing visit to the Spa Bromont, where I got a great Swedish massage, relaxed in the warm outdoor whirlpool baths (the ambient temperature was 2ºF) framed by the mountain in the late-afternoon light, and a few brisk seconds under the waterfall. Our treatment concluded with us lounging contentedly in our bathrobes in the spa's café while enjoying a delicious light meal.
For More Information: