Snowbird, UT – Twenty-eight teams of highly-trained avalanche rescue dogs and their handlers from around the country have gathered in Little Cottonwood Canyon this week for avalanche victim search drills, beacon searches, helicopter training and classroom sessions conducted by Wasatch Backcountry Rescue (WBR).
"We train with the intensity of a real-life rescue scenario," said Dean Cardinale, President of Wasatch Backcountry Rescue. "The best chance for a successful rescue comes from professionals working together, and this event is a great example of several agencies uniting to create an effective training experience."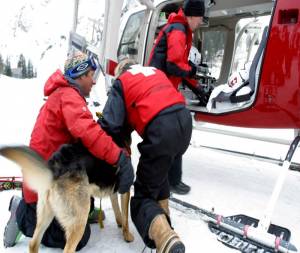 Training sessions include a highway rescue scenario with a buried car, a dog agility course, obedience and discipline training, a beacon rescue search and a helicopter transceiver search using new long-range receiver technology. AirMed and Life Flight helicopters will also be working with avalanche rescue dogs and their handlers. New this year, the Avalanche Rescue School added night rescue call-out scenarios, featuring rescue scenarios in the dark.
WBR hosts the biennial avalanche rescue dog seminar, which features instructors from some of the most elite training and certification organizations in the world for avalanche rescue groups. WBR is the only professional rescue agency in the United States that is a member of the International Commission for Alpine Rescue (IKAR).
Celebrating 37 years of service, WBR is a volunteer organization comprised of snow safety professionals and their avalanche rescue dogs from 10 Utah ski resorts, UDOT, the U.S. Forest Service and the Utah Avalanche Center working with local police departments and sheriffs' offices. WBR member resorts are Snowbird, Alta, Brighton, Solitude, Park City, Canyons, Deer Valley, Snowbasin, Sundance and Utah Olympic Park.