Ruidoso, NM – A pair of Ruidoso roommates who allegedly damaged Ski Apache's new base-to-summit gondola that opened last month, following a wildfire last summer that destroyed the old one, are facing felony vandalism charges.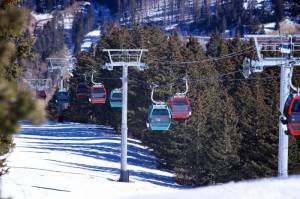 Dennis Short, 19, and John Nuckols, 20, were caught by authorities who believe that they carved two penis-shaped drawings into rear window of the gondola cabin in which they were riding last Thursday. The pair are charged with criminal damage to property of more than $1,000, a fourth-degree felony.
Nuckols reportedly tried to explain the damage to a Lincoln County Sheriff's deputy by claiming that the operator did not check the gondola car before he and Short boarded it. The operator disagreed, although the deputy was unable to find on either man a sharp object capable of producing the images in the window.
Resort officials, who estimate the cost of the gondola cabin windows at more than $1,000 each, banned the two men from the resort for life and confiscated each of their ski passes.
Nuckols was also charged with possession of marijuana and possession of drug paraphernalia. The pair were both released on bond pending a court appearance this Thursday.