Hunter, NY – With over 1,100 snow guns, Hunter Mountain already has one of the most powerful snowmaking systems anywhere. This summer, the ski area in New York State's Catskill Mountains invested another $1.2 million in snowmaking, with 17 new guns on the popular Hellgate trail alone.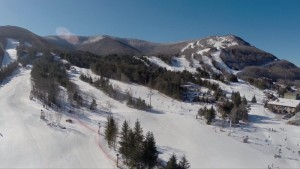 This summer's improvements have resulted in automated top-to-bottom snowmaking at Hunter. Besides Hellgate, other trails on the mountain that will see improved snowmaking include the popular Belt Parkway intermediate run, East Side Drive and Fifth Ave. through Kennedy, which complete the top-to-bottom line of snowmaking from Hellgate.
Hunter's continuously growing snow gun arsenal is also continuously being made more efficient. Last summer, the mountain invested in a new water pumping system that improved the efficiency of the entire process. This year, half a million dollars was invested in a new state-of-the-art compressor, which replaced multiple 60-plus year-old compressors. The new compressor, combined with tower mounted fan guns which use less compressed air, makes for a more efficient process.
And speaking of efficiency, the snow guns that were installed this summer are automated. This means that the push of a button can turn on or off a line of snow guns as opposed to turning one on or off at a time. Automatic snowmaking results in a more responsive and more environmentally resourceful process – the snowmaking team can control exactly when a gun is turned on based on when temperatures are ideal for snowmaking, thereby using the most appropriate amount of water to make the best snow possible in an efficient manner.
Hunter Mountain anticipates firing up its new snow guns in early November for an opening date yet to be determined.